In addition to keeping us clean, taking a shower can also provide numerous benefits such as muscle relaxation, improved blood circulation, removal of toxins from the skin, and mental relaxation.
However, the water we use to shower with may contain chlorine and chloramine, which can be harmful to our hair and skin. These chemicals can damage our hair follicles and strip our skin of its natural oils, leading to dryness, itching, and acne.
Fortunately, installing a chloramine shower filter can help eliminate these harmful contaminants from your shower water, transforming your showering experience from dull and damaging to one that promotes healthy, glowing skin and soft, radiant hair.
This post has put together a guide to the best shower filters for removing chloramine. These filters are not only efficient in removing harmful substances but are also reasonably priced and have a long-lasting effect.
Best Shower Filters For Chloramine in 2023
Shower Filter Model
Filtration Method
Chloramine Removal
Filter Lifespan
1. Sonaki Inline – Best Shower Filter for Chloramine
Vitamin C
Yes
5,300
2. Pelican – Chloramine Shower Filter
GAC Carbon Media
Yes
10,000
3. Aquasana – AQ-4100
KDF 55 +
Activated carbon
Yes
10,000
4. Berkey Shower Filter to Remove Chlorine
KDF 55
Yes
20,000
5. UBS Vita Fresh Vitamin C Shower Filter
Vitamin C
Yes
10,000
1. Sonaki – Best Shower Filter for Chloramine – Editors Pick
The Sonaki shower filter is a top-selling model that uses all-natural Vitamin C, also known as ascorbic acid, to neutralize harmful elements like chloramine and chlorine from the shower stream.
This advanced Vitamin C technology effectively reduces exposure to chloramine and chlorine, promoting younger-looking skin, healthier hair, and a stronger immune system.
The Sonaki shower filter has a durable brass and chrome finish and a see-through housing material, making it easy to check the Vitamin C depletion. It is designed to fit comfortably in your shower arm and head without changing its position or height.
The resin cartridge in the Sonaki shower filter lasts up to 11,000 gallons per round and removes nearly 99.9% of chloramine and chlorine. Additionally, the unit comes with three extra Vitamin C cartridges, each with a capacity of 5000 liters.
Overall, the Sonaki shower filter is an excellent investment for anyone looking to improve their shower experience and promote a healthier lifestyle.
Product information
Dimensions: 7.9 x 2.7 x 9.8 inches
Weight: 1.5 pounds
Color: Silver
Batteries Required: No
What Our Team Liked
Removes close to 99.9% of chloramine and chlorine.
Longer filter lifespan.
The shower filter company offers a one-year warranty.
Pros
The Sonaki All Natural Vitamin filter makes use of the most superior and safest technology in the shower filter market.
Very effective in the elimination of chloramine and chlorine from shower water.
Comes with three extra Vitamin C filters.
Perfectly designed in-line shower filter that makes assembling simple, no need to call a plumber for fixing.
Cons
Whenever water is clogged inside the shower filter, the vitamin C powder is depleted very fast.

---
2. P

elican PSF-1NH

Premium

-Chloramine Shower Filter

Budget Pick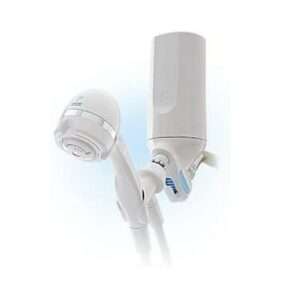 For many years, the Pelican Company has been a reliable manufacturer of water filters and showerheads, earning a good reputation among customers worldwide with its flagship and quality brands.
The Pelican PSF-1NH shower filter boasts a three-stage filtration system that can remove almost 96.9% of chloramine and chlorine, making it an excellent choice for those who want cleaner water.
By installing the Pelican shower filter, users can experience numerous health benefits, including healthier and clearer skin, as well as softer hair. Additionally, using this filter can transform your bathroom into a spa-like oasis, making your showering experience more enjoyable.
Compared to other brands on the market, the Pelican PSF-1NH shower filter lasts twice as long and also offers aromatherapy, leaving you feeling refreshed and relaxed.
The benefit of using the Pelican shower filter
Not only designed to filter chlorine and chloramine but also removes other synthetic chemicals and unpleasant odors from your tap water.
A unique up-flow design that offers less resistance and gives high-pressure water strands.
With chlorine and other harmful contaminants removed from the water, you will save on shampoo and hair conditioner.
Product information
Model number: PSF-1NH
Dimensions: 3.8 x 3.8 x 6.2 inches
Color: White
Style: Shower Filter – No Head White
What Our Team Liked
It comes with a 1-Year Warranty.
Offers aromatherapy which most shower filters do not have.
It doesn't affect your flow rate.
Eliminates unpleasant odor from your tap water.
Pros
Easy installation process.
Transforms your shower into a spa experience.
Filters Chlorine, Chloramines and other synthetic chemicals.
Cons

---
3. Aquasana AQ-4100 – Shower Filter to Remove Chlorine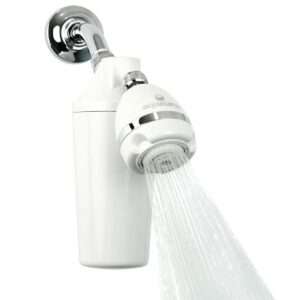 The Aquasana Chloramine shower filter is highly rated by internet buyers for its ability to effectively remove chlorine, chloramine, and germs from shower water, preventing soap scum build-up and chemical vapor exposure.
This shower filter features a compact design that is free of BPA, and it utilizes a two-stage filtration system with copper-zinc and cocoa shell carbon to provide high-quality, filtered water.
The Aquasana AQ-4100 is made by Aquasana Inc., the largest company dedicated to water filtration technology in the United States.
Its advanced filtering system removes chlorine and chloramine after each shower, leaving you with smooth skin, healthy hair, and a fantastic showering experience, thanks to its clog-free and compatible shower head design.
The benefit of using the Aquasana shower filter
The copper-zinc and carbon filtering is useful in the removal of hazardous substances.
Remove chloramine, chlorine and other dangerous chemicals that may be inhaled during hot water bathing.
This ensures smooth skin and better hair through cleaner purified shower water.
Product information
Dimensions: 8.5 x 7.2 x 3.2 inches
Material: Plastic
Item Weight: 2.3 pounds
Included Components: shower filter, shower head
Flow Rate: 2.5 GPM
What Our Team Liked
The quality of water and air improves after installing this shower filter and if you're having a hot shower, it enhances water pH balance too.
Has a stable water pressure that ensures a 2.5 GPM is continuously maintained for months after months of use.
Has an easy installation and maintenance procedure.
Pros
Stable water pressure.
Simple and Easy installation process.
Durable.
Cons
Some customers' reviews have complained of leakages.

---
4. Berkey Shower Filter – WITHOUT Shower Head
Berkey is a globally recognized brand known for producing high-quality water filters that remove harmful pollutants from water using gravity. Their chloramine shower head filter uses KDF-55 and calcium sulfate, which work together to eliminate bacteria, chloramine, chlorine, odor, mildew, and fungus.
This shower filter is designed to filter up to 20,000 gallons of water, providing one year of use, making it the most durable and effective shower filter available. Its unique filtration stages are capable of removing up to 1000 water-prone contaminants.
The filter is made of BPA-free material and features a backlash connector that prevents debris and sediment from clogging the filter. Overall, Berkey's chloramine shower head filter is an excellent choice for anyone looking for a reliable and effective shower filter.
The benefits of using the Berkey shower filter
Removes up to 96 percent of chloramine and chlorine.
The Berkey Dush Filter lowers the quantity of chemicals that you inhale in warm or hot water during a shower.
Reduces hair and skin damage by eliminating chloramine and chlorine.
Product information
Dimensions: 5 x 4 x 4 inches
Weight: 1.46 pounds
Color: White
Batteries Required? No
What Our Team Liked
The unique Backflush attachment to prevent clogging.
Reduces vapor inhalation and chemical absorption.
Removes up to 95% of chloramine and chlorine.
Pros
Long-lasting cartridges that last for a year.
Simple and easy installation.
Not expensive.
Cons
Has a limited spray pattern.

---
5.

UBS Vita Fresh V

itamin C Shower Filter
The UBS Vita Fresh is a shower filter that can enhance your showering experience in a unique way. By using a combination of vitamin C and activated carbon, it can completely neutralize chloramine, chlorine, and organic chemicals in your shower water.
It is considered the most advanced shower filter on the market because it uses a 100% pharmaceutical food-grade Vitamin C ingredient that can provide you with a spa experience while improving your skin condition and hair structure.
The UBS Vita Fresh has a T-design and a transparent lower housing body that can show the amount of Vitamin crystal left. Its cartridges are durable and can filter up to 10,000 liters. Plus, its cartridge filter is easily replaceable, so anyone can do it.
Its compact and lightweight design incorporates universal joints, making it suitable for a wide range of shower arms and heads. The shell is also transparent, so users can easily see how the filter functions and determine when it needs to be replaced.
The benefits of using UBS Vita Fresh
The shower filter helps improve the skin condition and hair texture.
Neutralizes chlorine and chloramine from the tap water.
The shower filter removes free radicals that cause eczema.
Product information
Dimensions: 3 x 2 x 4.2 inches
Weight: 10.4 ounces
Material: ABS, PC, Silicon, Ascorbic Acid
Color: Chrome finished
What Our Team Liked
The use of 100% pharmaceutical food, this helps a lot to improve on skin condition.
UBS Vita offers a spa experience.
The vitamin C is advantageous in neutralizing chloramine and chlorine.
Pros
Easily replaceable cartridge (no plumber services need).
The shower filter comes with three pieces in 1 pack.
The cartridge case is transparent, so it is very easy to monitor the use of vitamin c crystals.
Universal connection.
Cons
Negatively affect shower water pressure.

---
6. AquaBliss SF220 Shower Filter For Chlorine and Hard Water
Looking for a shower filter that can do wonders for your skin and hair? Look no further than the AquaBliss!
This shower filter is a "must-have" for anyone who wants to get rid of chlorine, dirt, and toxic chemicals from their shower water. By using the AquaBliss, you'll not only feel cleaner, but you'll also look better too!
The AquaBliss shower filter has become very popular in the market due to its ability to promote healing and revitalize your skin and hair in just two weeks.
This high-output shower filter is designed with advanced purification levels and replaceable multi-stages that work together to reduce harmful elements like chlorine, chloramine, dirt, fungi, pesticides, and algae.
So, if you're looking for a shower filter that can make a real difference in your daily routine, the AquaBliss is the way to go!
The benefits of using AquaBliss Shower Filter include:
Improves the condition of your skin, nails, and hair.
You never experience dry itchy skin, eczema, acne, and dandruff.
The AquaBliss filter can last more than eight months.
The shower filter model has been skillfully designed to have a universal connection that can seamlessly fit into any type of shower head such as rain, handheld, and fixed shower heads.
Installing this filter is an absolute breeze with a straightforward and uncomplicated procedure. You won't even need to enlist the services of a local plumber.
If you're a little handy, all you need to do is unscrew your current shower head and then replace it with the Aquabliss shower filter. Afterwards, you can safely re-attach your showerhead back onto the filter.
Once you start using the Aquabliss high output shower filter, you'll be amazed at the fantastic results. Your skin, hair, and nails will look and feel healthier and shinier than ever before.
Product information
Dimensions: 3.7 x 3.7 x 5.4 inches
Weight: 15.2 ounces
Color: Chrome
Model number: SF220
What Our Team Liked:
MONEY BACK GUARANTEE
Designed with a universal connection and a simple installation process – no tool is needed when installing.
Works correctly on both hot and cold water.
Guarantees advanced purification levels that remove chloramine and chlorine.
Pros
Works and fits perfectly with any showerhead.
Simple and easy to install (an average of 2 minutes).
Designed to filter both on very hot, cold and lukewarm water.
Three filtration stages.
Cons
Unable to remove sulfur smell to some extent.

---
7.

HotelSpa Fusion – (V

itaclean Shower Head

With Refillable Vitamin-C Cartridges)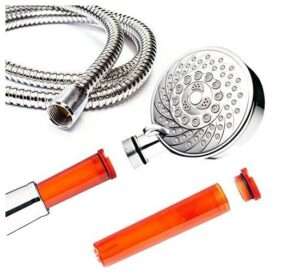 Introducing the Hotel Spa Fusion – a stunning shower system that boasts both an elegant design and the most advanced Vitamin C filter infusion technology.
This shower device is equipped with replaceable cartridge filters that accurately release 100% pure Food grade Vitamin C into the shower water, effectively neutralizing chlorine, chloramine, and other harmful impurities.
As an added bonus, the company offers a complimentary one-year refill supply. The Hotel Spa Fusion offers a range of seven different spray settings to choose from, including economy rain, rain/massage, Hydro-mist, rain, rain mist, pulsating massage, face 3-zone, and Pause Mode.
Moreover, this showerhead comes with an oversized and highly flexible stainless steel hose, and an ON/OFF switch which helps to conserve water while shampooing or lathering. Say goodbye to harsh chemicals and enjoy a luxurious shower experience with the Hotel Spa Fusion.
The benefit of using HotelSpa Fusion
Hotelspa purifies the shower water and vapor while taking a hot shower.
The presence of food-grade Vitamin C is the most effective in neutralizing chlorine and chloramine, resulting in smoother skin and softer hair.
Has an easy refillable Vitamin-C cartridge.
Product information
Dimensions: 6 x 4 x 9 inches.
Weight: 1.3 pounds.
Color: Pure Chrome.
Material: Stainless Steel Hose & Chrome Plated Premium ABS.
What Our Team Liked
7-setting that includes Mist, Economy Rain, Rain, Pause, and two combination modes.
Supper easy refillable Vitamin C cartridge.
Refill supply of pure 100% Food-grade Vitamin C for a year.
Pros
Easily refillable cartridges.
Durable and flexible stainless steel hose.
Variety of soothing spray patterns.
Cons
Complains of Vitamins C running out fast.

---
8. Bath & Relax (

Negative Ionic Ion Flow Filter)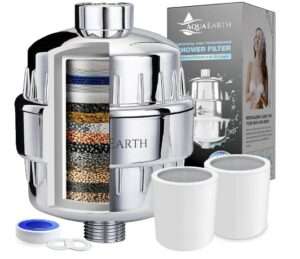 Introducing the Bath and Relax showerhead, your ultimate spa companion! This innovative showerhead offers three modes of operation, including massaging, jetting, and rainfall, which can make you feel like you're getting a luxurious spa treatment from the comfort of your own home.
But that's not all! The Bath and Relax showerhead also comes with a portable shower filter that contains a unique bio-active mineral ball, which can filter out over 99 percent of the chlorine and other contaminants in your tap water.
This means that you can enjoy a balanced oil gland and softened hair experience, free from harmful chemicals and contaminants.
This showerhead is also designed with a built-in water-saving technology that can save up to 31 percent on water consumption, so you can feel good about being environmentally responsible while indulging in a spa-like experience.
The micro-holes in the showerhead's design ensure that water can easily pass through them while maintaining a flow rate of 6.7-7.0 L/minute, giving you a peaceful and relaxing spa experience unlike any other.
Using this showerhead also offers numerous health advantages, such as smoother, softer, and cleaner skin, prevention of hair loss, and increased cell viability. Plus, it comes equipped with a universal connection for simple installation, eliminating the need to consult an expert (please note the hose is not included).
Upgrade your shower experience and enjoy the many benefits that come with the Bath and Relax showerhead!
Benefits of using this Shower Filter
Effective in removing harmful water contaminants.
Use water-saving technology.
Bio-active mineral stones are capable of removing about 99 percent of chlorine from the environment.
Product information
Dimensions: 3.1 x 3.5 x 9.8 inches
Color: Clear
Material: stainless steel
Weight: 11.2 ounces
Pros
A 30 day money-back guarantee.
Has an easy installation.
Saves on water.
Cons
Some customers complain of leakages.

---
Final Verdict
To safeguard your skin, hair, and nails from damaging chemicals, it's essential to shower with clean, chemical-free water. Luckily, modern shower filters are an ideal solution to combat this issue.
They are scientifically designed to eliminate multiple harmful contaminants from shower water, and they're also economical and come with universal fittings that fit all kinds of shower heads.
This article emphasizes the significance of shower filters that specifically target chlorine and chloramine, and all the units we evaluated are incredibly effective in removing these two chemicals.
But, the Sonaki Inline shower filter stands out from the rest as it performs exceptionally well in removing chlorine and chloramines from your showering water up to 99.9% of the time.
Sonaki Inline Dual Filtration Shower Filter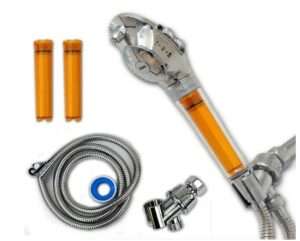 The Sonaki Inline shower filter employs the power of Vitamin C to naturally eliminate chlorine and chloramines from your shower water, providing a safe and healthy solution.
In addition, this remarkable shower filter has an extraordinary lifespan and can purify up to 11,000 gallons of water before you need to change the cartridge. The cartridge comes in three sections, making it easy to replace when the time comes.
Using this shower filter, you will enjoy the utmost quality, effectiveness, and durability, ensuring a satisfying shower experience every time.

---
Conclusion
Chlorine is an essential substance used in treating water to make it safe for consumption. It is commonly added to the water in large treatment plants to eliminate harmful contaminants.
However, exposure to high levels of chlorine can have negative effects on your skin and hair. This exposure can result in dry hair, itchy skin, and brittle nails.
To protect your family from chlorine exposure, it is recommended to install a shower filter. These filters are capable of removing chloramine and chlorine from the water, ensuring that you and your family are safe from the harmful effects of chlorine.
It is important to remember that taking care of yourself and your family is not selfish, but rather a crucial aspect of your family's well-being. Don't hesitate to invest in a chloramine shower filter to protect your loved ones and promote a healthy lifestyle.
---
Recommended Post:
Aquasana vs Pelican vs Jonathan Shower Filter
Aquabliss vs Culligan vs Aquasana Shower Filter
---
To quickly recap, these are the FAQs we have discussed.
---
Effectiveness of shower filters, and how long do the filters last?
When you purchase a shower filter, the manufacturer will provide an estimated time frame for when you will need to replace the filter cartridge.
Because if you live in a region where municipal or well water has quality problems such as hard water, a high concentration of sediment or limescale, this isn't the case; instead, it is.
If this is the case, your shower filter will most likely only last a limited period of time. So, when is the most appropriate time to replace the filter cartridge?
According to a general rule of thumb, if you observe a reduction in water pressure or flow rate, this suggests that your shower filter is clogged with pollutants and is unlikely to offer the advantage you want it to.
If you continue to use the shower filter without replacing it, you will most likely be bathing in a constant stream of water pollutants.
What to consider first before purchasing a brand new shower filter?
Shower water filters are designed to last between seven and eight months, so when shopping for a shower filter, look for one with a four- to six-month guarantee.
This will save you money on replacement and maintenance costs in the long run.
Two important factors to consider when selecting a shower filter are the method used to remove chlorine, chloramine, and other contaminants.
In order to effectively remove chloramine, chlorine, and other pollutants from the shower water.
A decent shower filter should use either the KDF-55 procedure or the Vitamin C procedure, both of which are extremely efficient water purification techniques.
Remember that you will be changing filter cartridges on a regular basis, therefore the installation process should be straightforward.
Make sure that you are receiving excellent value for your money at all times by keeping an eye on the pricing. The availability of filter replacements is readily accessible.
Negative Effects of Chloramine and Chloramine on Human Health
The most common symptoms of chloramine exposure are the following:
1. Constant and dry Skin Problems.
2. Problems of blood and kidney.
3. More prone to cause Respiratory Problems.
4. lowers Immune System.
5. Proven to cause Gastric and Stomach-Related problems.
Does Vitamin C shower filter remove chlorine and chloramine?
It's comprehensible that a large dose of vitamin C can neutralize chlorine and chloramine in shower water.
In fact, 50 gallon of chlorine and chloramine shower water can be neutralized by 1000mg of vitamin C, therefore putting a shower filter in the bathroom is critical since it will filter out all of the water contaminants contained in our shower water.
How do I know if a shower filter will effectively remove chloramines?
The filter must be designed and marketed to eliminate chloramines from water: 
Most shower filters are intended to remove a particular type of dirty material, such as chlorine or sediment. A filter may not be able to remove chloramines if that is not the purpose for which it was built or sold.
The filter must be supplied with a media capable of digesting and eliminating chloramines: 
Chloramines are formed when chlorine and ammonia react, which can be challenging to remove from water. A filter that uses a medium like KDF (copper-zinc) or catalytic carbon has a better chance of eliminating chloramines from water.
Look for certifications from organizations like the NSF and the WQA: 
The National Sanitation Foundation (NSF) and the Water Quality Association (WQA) test and certify water filtration systems based on how successfully they remove specific contaminants. If a shower filter has been approved by one of these organizations, it is more likely that it will be able to remove chloramines from the water.
Examine the ratings and comments of the customers, as well as their suggestions: 
Reading reviews and comments from other people who have used the shower filter can give you an idea of how well it reduces chloramines. If most customers are satisfied with the number of chloramines removed by the filter, the filter is most likely adequate.
You may also test the shower filter by collecting a sample of the water before and after the filter and analyzing it with a water testing kit to see if it contains chloramines.
It is critical to understand that the performance of a shower filter might vary based on the water conditions in your area and the number of chloramines in your water. Even if you have a reliable filter, you may need to experiment with a few filters until you find one that fulfills all your needs.
Can a standard carbon filter remove chloramines from shower water?
Standard carbon filters, also known as activated carbon filters, are frequently used in water filtering systems to remove contaminants such as chlorine, silt, and organic compounds. They may not be as successful at removing chloramines. Chloramines, chlorine-ammonia mixtures, are more stable and difficult to eliminate than chlorine alone.
Activated carbon filters attract pollutants to the surface of the carbon to remove them. On the other hand, chloramines can circumvent commonly used activated carbon filters and remain in the water. As a result, more than a standard carbon filter may be required to remove chloramines from shower water efficiently and effectively.
If you want to remove chloramines from the water in your shower effectively, look for a filter that uses a medium like KDF (copper-zinc) or catalytic carbon as its medium. These two media are intended to eliminate chloramines. Some filters use activated carbon and KDF or catalytic carbon to remove chloramines and other contaminants from water.
If you want to be sure that the filter you're thinking about will efficiently remove chloramines from water, look at the product specifications or contact the manufacturer.
How often do I need to replace the filter in a shower filter for chloramine removal?
The frequency with which you must replace the filter in your shower filter to remove chloramine depends on the water quality in your location. The sort of filter you have will also influence how frequently you will need to replace it. Some factors can affect how frequently filters need to be replaced, including the following:
The pace at which water travels through the filter impacts how quickly it clogs and needs to be replaced: The higher the flow rate, the faster the filter becomes blocked.
The water's condition: The amount of chlorine in your water supply determines how quickly the filter clogs and how frequently it needs to be replaced.
Type of filter: Some filters, such as those made of KDF or catalytic carbon, have a substantially longer lifespan than others.
Use: The frequency with which the filter is used also affects its lifespan.
It is critical to replace the filter at the manufacturer's recommended intervals and inspect it frequently for signs of wear and tear, such as a change in color or a reduction in the volume of water that runs through it. Some filters have indications that tell you when it's time to replace them.
The shower filter will eliminate chloramines and other contaminants from the water in your shower if it is cleaned and replaced regularly.
How does the cost of a shower filter for chloramine removal compare to other types of shower filters?
Several factors, including brand, kind, and features, can influence the cost of a shower filter that eliminates chloramine. Filters designed to remove chloramines may be more expensive than standard carbon filters or many other types of shower filters. This is because the equipment and materials used to eradicate chloramines are frequently more cutting-edge and, thus, more expensive.
For example, filters that use KDF (copper-zinc) or catalytic carbon may be more expensive than filters that use standard carbon. Furthermore, filters with many stages of filtering or other features, such as an integrated water softener or UV sterilization, may be more expensive.
A regular carbon filter, on the other hand, will be less expensive than a filter explicitly developed to remove chloramines. However, it is conceivable that it will not be as successful in eliminating chloramines and other contaminants as a filter designed expressly for this reason.
Depending on the manufacturer and the functions included, a shower filter that eliminates chloramines can cost anywhere from $25 to $100. It is critical to compare the prices of various shower filters and the features they offer before deciding on the best fit for your budget and your needs.
Are there any health benefits to using a shower filter for chloramine removal?
Using a filter to remove chloramines from your shower may suit your health in various ways.
Chloramines are a type of disinfectant that is employed in the water purification process. They can worsen skin, eye, and lung diseases. If you remove the chloramines from the water used in your shower, you may no longer have these symptoms.
Another adverse effect of chloramine exposure is dry skin and hair, which contributes to the overall appearance of deterioration. Chloramines have been linked to skin and hair dryness. Shower filters that eliminate chloramines may restore the natural hydration of your skin and hair, resulting in a supple and wholesome appearance and sensation.
Chloramines can also cause the water in the shower to smell musty. The removal of chloramines from the water should assist in reducing the odor.
If you inhale chloramines or allow them to permeate your skin, the contaminants they may contain, such as heavy metals, can harm your health. Other forms of pollutants may be present in chloramines. Although chloramines are known to cause disease, installing a shower filter that removes them may be beneficial.
A chlorine filter removes chlorine from water, which is added to drinking water to make it safe to drink. Chlorine, besides irritating the skin, eyes, nose, and throat, can dry out the hair and skin.
It is critical to remember that while removing chloramines from your shower with a filter may be suitable for your health if you are concerned about the potential adverse effects of chloramines on your health, you should still consult a medical expert.
---
Recommended Post
How Many States Use Chloramine