The Pelican, Aquasana, and Jonathan shower filters are top-notch when it comes to effectively eliminating harmful chemicals and contaminants from your shower water. Not only do they get rid of chlorine and fluoride, but they also do a great job at removing odors and other dangerous substances.
Did you know that the harmful chemicals present in shower water can actually strip your skin and hair of their natural oils, leading to dry, flaky skin, premature aging, and wrinkles? In fact, the highest level of chlorine exposure occurs during a hot shower.
To provide you with the most informative and reliable information, we conducted a comprehensive study and comparison based on both performance data and user experience. Our goal is to help you choose the best shower filter that effectively filters out water impurities and protects your skin and hair.
Pelican vs Aquasana vs Jonathan Shower Filter Comparison Table
| Features | Pelican Shower Filter | Aquasana Shower Filter | Jonathan Shower Filter |
| --- | --- | --- | --- |
| 1. Flow rate | 1.5 | 2.5 | 2.5 |
| 2. Material Used | Plastic | Plastic | Iron |
| 3. Filtration Method | Copper/zinc alloy | Copper/zinc alloy | Oxidation process |
| 4. Gallons filtered | 15,000 | 10,000 | 10,000 |
| 5. Lifetime | 6 months | 6 months | 6 months |
| 6. Chlorine removal | 96% | 95% | 94% |
Verdict
Untreated water can lead to various skin issues like dryness, lifeless hair, and brittle nails. Therefore, using a high-quality shower filter can improve your overall health by eliminating harmful contaminants present in tap water.
A good shower filter should have a series of filter elements that comply with NSF/ANSI standards, which help in efficiently removing chlorine, chloramine, and other impurities present in the water.
The Pelican shower filter incorporates advanced technology that targets the common chemicals found in hard water, harmful chemicals, sediments, and dirt to provide you with pure and clean shower water.
Besides, the filter ensures that the filtered water is rich in minerals, has a pleasant odor, and is free from chlorine and chloramine, which can lead to dry skin.
When you purchase the Pelican shower filter, you can be confident that you are making a sound investment in your family's health and well-being. The filter eliminates the potential health risks associated with contaminated water and ensures that you can enjoy a refreshing and rejuvenating shower experience.
Pelican PSF – 3 Stage Shower Filter Premium System (5-foot Wand) Pure White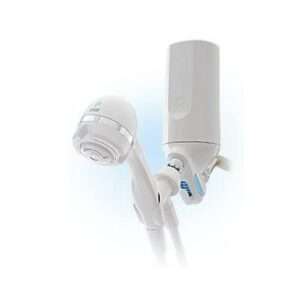 ---
Product Review:

Pelican, Aquasana and Jonathan Shower Filter
1. Pelican Shower Filter
Premium

System (5-foot Wand) Review

The Pelican shower filter does exactly what it says on the tin: it purifies your shower water to remove contaminants and leave you with a clean, healthy, and refreshing shower experience.

The filter is easy to install and fits onto your shower spout, with the option to add a 5-foot handheld massage wand for added luxury.

There are three stages of filtration: the first stage uses KDF-55D to remove chlorine, chloramine, and other pollutants, while also improving pH balance. Copper and zinc work together to create a little electrical charge, which dissolves heavy metals like mercury, cadmium, and arsenic.

The second stage uses activated carbon media to remove synthetic chemicals, THMs, and chloramines that vaporize from shower water and can cause respiratory problems like asthma. This stage also eliminates unwanted odors, leaving your water smelling fresh and clean.

The final stage includes far infrared balls that increase the water's negative ions and oxygen levels, which can result in improved skin and hair moisture. Many customers have reported lustrous, healthy hair and moisturized skin.

Pelican is so confident in their product that they offer a money-back guarantee if you don't experience the benefits they promise. Installation is a breeze and can be done in under 10 minutes, with universal fitting to fit any shower arm. And when it's time to replace the cartridge, it's a simple and convenient process.

Product features
Dimensions: 3.8 x 3.8 x 6.2 inches.
 Material: available in white and chrome finishes.
1.5 GPM water flow.
5- Foot tangle-free massage shower wand.
 Filters 15000 gallons.
Pros
Removes up to 96 percent of chlorine.
Simple to set up.
Good value for money.
Cons
The material used is plastic. Thus, high chances of breakage.

---
2. Aquasana Shower Filter System –
NSF Certified KDF & Carbon Filtration Media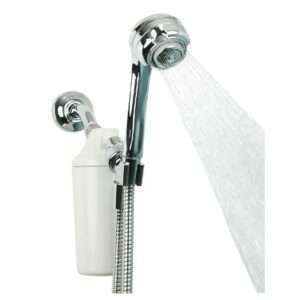 The Aquasana shower filter is a top-of-the-line model created by Sun Water Systems Inc., a company renowned for producing exceptional shower filters for more than five decades.
This innovative system employs a triple selective filtering process, which includes carbon filtration, ion exchange, and sub-micron filtration. Together, these methods work in tandem to remove impurities, odors, sediments, chlorine, and other harmful contaminants from your shower water.
Not only does it make your water cleaner and safer to use, but it also has the added benefit of revitalizing dry skin and hair. By eliminating the harsh elements found in hard water, the Aquasana shower filter provides a refreshing and healthy shower experience.
The filter's most impressive feature is its ability to purify up to 10,000 gallons of water, equivalent to six months of shower use. It's also lightweight and ergonomically designed, providing consistent water pressure and keeping your existing pressure intact with its high-performance inline water filter.
If you're looking for a quick, easy, and cost-effective way to improve your skin, hair, and nails' health, the Aquasana Shower Filter System is the perfect solution. It has received multiple awards and recognitions, including the Consumer's Digest Best Buy Award for its outstanding performance and cost-effectiveness.
It has also been awarded a Gold Customer Service Award and boasts an impressive 4.9/5 rating.
Product features
Dimensions: 6.25 x 6.25 x 8.75 inches.
Material: iron.
Flow rate: 2.5 GPM.
Pros
One of the market's longest-lasting shower filters.
Excellent value for money.

Hair and skin are not harmed.
Cons
It is quite costly in comparison to the rest.

---
3. Jonathan Shower Filter for Hard Water & healthy potassium ions to balance pH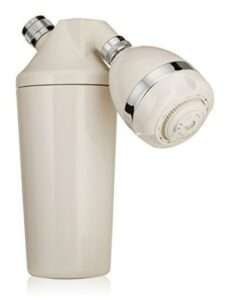 Are you tired of experiencing dry skin and hair after taking a shower, despite being certain that your water is safe to use? Look no further than the Jonathan water filter, which is an excellent and cost-effective two-stage shower filter that can help you solve this problem.
By using a combination of natural minerals, this shower filter is able to effectively remove chlorine, chloramine, fluoride, and neutralize odor from your shower water, resulting in cleaner, softer, and fresher water.
The filtration system has been rigorously tested and certified to remove chlorine and other heavy metals, while balancing the pH and neutralizing typical odors with healthy potassium ions.
In the first stage of the filtration process, the water goes through an oxidation process that removes 91% of the chlorine, pre-conditioning it for further filtration in the second stage.
The second stage utilizes activated carbon media with ion exchange to remove organic compounds and heavy metals, while replacing the heavy metals with potassium ions to produce fresh, clean water that mimics natural spring water.
The Jonathan Shower Filter is easy to install and requires no tools, just a hand to tighten the pipe connection and some plumber tape included. With no leaks or cracks, you can be confident that it will significantly improve the condition of your skin and hair.
The cartridge is designed to purify around 10,000 gallons of water, which means that one filter should last the average household for an average of 6 months. If your water is dirtier, however, you may need to replace the filter more often.
With the Jonathan Shower Filter, you can enjoy a relaxing shower without worrying about the negative effects of chlorine and other heavy metals on your skin and hair.
Product Features
Dimensions: 2 x 2 x 2 inches.
91% chlorine hair & skin.
 Filters 10,000 gallons per cartridge at 2.5 gpm.
The material is made of iron that is accompanied with a chrome finish.
The Jonathan shower filter can be adjusted to a fixed shower head and handheld unit.
Pros
Improves the ph balance.
Removes copper and lead from water.
Simple to set up.
Heavy metals are filtered by this device.
Cons
Purchaser will be needed to purchase the full kit at the beginning.

---
Recommended Post
Aquahomegroup vs Aquasana vs Culligan Shower Filter
---
What to Consider When Going For a Shower Filter
Although all the above water filtration systems are considered excellent models to remove water contaminants, they differ vastly from the initial cost to buy to the capacity and how much it costs to replace it.
If you think a filtration system that costs 25 cents a gallon to filter is going to be better than a system that costs 10 cents, then you're wrong.
Second, there are other differences: Most appliances eliminate chlorine, but the quantities vary in the same way.
VOC'S
Lindane
Atrazine
Benzene
Alachor
cysts
This is why if you value your health, you really must learn all about water contamination and which product will provide you with really clean, clear, pure water.
What to Look For In a Water-Filter
It would be best to look for a premium appliance that uses a twin cartridge system that will last you up to six months and costing no more than ten cents a gallon.
The best dual filter systems use a combination of carbon and sub-micron filtration alongside ion exchange.
They remove all the nasty contaminants from your water, yet unlike reverse osmosis and distillation products, leave behind the minerals essential to your health.
Recently vitamin C has been considered one of the dechlorination methods in our American water works association standard (AWA).
This filtering technique has had such positive results that it has been included into the designs of numerous shower filter systems by manufacturers.
Plus, vitamin C and negative ions promote silky, shiny hair while making your shower water kinder and gentler on your skin.
The design of the shower filter should also be taken into consideration. The material should be a sturdy, durable material, a desirable shape, and a pleasant texture.
Installation should be quick and easy without the need for special instruments.
FAQS
Are shower filters worth it?
Shower filters are necessary these days. Numerous studies and probes have revealed that water over the world is contaminated with harmful chemicals that can lead to various health problems. So having some filter is better than no filter at all.
Since there are toxins in water, the obvious solution is to use a carbon filter, which can remove all contaminants, whether organic or synthetic.
Carbon filters are the most convenient and low maintenance method for water filtration. When looking for water filters, buy a shower filter that does not strip water of its natural trace minerals like magnesium, potassium, and calcium, essential for good health.
How often should you replace a shower filter?
It would be best if you looked for a premium appliance that uses a twin cartridge system. The cartridge is rated to purify about 10,000 gallons of water.
Which means that one filter should serve an ordinary family six months at a cost of no more than ten cents per gallon, or six months on average. It's important to note that if your water is dirtier, it will need to be replaced more often.
What happens when one doesn't change the shower filter?
If you don't replace the filter, it means you will start showering in unfiltered water. When you shower in unfiltered water, it's not uncommon to invite unwanted bacteria, chemicals, and other nasty substances in your system that are toxic.
Too much exposure can be very detrimental to your health.
CONCLUSION
As you can see, there are many essential points you need to consider when buying shower filters.
With a water filter, the water coming out of the shower filter system is guaranteed to give you cosmetic benefits besides helping solve respiratory problems like asthma and general issues like dry skin dandruff and itching.
These water filtration systems also include minerals such as alkaline, ceramic balls and activated carbon, calcium sulfate, and other filtering materials that help to maintain a balanced pH and guarantee the greatest possible impact of water quality purification.
In order to protect your health, it is recommended that you install a shower filter. Filtering water in the home is a crucial step toward a healthier lifestyle.
It remains that our bodies are more than 70 percent water, so it follows that the quality of our water supply has a profound effect on our health.
Not only does shower filtration have internal health benefits, but your skin and hair are healthier, too, and permanents and color treatments last longer.
The advantages of having a filtered shower and filtering sink water are that when you filter out the chlorine and the other chemicals that have slipped through the city's water treatment plants.
You decrease your risks of inhaling the fumes created by these chemicals in your hot shower pelican water system.
You eliminate the possibility that you will absorb the carcinogens through your skin. Nevertheless, it isn't necessary once potentially deadly bacteria and pollutants have been removed.
So it can safely be removed once it reaches your house. You can have better water without the expense of buying it.
Since the water standards are unlikely to change anytime soon because of the expense of improving the present systems and the lack of zeal over it in public, consumers must take measures themselves to protect themselves and their families.