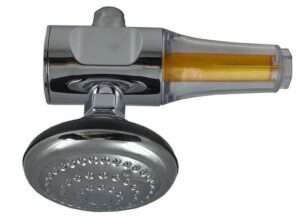 Sonaki inline shower filter is created by Sonaki firm, which has been well-known for their iconic Vitamin C shower filter and shower head for over 8 years.
In this review, we will examine the Sonaki Vitamin C inline shower filter, which has been proven to remove chloramine, chlorine, soften hard water, and other water contaminants found in shower water.
Sonaki 6 Stage – Chlorine & Chloramine Vitamin C Shower Filter
This shower unit has a 6-stage filter system that combines all-natural Vitamin C filter ingredients that are perfectly positioned to remove chloramine and chlorine, as well as a molecular cluster filter that softens hard water and filters out heavy metals, dust, mildew, THM, and Phenols.
Furthermore, the Vitamin C filter lasts three times longer than conventional filters, equivalent to 3,000 gallon.
This is ample time to allow your skin to repair and replenish from the detrimental effects that hard water had on your skin from unfiltered water.
Read: How to Filter Out Chloramine
The Sonaki shower unit comes with a set of components that make installation simple and quick, including three vitamin C filters, a filter housing, and a wrench for tightening the filter to the shower head.
The brass and chrome finish, see-through filter housing, and durable resin filter set this shower model apart from the competition.
The see-through housing allows one to see how the vitamin c solution is being utilized, and the brass and chrome finish makes the shower filter last longer.
One disadvantage of the Sonaki shower filter is that the replacement filter is pricey, which does not sit well with everyone who wants to buy it, even though the filter is readily available on online stores.
Product Features
Brand: Sonaki Shower Filter
Shower Unit Dimensions: 5.2 x 3.3 x 12.8 inches
Material: Resin
Shower Unit Weight: 1.7 pounds
Filter Type: 6 stages Filtration
Pros
Effective to eliminate chloramine, chlorine and soften hard water.
It employs a five-stage premium filtration technique.
The shower filter housing is made of durable materials that are meant to last.
Inline shower filter that uses only natural vitamin C to make your skin softer and smoother.
The filters can be used for up to three months.
Cons
Filter replacement is fairly costly.

---
Conclusion
Our shower water contains a variety of harmful impurities that can harm our skin, hair, and overall health.
Having a shower filter that removes harmful shower water contaminants is critical because they are designed to not only make the shower water pure but also balance the pH level and remove chlorine odor, making the water fresh and cleaner.
Sonaki shower filter is one of the best shower models because it uses 6 vitamin C stages to neutralize chlorine and chloramine.
Which are the main causes of dry skin and hair because they strip natural oils from the skin and hair and cause further damage by blocking skin spores that produce natural oil.
Furthermore, thanks to its durable resin and polished metal-looking brass, this shower unit is built to last. This material has been proven to last for many years with less wearout and tarnishing that is common in many shower filters.
The shower filter is manufactured in South Korea and is managed locally in the United States.
Recommended Post
5 Chloramine Shower Head Filters
---
Does Sonaki Vitamin C inline Shower Filter work?
Yes, shower filters with vitamin C soften hard water and eliminate 99.9% of oxidized chlorine and chloramine from water, which is why many shower filter manufacturers have begun producing shower filters with vitamin C components in shower units.
How often should you change the Sonaki Inline shower filter?
Sonaki shower filters have a capacity of 10,000 gallons before needing to be replaced, thus this will definitely rely on how often one uses the shower water when showering, but an average of 10,000 gallons has approximate of six months or more of daily showering.
So while purchasing this shower filter, keep in mind how long the shower filter is likely to endure.
Furthermore, the sonaki shower unit comes with a transparent or see-through casing that allows one to see how much vitamin C solution is being used or left in the shower cartridge.
Does Sonaki inline shower filter affect water pressure?
Shower filters are made with streamline filters and bodies that improve shower pressure rather than affecting flow rate, therefore shower filters do not impact water pressure.
Most shower filters have a pressure range of 20-100 psi, which is a conventional flow rate of shower water that does not exceed the normal flow rate of water.
Is it safe to drink filtered shower water?
Filtered shower water is generally safe for your health because it is free of water contaminants and chlorine odor.
However, filtered shower water is intended for showering and the impurities that are filtered out are those that damage our skin and hair. One can confidently drink filter shower water without fear of unwanted health effects because the water is cleaner and purer than tap water.
Can one clean sonaki shower cartridge?
Sonaki inline shower filters cannot be cleaned because the vitamin C solution depletes when mixed with shower water. When the solution is gone, the shower cartridge must be replaced.
Unlike other shower filters that use activated carbon and kdf, this filter can be successfully cleaned because it gets clogged owing to filth and sand sediments.
As a result, it is necessary to unclog the shower filter pores by washing the shower filter, as this affects the flow rate of shower water.
Is using shower filter important?
Yes, shower filters are very important, especially in areas where shower water has high traces of chlorine, iron, and other harmful water contaminants.
With the related damaging effects of chlorine and chloramine, the need for a shower filter is very important because the shower filter will eliminate these harmful impurities found in shower water, and it is very difficult to know which water impurities are found in shower water.
What might cause the Sonaki shower cartridge to leak?
One of the most typical problems that can cause a sonaki shower filter to leak is when the shower head or shower arm is wrongly tightened, allowing water to seep through and cause water to drip.
This issue can be resolved by turning off the shower water, unscrewing the shower filter, and then screwing correctly from both ends.