Investing in a modern shower head is one of the most beneficial upgrades you can make to improve your daily bathing experience. These shower units come with amazing features at an affordable price.
And with so many magnificent shower heads on the market, each with its unique features, it can be difficult to decide which one is most suitable for you.
Peerless and Waterpik shower heads feature amazing spray settings, converse water, and are reasonably priced. Also works well in areas with low water pressure due to the precision streamlined nozzles that increase water pressure.
Our objective in this comparison is to assist you in making the most informed choice by providing a detailed comparison and reviews of the Peerless 76465D Sidekick and Waterpik XRO-763 shower heads.
Waterpik vs Peerless Showerhead Comparison Table
| | | |
| --- | --- | --- |
| Features | Peerless 76465D Sidekick | Waterpik XRO-763 |
| Manufacturer | Delta Faucet Company | Waterpik |
| Material | ABS-Plastic | Plastic |
| Setting Type | Massage, pause, & full | Massage |
| Included Components | Showerhead, pet scrubber, suction mount, tile scrubber, & hose | Handheld showerhead, adjustable bracket, installation manual, 5-foot hose |
| Weight | 4.11 pounds | 1.3 pounds |
| Flow Rate | 2.5 GMP | 2.5 GMP |
| Product Dimensions | 7.13 x 6.44 x 7.81 inches | 2.75 x 4.25 x 10 inches |
| Shape | Round | Round |
| Warranty Description | Lifetime Limited Warranty | Lifetime Limited Warranty |
Verdict
The modern shower head offers a perfect blend of functionality and aesthetics, allowing you to relax while you take a shower.
It is obvious without saying that showerhead technology has come a long way with a wide selection of models to choose from. Based on this comparison, we have selected our top choice.
Our preferred pick is the Peerless 76465D Sidekick, which is among the top contenders regarding shower heads. This shower head model is designed to enhance a better showering experience and personal hygiene.
The following features make it stand out:
    A single or shared operation thanks to its 2-.in-1 shower head.
    It has five different spray patterns, giving you a variety to choose from.
    A soft waterfall setting, ideal for bathing children.
    The shower wand has three spray patterns.
    The shower head has Touch-Clean spray holes made of soft rubber that allow for easy cleaning.
Peerless 76465D Sidekick Handheld Showerhead

---
Product Review: Waterpik vs Peerless Shower Head
1. Peerless 76465D Sidekick (Top Pick)
This Peerless shower head is designed with an easy installation process through its universal fitting that easily fits any standard shower arm and does not require special tools.
The hand shower is suitable for cleaning children, pets, and the elderly, as its flexibility and light weight make it easy to direct the water where it is needed.
This model features five spray patterns: full spray with wand spray, massage spray, water-amplifying spray, and full spray, making it the highest-rated 2-in-1 shower head in this comparison.
Furthermore, the shower wand has three spray patterns: pause, laminar/soft waterfall spray, rain shower and shampoo-rising spray. You can select spray strength by dialing a volume adjusting tab on the hand shower.
This model comes with an extra-long metal hose that provides extended reach and anti-clog nozzles which prevent lime and calcium buildup. These prevent nozzles from clogging and affecting shower water pressure.
Product Information
Brand: Peerless.
Installation method: wall-mounted.
Material: ABS-Plastic.
Color: Chrome.
Weight: 4.11 pounds.
Pros
2-in-1 shower combo.
Five spray patterns.
Pivoting wand with extended reach.
Three spray pattern settings on the hand shower.
Affordable.
Easy installation.
Cons
The flow control valve wears out after a few years.

---
2. Waterpik XRO-763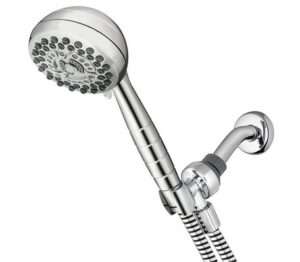 The Waterpik XRO-763 handheld shower head prides itself on Waterpik's patented Therapeutic-strength massage spray PowerPulse which delivers up to 2X the massage force.
This handheld shower is designed to integrate seamlessly with any shower arm, and it comes with an adjustable bracket to ensure a secure fit.
This will allow you to use it as an overhead shower or a 5-foot hose with a handheld spray shower head by inserting the handle in the movable bracket holder.
The shower head comes with seven settings, one of which is a PowerPulse massage spray. This has been clinically proven to relieve muscle tension, promote restful sleep, and increase flexibility.
The Waterpik XRO-763 handheld shower head will provide powerful, high-style performance when showering.
Product review
Brand: Waterpik.
Material: Plastic.
Color: Chrome.
Weight: 1.3 pounds.
Pros
High pressure with therapeutic massage spray.
Seven spray settings.
Adjustable bracket.
Easy installation.
Cons
The shower head only has one setting type.

---
Conclusion
A shower head is an integral component of any bathroom shower system. The secret to having a happy shower is to have a sense of accomplishment when you get out of the shower.
This includes the type of shower head you have installed in your bathroom. Because of its unique qualities, we concluded that the Peerless 76465D Sidekick shower head is the winner in our review.
Recommended Post
Comparison of High-Pressure Handheld Showerheads
Metal vs Plastic Shower Hose & Heads