Exploring reviews of shower heads authored by market professionals can be a revealing experience, as it becomes increasingly evident that the finest shower heads are not necessarily the most popular or costly brands available.
Instead, you are likely to discover exceptional shower heads that possess superior functionality and are also economically viable. Present-day shower heads incorporate advanced settings that aim to elevate the user's showering experience while conserving water usage during bathing.
Moen and Grohe shower heads stand out as some of the most dependable shower units in the market, exhibiting optimal user experience, elegant design, and durability.
In addition to providing invigorating shower sprays, these shower heads are crafted from resilient metal material, ensuring longevity.
The goal of this comparison is to scrutinize the key distinguishing characteristics of each shower head, as well as performance metrics, product attributes, and pros and cons.
Ultimately, we aim to identify the top-performing shower head that meets the requisite criteria of a contemporary shower head.
Grohe Euphoria vs Moen Shower Head: Comparison Table
| | | |
| --- | --- | --- |
| Features | Grohe Euphori 260 | Moen S6320 Velocity |
| Size | 10 Inches | 8 Inches |
| Flow Rate | 2.5 GPM | 2.5 GPM |
| Spray Settings | 3 Spray Setting | 2 Full Patterns |
| Cleaning | Speed Clean Nozzles | Self-cleaning Nozzles |
| Warranty | Limited Lifetime Warranty | Limited Lifetime Warranty |
| Setting Type | Rain | Full Body |
| Material | Metal | Metal & Brass |
| Installation Methods | Wall Mount | Wall Mount |
| Shape | Oval | Round |
Verdict
After conducting an in-depth analysis of the Grohe Euphoria 260 and the Moen S6320 Velocity shower heads, we have determined that both products are of high quality.
However, in order to provide our readers with a well-informed and comprehensive evaluation, we have thoroughly compared these two options based on user experience, durability, and price.
Upon careful consideration, we confidently recommend the Moen S6320 Velocity shower head as the superior choice due to its exceptional features and benefits.
One notable aspect of this shower head is its innovative technology, which enhances the overall showering experience. With an impressive 3 times greater water coverage than many other shower heads on the market, the Moen S6320 Velocity provides an invigorating and powerful wash.
Moreover, the Moen shower unit boasts an 8-inch diameter and adjustable water flow, in addition to its immersion technology. This combination ensures a personalized showering experience that meets individual preferences.
Notably, the self-cleaning nozzles on the Moen shower head prevent scale buildup and facilitate easy installation. Additionally, the shower head's attractive design strikes a balance between functionality and aesthetics, making it an affordable and dependable option for any bathroom.
In conclusion, after thorough consideration and comparison, we confidently recommend the Moen S6320 Velocity shower head as an excellent choice for its outstanding features, benefits, and exceptional value.
Moen (S6320) 8-inch Shower head with Two-Functions Rainshower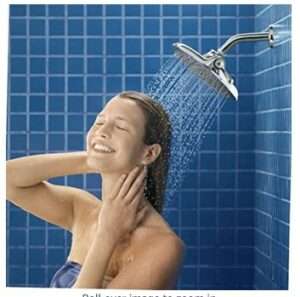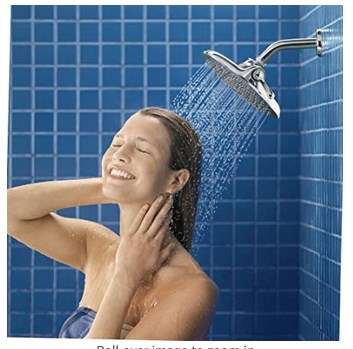 ---
Read:- Kohler vs Moen Bathroom Faucet
---
Product Review:

Grohe Euphoria & Moen Shower Head
GROHE Euphoria (26457000) with 3 Spray Setting Shower Head

An indispensable feature of a dependable shower head is the ability to provide a refreshing and invigorating water flow. The Grohe Euphoria 260 shower head is a cost-effective option that boasts a wide range of unique and exotic features, as well as exceptional mechanisms for regulating water streams.
When choosing a suitable shower head, it is important to look for key features such as multi-setting shower sprays, water-saving capabilities, compatibility with filters, and flow rate. Let us explore the Grohe Euphoria 260 in more detail and discover what it has to offer.
What Can You Expect from Grohe Euphoria 260?
Three Spray Functions
The shower head offers a three-spray function that serves as a regular shower, a massage shower, and an aerated drench. These functions include Jet Spray, SmartRain, and Rain Spray. SmartRain boasts an invigorating and energizing blend, making it a great option for a leisurely bath.
The Jet Spray function uses a powerful jet stream to provide ample water pressure on the back, head, and neck, allowing for a massage-like experience.
The Rain Spray function, on the other hand, utilizes all the nozzles on the spray plate to deliver an aerated drench, creating a fun and enjoyable shower experience.
Water Saver
The Grohe Euphoria 260 has been intelligently engineered to conserve water, featuring a water-saving mechanism that restricts water flow while you are showering.
The water is distributed evenly to each nozzle, with a water flow rate of 2.5 GPM and pressure of up to 30 psi, allowing you to save up to 20% of water usage per minute.
Scratch-Resistant Chrome Finish
The Grohe Euphoria 260 shower head is crafted with a scratch-resistant and striking Grohe Starlight chrome finish, ensuring long-lasting durability and extended use.
The elegant chrome finish complements most bathroom styles and designs, and the nozzles are free of limescale due to a brush-free design, making cleaning as simple as a quick wipe.
No Scalding, Shower Shock, or Other Temperature Issues
The Grohe Euphoria 260 shower head comes with a cool-touch feature, reducing the temperature of the water as it touches your skin by several degrees.
Additionally, you can turn off the shower head for a minute using the flow interrupter or pause valve and then turn it back on at the same temperature, eliminating scalding, shower shock, and other temperature-related concerns.
The Grohe Euphoria 260 has received many positive reviews from numerous customers, making it a reliable and recommended choice for those seeking an affordable yet feature-packed shower head.
Below is a quick summary of its product features and pros and cons.
Product features
Dimensions: 13.07x 12.68 x 4.41 inches.
Three spray patterns enhancing your shower experience.
A Smart-control that will have you adjust easily through the ways.
Meets the Water Sense set standards.
It has a limited lifetime warranty.
Pros
Modern looking.
Clear and easy installation instructions.
Simple to adjust the settings
Durable
Cons

The foregoing depiction indicates that Grohe has meticulously scrutinized all the indispensable traits of a high-quality shower head.
The Grohe Euphoria 260 confers a remarkable sensation post-shower, providing an enjoyable and enticing experience that may compel one to linger in the bathroom for an extended duration.
Following our comprehensive evaluation of the Grohe shower model, let us now shift our focus to the Moen shower head, a formidable contender boasting an impressive array of features.
Read on to find out about Moen S6320 Rain Showerhead.
---
Moen (S6320) 8-inch Shower head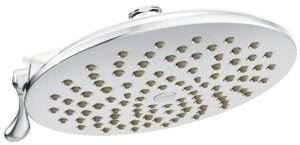 Moen is a brand that has a long-standing reputation for providing an exceptional showering experience. A comparison with the Grohe shower head reveals significant differences between the two, particularly in terms of design and premium features.
Moen's commitment to meeting customer demands is evident in the development of the Moen S6320 Velocity Two Function Rainshower 8-Inches Showerhead, which boasts an impressive array of features at an affordable price.
One of the standout features of the Moen Velocity Showerhead is its dual spray mode, which allows users to switch between a full spray and a concentrated rinse with ease.
The full spray mode produces a refreshing stream of hot water that can be adjusted to various angles, while the concentrated rinse delivers a high-impact water profile that effectively reaches all parts of the body, providing a massaging effect.
In addition to its exceptional coverage, the Moen Velocity Showerhead boasts a stylish design with four finishes that can blend seamlessly with any bathroom. Its patented immersion technology feature intensifies water flow, resulting in a water cascade effect that delivers twice as much water as a standard shower.
Installation is hassle-free and can be done quickly and efficiently. The shower head can be mounted on the wall and removed easily, allowing users to direct the spray where they want for a soothing and relaxing experience.
Overall, the Moen Velocity Showerhead is an excellent choice for anyone looking to upgrade their showering experience. Its unique features and exceptional performance make it a top contender in the modern shower head market.
Product features 
Dimensions: 10.5 x 9.5 x 4.13 inches
Color: chrome
Wall-mounted
Item weight 2.45 pounds
2.5 GPM
Customer rating: 4.7 stars
Pros
Lightweight
Easy to install
Easy to assemble
Durable
Value for money
Spray pattern that enhances your showering experience
Cons

---
CONCLUSION
Taking a shower is always enjoyable and relaxing, especially when you choose the right shower head.
The market offers a wide variety of shower heads. Before you buy one, you should consider other factors, like the size of the shower, the kind of shower head (fixed, handheld, both), and your budget.
Read:-
Delta vs Moen vs Kohler Shower System
---
Ways to make the slow shower more powerful
There will be nothing enjoyable about showering on the off chance that the water turns out in an inadequate flow from the shower head.
You would want a rain shower head that offers you an adequate flow of water that is powerful enough to stimulate and refresh you early in the morning to let your day start on the right tone.
So in a given chance that you have been experiencing an anemic shower that produces a weak sprinkle, below are lists of cheap ways to improve your showering experience.
Nonetheless, if the problem isn't solved, it's time to buy a new shower head.
Have a shower pump installed
If you want to have a powerful shower, then buy a shower pump for your bathroom. This is one of the options you would like to take into consideration.
You do not need bathroom retrofitting or refurbishment to achieve the water pressure and water level you desire because you only need a shower pump to do the trick effortlessly.
This is one of the most affordable solutions and will require a plumber for the fixtures.
There are two kinds of pumps, the single pump and the double shower pump. The single pump one has one valve and only produces average water temperature, but you can increase water pressure.
Meanwhile, the double pump can accommodate two showers in an instance, either hot or cold. With a double pump, you can mix hot and cold water quickly.
The strength of these pumps is not measured according to their brands or prices, but according to bars, which range from 1 to 4, the higher the bar your pump has, the higher the pressure of water it releases.
However, there are instances where water pressure is too high, which needs to be decreased or controlled; thus, the shower head's functionality comes in.
Your shower head can control and reset the water pressure by increasing or decreasing it according to your preference.
If you want to buy shower pumps for your families, you should assess the family members' needs before choosing one.
You can ask for advice from a plumber or an interior designer to know the proper power you need for your pump.
Have your shower head cleaned
Limescale buildup, sediments, and corroded water pipes are the most common cause of low shower head pressure. They tend to clog the shower head as water flows off through the nozzle.
If this happens, unscrew the shower head and submerge it in a white vinegar bowl for at least eight hours to remove scale. If there is a filter, clean it too.
Then use a toothbrush to clean out the remaining particles from the individual rubber nozzle. Screw the shower head back on and run the water full-blast to check if the water pressure has increased.
Cleaning up the shower head and the pipes will increase the flow rate allowing water to flow at a higher pressure improving your showering experience.
Inspect your flow restrictor
The incorporation of flow restrictor will minimize the water flow. Manufacturers use water restricting device as a water conservation measure.
You can increase water flow by removing this flow restrictor moen shower valves or the filter, the rising standard of 2.0 GPM. A 2.0 GPM is legal in most areas.
After removing the restrictor, put the shower head back into place and check if the flow is better. 
Inspect your shower for kinks
This would only need a quick inspection of your shower hose or the waterline. In the case of kinks blocking your water passage, clear the water passage by getting rid of the kinks as a quick fix.
Ensure no kinks are blocking the water pipes. For the handheld shower head, the hose has to be clear of twists.
Ensure the valve is fully open
To test if the valve is fully open, turn on the shower to full capacity and allow it to run for about a minute into a bucket. The moment the bucket overflows, stop the clock and calculate the GPM.
If the time taken to fill the bucket is below 2 GPM, then the valve might not be fully open. In new homes or apartments, the in-line fixture or the shutoff valve might be partially open.
If that's the case, turn these valves counter-clockwise all the way to adjust to full pressure.
In some instances, the water pressure might have been reduced intentionally by the previous owners either as a measure to reduce water leakages or an attempt to force the residents to use less water. In either case, turn these valves to full pressure.
Leakages might be caused by a broken valve or a snapped pipe near the valve, causing reduced showerhead pressure.
Leaks in the home are known to have the potential of flooding the house if the pipe snaps completely. Leaks will reduce the amount of water flowing to your shower head and give you a weak sprinkle.
Call a plumber to repair leaks or use epoxy putty to stop the leak temporarily. 
Have the water heater shut off valve turned on
Your water heater could be another cause for the reduced water pressure in your shower head if you have good pressure when using cold water but lower pressure when using hot water. Buildup sediment or debris may block the water heater.
A flush of your water heater system could be the solution to your water pressure in our shower head. Have all the pipes in your water heater drained out and flush through the water.
This is known to clear off the blockages in the system. Inspect your water heater valve to ensure that the shutoff valve is open. This will significantly improve the water pressure issue in your shower head.
Consider getting a low-pressure shower head

.
The problem may not be related to the plumbing works, and no cleaning could correct the low pressure. Sometimes replacing the showerhead to a low water pressure shower is all you need to do.
This will provide a solution to your shower head's low pressure as some areas are affected by low pressure.
The low- pressure shower head will help produce a powerful spray of water in your shower compared to the other showers.
Is Grohe A Good Brand?
Grohe is a popular brand in delivering the best with over 300 awards over the years since its establishment.
Grohe believes water is a great commodity and must be used to the best capability with limited waste.
Grohe has values in ensuring sustainability; quality, design, and technology are incorporated into their products.
These core values have seen Grohe continue to manufacture the best over a long period give them an edge over their competitors.
Judging by all measures, Grohe shower head brings a different experience in the shower. On using this shower head, you will notice an improvement in your skin and hair.
In addition to that, its price it's quite affordable/cheap, and considering all the packed features it has, it's a great and awesome deal. Below is a summary of its elements besides in addition to what we have already reviewed.
Features of Grohe Showerhead 
Being a German brand, they are committed to offering the best in the market, with Grohe shower head being part of delivering the best.
The grohe shower head has a powerful filtration system that helps reduce the chemicals present in your water for cleaner and smoother skin.
The showerhead can eliminate 99% of impurities that may damage the skin and hair. Lessening the amount of chemicals in water also reduces scale buildup, and thus you get a better working shower with a more fulfilling showering experience.
It also has an anti-clog rubber spray nozzle that eases water flow through the showerhead, making your showering experience hassle-free.
Features 3 Spray Settings
The Grohe shower head comes with three spray settings to match your mood. You could choose a full-body spray for maximum water coverage or an invigorating pulse for a soothing muscle massage.
The showerhead has been certified by the NFC, which assures you of its quality standards. Its Bacteriostatic report shows that the system limits passage or breeding of bacteria that may already exist in the incoming water.
It provides you and your family with a chemical-free shower, and besides, it works for a considerable time before it can be changed.
The Wall-Mount shower head effectively filters water for six months, which equals about 10,000 gallons before it demands changing.
 It comes in a sleek chrome finish that makes it attractive for any bathroom type. It is very easy to mount the showerhead yourself at home even without using any additional tools.
With the Teflon tape provided from your purchase, you can fix-up this in just moments.
Grohe brand is committed to new and improved innovation to make their products more desirable and efficient in the long run. Assembling is given the needed attention ensuring all customer needs, from aesthetic to use, are taken into thought.
The customer is in mind from the beginning of the production to the end.
They seek for new improvements to incorporate with the existing ones to see improved products. The main goal is to achieve customer satisfaction.
 The idea of having a tool that works efficiently and desirable to look at improves the desirability of having the Grohe in your bathroom.
Grohe shower head can offer showers that will add the décor to your bathroom and works efficiently and correctly. This has made Grohe win awards for incorporating design and efficiency in their products.
We are all seeking to sustain the environment we live in by ensuring all that we incorporate in our daily lives does the same.
Grohe brand goes the extra mile to see water conservation with its all faucets installed with restrictors and still performing as expected. The preservation of water will see the planet have more to preserve for future generations.
 All faucets from Grohe are accompanied by a limited lifetime warranty that promises replacement on broken parts, depending on the particular product. For residential settings, all products are covered with a warranty giving you peace of mind.
Who Makes the Best Shower Systems
A nice showerhead will have a significant effect on the time spent in a shower. The wide array of shower systems in the market would prove challenging on what is best for your shower, but a decent showerhead will make all the difference to your time spent in a shower.
A top of the notch and powerful showerhead, not only crafted and looks stylish but also offers the best water pressure, different setting and temperature control.
Here are some of the best showerhead features you can look into. The variation ranges from fixed shower or handheld combination with the full-body system.
Factors to Have In Mind
Be Picky For Shower Head Style
The style and ergonomic of your showerhead should precise coordinate the fixture and tub filler. The finishes of the showers offer a wide range to pick from. The showers are both made of plastic and finished off with polished chrome or oil-rubbed bronze. Moreover, Style ought to have a comparative look.
However, it doesn't need to coordinate with the bathroom. The showerheads of today or our time offer diverse spray designs from drenching rain to a fine mist. When picking a shower, go for the material that would not corrode easily and is rust-resistant.
There are many variety showerheads that are accessible available in the market. Pick a handheld variant with a controlled spray to bathe kids, wash a pet, or enable the individuals who need to shower taking a seat.
This kind of shower will allow you to adjust the flow of our showerheads. This will enable you to conserve water when shampooing.
Some mount on a vertical slide for adaptability and take into account stature contrasts. The divider that is mounted on the shower is most regular with an overhead shower set on the roof.
This may require more water to work. Body splash showerheads are little showerheads introduced in the arrangement of a few along with inverse dividers.
A definitive is body fog shower with a progression of planes in a solitary bar to delicately wash the body and have portable power and splash designs.
A self-cleaning showerhead is a right choice in case you live where there is hard water. On the off chance you live close to saltwater and choose a showerhead with extraordinary defensive covering for chrome and metal apparatuses. The covering will enable you to keep up the look without staining, discoloring, or setting.
A low-pressure jet might not be what you are looking for and may cause some frustrations on an early morning. Low-stream shower heads save water by confining course through littler openings.
The governmental ordered push to save water has lowered shower heads' flow to close to 2.5 gallons per minute.
Some shower head producers offer flow confinement systems that reduce levels even lower. While they spare water at this lower level, the water temperature might be lower than wanted.
 You can find a wide range of price range of showerheads. If you buy the lower-priced models, they offer fewer features and fewer guarantees.
If you are replacing wall mounted showerhead, you will find options that you can take into consideration. You do not need break the bank to get a showerhead that will achieve the water pressure and water level you desire.
The Fixed Shower and Handheld Combination
The fixed shower and the handheld shower system could be attached to the wall or the ceiling, with the designs being modern. Some of the models offer the showerhead and handheld at once, giving you the option to select what will work best for you.
Inspect whether they provide a control valve to measure the pressure with the primary intention to keep the water temperature conducive for you.
 This system ensures it can cover the whole body with the jets present. Most of the full-body systems are wall-mounted with features such as the overhead fixed shower head, handheld shower head with a hose, and individual body jets.
 The full-body systems are different depending on the choice of combination one would go for. The option to control the spray pattern on the valve on the hose with deciding which one will be more convenient for you.
Undoubtedly need to choose another. Changing to an overhead/fixed showerhead may be a costly affair.
The latest showerheads influence you to feel as you are shower in the outdoor, as the water comes like a gentle waterfall or mild rain. There is a wide variety of showerheads available in the market than ever before, and these come in each possible shape and size to suit all needs.
When purchasing the right shower that will work, you will have to consider more important factors other than the shower design.
The Ease of the Installation Process
It should not be a task to install a showerhead. Pick one that will offer you an easy time to have it fixed and running effectively with no leakages or use of tools.
The best shower head systems in the market should be able to provide for features that are desirable to the consumer and long-lasting. You will be able to decide on the best shower system when all your personal needs are met with no compromise of service delivery.