Are you and your partner tired of compromising on your shower preferences? Say goodbye to those arguments over water temperature and spray intensity, because we have the perfect solution for you!
In this blog post, we will explore the world of dual shower heads specifically designed for couples. These innovative shower heads offer the ultimate showering experience, allowing both partners to indulge in their individual shower preferences simultaneously.
Imagine stepping into a luxurious oasis where you can enjoy a gentle rainfall while your partner luxuriates in a pulsating massage spray. With dual shower heads, you no longer have to sacrifice your showering preferences for the sake of harmony.
Whether you desire a relaxing spa-like experience or an invigorating shower, these dual shower heads provide the perfect balance of comfort and customization.
Join us as we dive into the realm of the best dual shower heads for couples, where you'll discover a variety of options that will transform your daily shower routine into a harmonious and indulgent experience for both you and your partner.
5 Best Dual Shower Heads for Couples in 2023
1. SparkPod – Best Dual Shower Head for Couples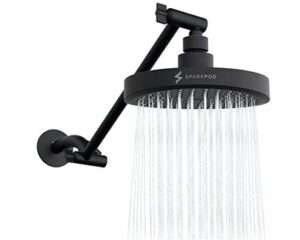 The SparkPod shower head is an ideal option for couples who do not necessarily wish to invest in a double-head shower head.
The shower head has been designed with a wide-angle that ensures that the water sprays cover more area in the shower, making the hot water easily accessible to two people.
It can be easily connected to standard shower arms and does not require any tools for installation. It has been designed with rustproof ABS plastic and rubber heads that are easy to clean.
Product Features
Weight: 8.6 ounces
Dimension: 6.9 × 6.4 × 3.9 inches
Shape: Round
Material: ABS plastic
Installation method: Wall-mounted
Water flow rate/water consumption: 1.8 gallons per minute
Pros
High-pressure water flow.
Easy tool-free installation.
Adjustable.
Fixed shower.
Cons
It does not have a hand-held shower hose.
The ABS plastic used can crack after several uses.

---
2. Moen 26009 Fixed and Handheld Shower head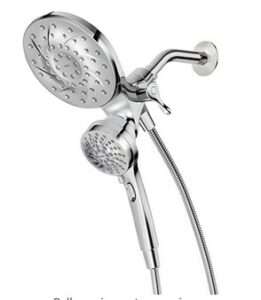 This Moen 26009 shower head is among the most versatile shower heads in the market in terms of functionality.
It has two shower heads with multiple shower settings that allow users to regulate the water flow.
One of the shower heads is fixed while the second one can be detached easily from its magnetic docking system, making it easy to use among couples.
The reflective chrome color of the shower head also improves the general aesthetics of a bathroom.
Product Features
Weight: 1.5 pounds
Dimension: 7.25 × 6.5 × 17.75 inches
Pattern: Combo
Shape: Round
Material: Metal
Installation method: Wall-mounted
Water flow rate/water consumption: 2.5 gallons per minute
Pros
Designed using metallic material
Two shower heads
High water pressure
Cons
Consumes more water when compared to other shower heads.

---
3. AquaDance 7″ Dual Shower head for Couples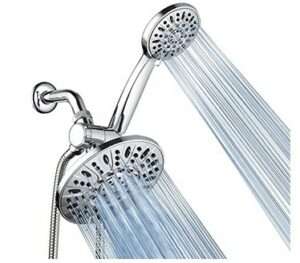 The AquaDance 7″ dual shower is made from a combination of chrome-plated premium ABS plastic and stainless steel.
It has six water flow settings, which include power mist, rain massage, pulsating, rain mist, power rain and a water-saving pause mode.
The shower head has a switch that alters the direction of the water flow between the shower head and the shower hose.
Product Features
Weight: 2.2 pounds
Dimension: 4 × 10 × 7 inches
Pattern: Rainfall combo
Shape: Round
Material: Chrome-plated premium ABS and stainless steel
Installation method: Wall-mounted
Water flow rate/water consumption: 2.5 gallons per minute
Hose length: 5 feet
Pros
Six water flow settings.
Easy to install.
Comes with a long hose for the detachable shower hose (5 feet).
Cons
Made with ABS plastic which can crack.

---
4. Bright Showers Rain Shower Head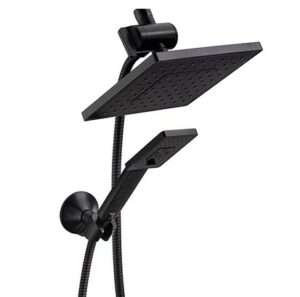 The Bright showers rain shower system is an 8-inch shower head that comes with a five-inch detachable handheld shower hose.
The hand-held shower hose has three water flow regulation settings, which includes a saturation setting that can be used for full coverage during showers, massage, which is suitable for prolonged showers meant for relaxation, and a combination setting.
The overhead rainfall shower has 200 nozzles covering the 8-inch shower head, which makes it suitable for couples to shower without relying on the hand-held shower hose.
The shower heads have silicon rubber nozzles that require low maintenance and are not prone to clogging.
Product Features
Weight: 2.8 pounds
Dimension: 10.91 × 10.61 × 4.29 inches
Pattern: Square
Shape: Round
Size: 8 inches
Material: ABS plastic
Installation method: Wall-mounted
Water flow rate/water consumption: 1.8 gallons per minute
Pros
Low water consumption.
Has a detachable shower hose.
Large 8-inch shower head.
Low maintenance.
Cons
Likely to leak at the 3-way connection.
Relatively low water pressure.

---
5. SR SUN RISE SRSH-D1203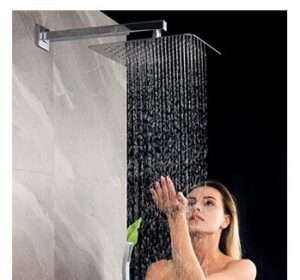 The SR SUN Rise SRSH-D1203 shower head provides users with a 12-inch rainfall shower that automatically upgrades couples' showering experience.
This shower head comes with an L-shaped brass handheld shower head and a mixer valve that can be used to regulate the water flow.
This shower head has been designed using air energy technology that allows users to enjoy powerful rain showers even when the water pressure in their homes is low.
Product Features
Weight: 13.13 pounds
Dimension: 16.34 × 12.8 × 5.87 inches
Shape: Rectangle
Size: 12 inches
Material: Stainless steel, brass
Installation method: Wall-mounted
Pros
10-years product warranty.
Uses air technology to improve water flow pressure.
Easy to clean.
Made using solid brass, which makes it durable.
Cons
If not installed properly there is a risk of water dripping.

---
Verdict
Based on our assessment the SR SUN RISE SRSH-D1203 shower head is the best shower heads for couples.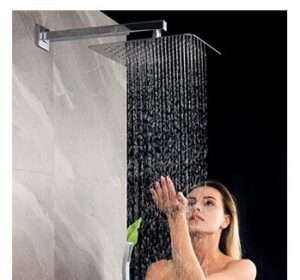 Couples can rely on the overhead rainfall shower head alone or opt to use both the overhead shower head and the hand-held shower hose because of the large diameter of the overhead shower head.
Additionally, this product has a 10-year warranty that assures customers that any product quality issues they may encounter will be fixed without additional charges.

Conclusion
Couple shower heads are useful for keeping this entertaining between couples and improving their bonding experiences.
The shower heads reviewed in this article provides insights into the different shower head options that couples can consider buying.
Replacing your regular shower head with one of these couple shower heads can improve both the aesthetics of the bathroom and your showering experience.
When looking out for a modern dual shower head for couples, it is important to consider the functionality of the shower heads, whether or not they have a detachable shower hose.
The diameter of the overhead showerhead, and the water pressure of the showerhead to ensure that it meets your needs. These factors will help you find the right shower head for your bathroom.
Recommended Posts:
Magnetic Shower heads Reviews in 2021
Is Grohe a good shower system? Find Out Here
---
Are double shower heads worth it?
Yes, two shower heads provide more advantages than a single shower head. Most dual shower heads include a fixed head and a hand shower with a flexible hose that can be as long as 80 inches.
These dual shower heads provide full water coverage from its fixed shower head and hand shower, that offer a variety of benefits, including:-
1. Handheld shower heads are ideal for the elderly/seniors, children, and pets. The hand shower makes it easy for the old to shower while sitting. This allowed them to cleanse the leather from every angle.
Furthermore, the handheld shower heads allow mothers to easily bathe children while sitting on the basin, as well as pets that tend to move a lot when washing. The flexible hose allows the shower jet to be directed in the desired direction.
2. We all know how tedious cleaning your bathroom can be. With the handheld shower head, cleaning your bathroom wall is as simple as directing the shower water on the leathered wall.
This will not only speed up the rinsing process but will also save you water when cleaning the wall.
3. One prominent feature of a hand shower is its ease of use while showering; with its extra-long and flexible hose, bathing is made more enjoyable because one may comfortably sit or stand while showering without difficulty.
4. We've all experienced the dreaded low water pressure on our shower head; worry no longer, because hand showers are designed to not affect water pressure.
And can easily bring direct shower water closer to where it's needed the most, ensuring a refreshing showering experience while saving water while showering.
How to choose a double shower head for couples?
It is critical to examine some of the important aspects because you will be showering the two of you the most of the time. As a result, taking water coverage is critical since it ensures that there is enough water coverage while showering.
Moreso, the double shower head has a variety of shower mode settings that allow you to choose the desired specific water strength, such as massage, flood or rainfall, pause, and misting.
So it is critical to examine carefully before selecting a dual shower head to ensure that you receive the best shower head for dual showering and the best value of showering experience from the shower head.
Do shower heads fit all showers?
Yes, most shower head connections include a universal fitting that allows any shower head to fit securely and easily on the shower arm.
The typical measurement in the United States is 1/2″ NPT, which is the fundamental size for all plumbing shower arms that are installed from the wall.
This allows any shower head or shower filter to fit the shower arm without requiring any modifications to the connecting section, making the job relatively simple for someone without plumbing knowledge to do.
Can one use dual shower heads at the same time?
Dual shower heads have a diverter valve with the main function of managing water flow inside the shower piping.
Which not only allows a person to shower with one shower head but also allows the user to arrange the two shower heads to eject water slowly while bathing with the touch of a button.
There are two types of diverter valves: two-way valves and three-way diverter valves. If you like to shower with two shower heads at the same time.
The three-way diverter valves allow you to select between showering with both shower heads at the same time or showering with individual shower heads.
How often should the need arise to change shower head?
The need to change the shower head is critical, as many homeowners try to ignore this critical aspect because they see the shower head working perfectly, not realizing that the shower head has a lifespan.
Which is caused by the buildup of harmful minerals inside the shower head, which wear and tear them down inside the shower head.
That being said, a shower head has an average lifespan of 8 to 12 months of use before the need for a change arises, with the change of shower head bringing with it more benefits.
Such as allowing the user to enjoy the full force of shower jets, saving on shower water, and being free of harmful shower water contaminants.
Is a 2.5 gpm shower head good?
GPM refers to the number of gallons of water that flow out of the shower head per minute.
A 2.5 gpm is the usual flow rate for most shower heads, which is fairly good and saves on water, however shower heads built in 1990 and lower had a flow rate of 3.5 gpm, which was a waste of water.
What are double shower heads for?
A dual or double shower system is made up of a fixed shower head and a handheld shower head that allows for two distinct shower stream sprays from both shower heads.
This is made feasible by a shower combo that has a fixed shower head and a handheld shower head, or by a shower arm split that leads to the fixed shower head and handheld shower head.
How much room does one need for a double shower for couples?
As double shower heads become more common and less expensive, having one installed in your bathroom is one of the most important ideas you should always consider.
Bathroom space is one of the most important considerations that every homeowner should consider when installing a dual shower head.
The optimal dimension for a double shower head should always be around 1600mm by 1000mm, as that's the standard measurement that will always allow every member of the home to shower without difficulty and perfect space in a bathroom.
What is the importance of a 3-way shower diverter valve?
A 3-way diverter valve device allows you to direct flow of water between both the fixed shower head, hand shower, and tub faucet with the push of a button.
It also allows you to control flow of water throughout all 3 outlets simultaneously or even to a single output.
Recommended Post:-
Are Dual Shower heads Worth It?
Which Shower heads are Made of Metal