Your shower is the most significant component of your bathroom, and the showerhead determines the quality of your everyday bathing experience. It must not only feel like a spa experience but also look like one.
The sliding shower head system is a well-designed adjustable compartment that provides a quick and easy solution for household members of varying heights.
It enables users to adjust the handheld showerhead on a slide rail to different heights, allowing them to shower at their leisure based on height.
We compiled a list of the top handheld showerheads with slide bars and examined their characteristics to help you find the most suitable options.
8 Best Handheld Shower Heads with Slide Bar in 2022
| | | | | |
| --- | --- | --- | --- | --- |
| Showerhead Models | Slide Bar | Hose Length | Flow Rate | Rating |
| 1. Delta Faucet (51708-SS) Slide Bar Handheld Shower Head | Yes | 72 Inches | 2 GPM | 9/10 |
| 2. Moen 3669EP Handheld Shower head with Slide bar | Yes | 69 Inches | 2 GPM | 9/10 |
| 3. KES (F204DG) 5-Function Massaging Sprayer System | Yes | 59 Inches | 2 GPM | 8/10 |
| 4. Kohler (K-98362-BN) with Sliding Bar Showerhead | Yes | 70 Inches | 2 GPM | 7/10 |
| 5. Delta (57085) Chrome Shower System | Yes | 69 Inches | 2 GPM | 7/10 |
| 6. PULSE 1019-CH Aqua Dual Showerhead | Yes | 59 Inches | 2.5 GPM | 6/10 |
| 7. Waterpik VSS-563MT Adjustable Sliding Bar | Yes | 50 Inches | 2 GPM | 6/10 |
---
1. Delta Faucet (51708-SS) Slide Bar Handheld Shower Head – Editor's Pick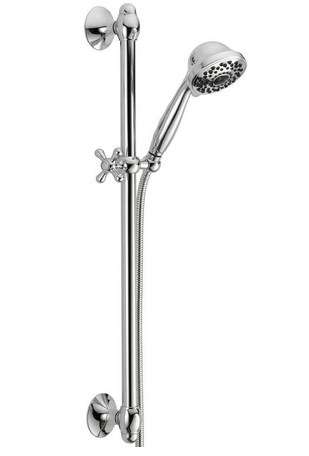 Among the highest-rated showerheads, this one won due to its powerful spray, 2 GPM flow rate, and 7 spray patterns, which provide tension relief and soothing massage.
The seven spray settings range from full-body Spray, fast massaging Spray, full-body Spray with massage, shampoo rinsing spray, soft drenching spray, soft drenching spray with a full-body spray, and pause option.
All nozzles on the Delta Faucet shower deliver a full-body water profile at high impact, giving you a spa-like sensation.
The superb craftsmanship of the showerhead, which is quite durable, was praised by most buyers. In addition, the mounting style of the sliding bar provided a bit more height for the showerhead.
You'll also appreciate the extra flexibility a reinforced stainless steel hose measures 60 inches and can stretch to 72 inches. This complements the slide rail by allowing users to modify the showerhead's height easily.
Another feature that justifies the price of this showerhead is the water-saving pause mode. You can turn the showerhead off for a moment and then turn the shower back on to the same temperature setting. With this, you will use 20% less water than the industry standard.
To top it off, it has an angle-adjustable overhead bracket and a brilliant stainless finish with a subtle, warm undertone making it an excellent match fitting with any bathroom décor style, be it a traditional, transitional, or contemporary look.
Product Features
Dimensions: 3.56 x 3.38 x 9.69 inches.
 Intense seven-powerful spays
 Color: chrome.
 Ergonomic Grip Handle.
Pros
It has a contemporary appearance.
Installation instructions that are simple and straightforward.
It is simple to make changes to the settings.
Durable.
Cons
---
2. Moen 3669EP Handheld Shower head with Slide bar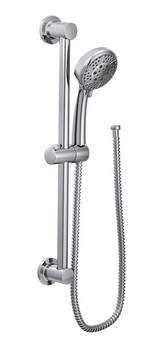 Make self-care easier by purchasing the Moen handheld shower head with a sliding bar. 
It has four spray patterns to choose from, an angle adjustment for added convenience, and a water flow rate of up to 2.0 gallons per minute.
This is a viable alternative for those who like a lot of pressure in their showers. The flow rate meets the WaterSense standard without sacrificing performance.
More specifically, the adjustable 30-inch sliding bar allows you to select the appropriate height for the showerhead spray easily.
It's also accompanied by a 69-inch long hose, tangle-free, so the shower wand can easily stretch out.
This feature complies with the Americans with Disabilities Act requirements, making it suitable for the elderly and people with disabilities.
Those who bought this hand showerhead appreciated how easy it was to install and how elegant it looked, especially given the modest price.
Product features 
Dimensions: 33 x 5.88 x 3.25 inches.
Color: chrome.
Anti-Swivel Position Lock Nut.
 Rub-Clean Jets.
 Ergonomic Grip Handle.
 It offers four shower adjustments settings.
Pros
It is simple to set up.
Lightweight design.
Elegant and fashionable.
Excellent value for money.
Durable.
Cons
---
3. KES (F204DG) 5-Function Massaging Sprayer System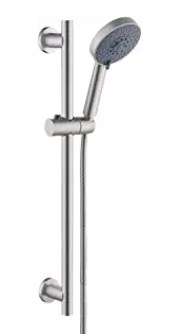 Save on water while being treated to a spa-like experience with KES Adjustable Massaging Sprayer. Due to its ability to remove hard water buildup, this self-cleaning handheld showerhead gives you a more efficient way to shower.
It has rubber spouts and stainless steel construction with a beautifully polished finish, making the slide bar shower head sturdy and rust-resistant.
This showerhead can be customized to 5 different settings, including Handheld Shower, Rainfall Shower, Power Massage, Gentle Bubble, and Drip.
The Massaging Jets deliver the ideal bathing experience, focusing on relieving achy, tired muscles.
Buyers discovered that the water pressure in this showerhead was more than adequate, with an extraordinarily forceful jet of water meeting all of your showering needs.
Most users praised the adjustable bracket, which provides height and handheld showerhead angle adjustment. This accommodates people of various heights, children, and pets, resulting in a wonderful shower experience.
This shower unit features an ergonomic grip handle and a click lever dialer, making switching between settings easy.
Product Features
Dimensions: 27.32 x 6 x 4 inches.
A Stretchable 1.5 meters shower hose.
5-function handheld showerhead.
59-Inch (1.5-Meter) double interlock spiral hose.
A sliding bar and a shower holder.
Color: chrome.
Flow rate: 2.0 GPM.
Pros
High-quality and well-finished appearance.
A shower spray with a light feel.
The procedure of putting it together is simple.
Cons
Subpar plastic-like material.
---
4.
Kohler (K-98362-BN) with Sliding Bar Showerhead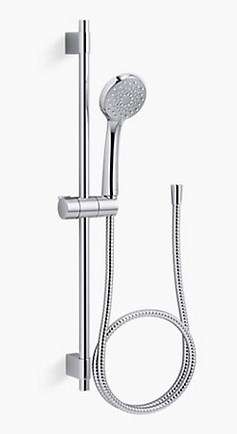 The Kohler K-98362-BN Handheld Showerhead features a 3 function setting that works as a wide coverage shower, a massage shower, and an intense aerated drench.
You can select either with just a flick of a lever. Turning the lever will redirect water from the fixed shower spray head to the hand shower or even both simultaneously.
For a relaxing bath, the wide coverage is a perfect setting. The showerhead will generate a wider area of spray at 2.0GPM and 30PSI.
A targeted Spray provides water pressure on sore muscles with a focused stream that acts as a utility spray or jet stream.
This choice is nothing short of calming and peaceful in its execution. The strong drenching is extremely forceful and constant, and it is infused with air, providing a great deal of pleasure and a full-body spray for the most effective cleaning possible.
Buyers liked this handheld showerhead's ergonomic grip, making it comfortable to hold. The appealing chrome finish is created with the utmost durability to ensure prolonged use, and its elegance matches most bathroom styles and designs.
With a simple and easy-to-use installation manual, you can easily mount the showerhead on the wall or use a sliding bar to make it easier for every user to adjust the height according to their suitable height.
Product features 
Dimensions: 7.5 x 4 x 27.63 inches.
 Color: chrome.
 Stainless Steel Hose.
 The rail is made of metal and feels great.
 Three functions showerhead.
 2 GPM.
Pros
It has a straightforward installation procedure.
The shower head has a sliding bar that is both durable and functional.
Affordable.
Cons
The hose plastic finish gives it a cheap look.
---
5. Delta (57085) Chrome Shower System

With this inexpensive single-setting hand shower head, you can enjoy a refreshing, stimulating showering experience.
The showerhead is equipped with a water-saving mechanism, which ensures that water flow is regulated and is continuously delivered at a rate of 2.0 GPM.
It includes a wall slide bar with an adjustable slide for short, medium, or tall indivuduals. This is an important choice to make, especially if you have children.
Most customers appreciated the clip that comes with this shower head because it's very sturdy, and the mounting style gives it a bit of extra height in the shower.
The 69-Inch long hose allows for an extensive reach, and you can have the hand shower mounted onto a sliding bar for every user to adjust the height to suitable spots or mount it on the wall.
The rub-clean jet makes cleaning this unit a cinch. In addition, the installation instructions are easy to read and follow, and once installed, it looks gorgeous thanks to the urban space's minimalist qualities.
Product Features
Dimensions: 31.5 x 6.5 x 3.5 inches.
Color: chrome.
Flow rate: 2.0 GPM.
Certified by WaterSense.
Pros
The hose measures 69 inches in length.
A slide that can be modified with relative ease.
A slide bar that is both strong and comfortable to use.
Cons
It is quite expensive when compared to similar products.
---
6. PULSE 1019-CH Aqua Dual Showerhead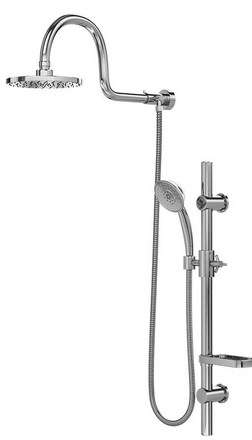 A complete pre-plumbed unit makes it easy to retrofit the unit to your existing shower system without remodeling.
The 8-inch rain shower head is designed with a rub-clean soft tip, making it easy to clean limescale buildup, enhancing its durability and long-lasting performance.
It is made of stainless steel brass material, highly durable ABS in a polished chrome finish—accompanied by a refreshing 5-function hand shower with a 59″ double-interlocking stainless steel hose.
The 5-setting overhead shower head and 5-setting hand shower give you a customized showering experience and allow you to choose either the hand shower or shower spray head individually.
Or use the hand shower together with the fixed shower head for a complete full-body shower experience. 
The five settings include Power Rain, Economy Rain, Stay-Warm Mist, Water-saving Pause, and Massage. With these settings, you will have an easy time bathing the kids or your pet or even washing your hair.
The sliding bar is adjustable to meet an individual's choice of height and ease of access to a soap dish. Furthermore, the brass diverter allows you to alter places or postures for different levels of enjoyment.
You will experience pleasant refreshments after taking a shower with an angle-adjustable head because it gives you the luxury of washing yourself in rainfall-like precipitates from several jets of water pouring down.
This gives you an incredible sensational feeling which tempts you to stay longer in the bathroom.
Buyers loved the magnetic docking technology, which makes it simple to detach and use this handheld showerhead. They also thought the water pressure was appropriate and liked its smoothness.
Product Features
Dimensions: 29 x 11x 5 inches.
Flow rate: 2.5 GPM.
Surface-mounted.
5- Function hand shower.
Pros
Durable slide bar construction.
2-in-1 hand shower and fixed shower head.
Crafted with Spray Straight nozzle technology.
Cons
---
7. Waterpik VSS-563MT Adjustable Sliding Bar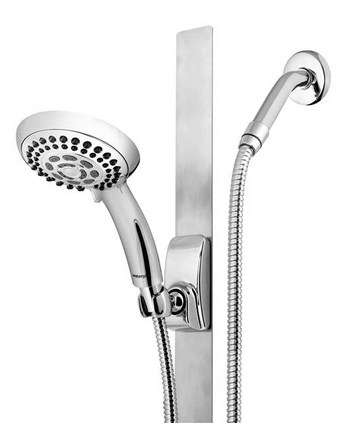 This Waterpik unit is made of a magnetic base and an 18-inch stainless steel strip, and it has revolutionary features such as an adjustable height handheld shower.
It is simple to adjust the magnetic bracket's height by sliding it up or down with a single motion.
The installation process is easy and could be done in minutes since no screws or drills are needed. The strip is firmly kept in place with advanced waterproof adhesive pads.
It has a durable 5-foot metal hose that is tangle-free, flexible, and will not kink.
It has a five-shower spray mode and a 4-inch shower face with a flow rate of 2.0 GPM. Power Rain, Pulsating Massage, Rain Massage, Rain Mist, and Water Saving Pause are among them.
This means that if you need more pressure from one showerhead, you can also maintain a lighter pressure on the other head.
Product Features
Dimension: 4 x 4.5 x 18 inches.
Color: chrome.
Flow rate: 2.0 GPM.
A durable 5-foot metal hose that won't kink.
Pros
You will receive excellent value for your money.
Easy customization of the magnetic bracket.
Easy installation process.
Cons
---
8. AquaDance 28-Inch Combo Rain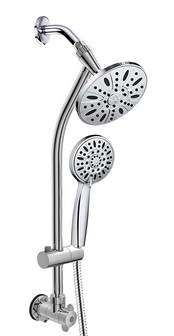 The AquaDance Stainless Steel Slide Bar Showerhead is another example of a model in which the designer has truly considered the needs of a person taking a shower and has come up with some extremely impressive features.
A 7-inch showerhead, for example, guarantees that the showerhead covers a wider surface area of your body.
This is fantastic since it prevents the uncomfortable cold feeling that occurs when damp skin is exposed for extended periods of time.
Another notable feature is the extra spray functions available which act as rain/massage, especially when the high water pressure setting is activated.
The other different settings include the overhead rainfall, power rain, pulsating massage, hydrating mist, rain/mist and water-saving Pause mode.
These features alone make this one of the best rain shower head models out there.
The model offers an additional spray function, which is quite popular among its users. The rub-clean jets make it simple to clean up and prevent lime buildup.
The perfect design of the greatest shower heads will cut installation time to around 15 minutes, with only pliers or a wrench toolset necessary.
With this model, the design keeps in mind that not all people are good with their tools and that fewer steps should be required to complete the installation to a desirable level.
This model's angles are adjustable, and it has a modern design and an all-chrome finish. This model leaves a lot to be desired. The properties of the product, as well as its pros and downsides, are listed below.
Product Features
Dimensions: 28 x 4 x 8 inches.
Color: chrome.
Flow rate: 2.5 GPM.
Limited lifetime warranty.
Angle- adjustable.
Installs drill-free.
Pros
The Dual shower system.
Easy to install.
Durable.
Value for money.
Cons
---
Final Verdict 
With one of these Handheld Shower Heads with a Slide Bar, you can enjoy the luxury spa experience at home.
This list would not be complete without mentioning the Delta Faucet 51708 Slide Bar Handheld Showerhead.
Our top pick for handheld showerhead with slide bar is the Delta Faucet 51708 Slide Bar Handheld Showerhead. As far as beauty and dependability are concerned, this showerhead sets the standard.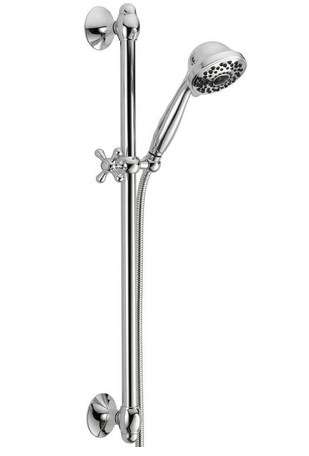 There is no doubt that this showerhead is the top-of-the-line product on the market in terms of quality, innovation, and long-term value for most purchasers.
You will love the finish of this showerhead in your bathroom, which is corrosion-resistant. Furthermore, it satisfies the WaterSense requirements for water efficiency, which means you'll be able to save money on your water bills.
This water-saving device infuses every drop of water with air, enabling you to save up to 30% of water without feeling cheated.
The body sprays and water outlets can be customized depending on your preferences. The whole set of four spray modes spits tremendous amounts of water in all directions at you.
It is possible to toggle each of these features on and off separately, and the pressure can be adjusted with a simple lever flick.
You can get a refreshing, stimulating showering experience with Delta Faucet 51708 Slide Bare Handheld Showerhead since it is a fairly inexpensive showerhead model. Your shower should be a relaxing, soothing corner of your world where you can wash away the stresses of the day.
Happy Showering!
---
You may also be interested in our Detailed Guides:
Senior Citizen Handheld Showerhead
What is the purpose of a shower slide bar
---
Essential Factors to Consider When planning Purchasing Handheld Showerhead with Slide Bar
It is also important that your showers be a peaceful space where you can unwind after a long day, comparable to what you would get if you booked a day at a spa resort.
Consequently, what is the most appropriate shower head with sliding bar to buy. These qualities may be found in the best shower head available on the market. It can be moved about with the help of a hose.
When you're having difficulty getting the soap off the back of the knee, a handheld sprayer with a hose will assist you in delivering the spray exactly where it's required.
A hose is a conduit that connects the showerhead to the water supply. It is used in combination with handheld showerheads that include a sliding bar to provide the greatest amount of control over the water flow.
When washing dogs and children, or cleaning the bathroom, it may be used as a fixed shower or as a handheld shower, depending on your preference.
The portable hose is available in a variety of lengths, including 60 inch, 72 inch, and 80 inch long hoses, depending on your requirements.
Shut Off Valve, Flow Interrupter, or Pause Valve
Shower heads with built-in energy-saving features are the most energy-efficient shower heads on the market today. In today's market, two kinds of shower heads are especially popular: the manual mixer and the thermal mixer.
The manual mixer is the most common form of shower head on the market.
This shower head consumes a large amount of electricity and water, and it is the most widely used. However, it is also the most underestimated; this shower head is the most widely used.
It should be possible to restrict the flow of water to no more than 2.5 gallons per minute using an adequate showerhead. This is advantageous for water conservation as well as for lowering the amount of money you spend on your utility bill.
This apparatus, known as a thermal mixer, mixes water and oxygen before gradually heating the water and enabling it to leave. There will be an aerating shower soon.
This kind of showerhead creates a misty spray by infusing water with air, giving the appearance that the water is flowing more forcefully. Adding oxygen bubbles to water results in highly oxygen-saturated water, which is good to your skin.
Also implied is that you can have a very nice shower without using a lot of water but yet attaining the same degree of cleanliness as you would have if you had used twice as much water.
There are many different types and sizes of showerheads available to suit any choice in water flow and pressure.
If you live in an area with low water pressure and like the relaxing feeling of pounding water, it is feasible to buy shower heads that will increase the quantity of water that comes through the showerhead when you turn on the shower.
More expensive versions, among other features, offer the ability to adjust the water pressure from a delicate mist to champagne drops (the standard setting), a profoundly relaxing massage, or a powerful and stimulating stream of water.
Reduce the amount of water you use by using a low-flow showerhead. Low-flow showerheads may save as much as a half gallon of water per minute—or about ten gallons of water during a 20-minute shower—by decreasing the quantity of water you use.
Buy a shower head sturdy and that's built to last
In most cases, shower heads manufactured of brass are considered to be the best for a wide range of bathroom applications. Despite the fact that they are a reliable and long-lasting choice, they are much more costly than other options.
Whether you choose a showerhead made of brass or another metal, be certain that it is easy to clean and will not tarnish with time.
In the event that you choose for a plastic shower head, be sure to pick one that is resistant to lime buildup so that it does not get clogged too often.
Add a Shower Head Water Filter
If a high-efficiency shower filter is placed in the shower, it may effectively remove up to 98 percent of any dirt, lime, chemicals, or other contaminants that may be present in well water.
Nails, skin, and hair, as well as other bodily tissues, become dry and discolored as a result of the presence of chlorine in drinking water.
The chlorine in the water may also strip the natural oils from your skin, producing mild skin and eye irritation as a consequence of the process.
The exposure to other heavy minerals, such as lead, will weigh down your hair, and it may also result in a variety of other health and aesthetic problems.
A new showerhead filter must be installed every six months or every 10,000 gallons of water that has been used.
Installation Should Be Minimal
Installing the showerhead should be a straightforward process. Installing a showerhead should not be difficult for the average person, especially if they are supplied with a thorough instruction manual.
Generally speaking, if you feel that nine out of ten people on the street would be unable to properly install the shower head, you should reconsider your design decision.
Given the fact that you do not want to end up with a showerhead that looks and feels out of place in your bathroom, it is critical that you choose a showerhead with a finish that matches your existing design.
There are a variety of finishes available, including brass, stainless steel, chrome, gold, and bronze, among others. Brass is the most common finish. Decide on the one that will work best with the rest of your bathroom's interior design.
For this reason, it is important to choose a showerhead that is suitable for the individuals who will be using it. Not all showerheads are made equal. Showerheads designed specifically for people with mobility issues are something you may want to look into.
As a result of the wide variety of showerheads available on the market today, it is no longer necessary to stay with one specific brand or design for your showerhead purchase.
To wash children and pets with the handheld showerhead, you may get showerheads with long hoses that give you more control and reach, enabling you to perform many tasks in the bathroom at once.
Washing the kids or your pet, or even washing your own hair, will be lot simpler in the future as a result of this.
An extra feature, like as massage jets, may be added to a wall-mounted showerhead, allowing for the creation of spray patterns that are nothing short of soothing and relaxing.
Make it simple for every user to adjust the height to the most comfortable position for their requirements by including a sliding bar into the design.
The sliding rail is a practical complement to the overall architecture of the space. It is possible to adjust the showerhead height using a sliding rail, which is a rail bar placed on the bathroom wall and may be adjusted to accommodate differences in both the user's height and the height of the showerhead.
When a slide bar has been correctly installed, it is self-explanatory how to control it from there. When it works perfectly, the showerhead slider is one of the most uncommon exceptions.
How Do You Install A Handheld Shower Correctly With Slide Bar?
The following tools will be required for the job: a marking pencil, a drill, a Philips screwdriver, and a flathead screwdriver.
The first step is to adjust the height of the slide bar shower head system so that it is comfortable for everyone in the family.
Begin by attaching a mounting bracket to either end of the sliding bar with your fingers. Maintain the slide bar's position against the shower wall, with the bottom end of the bar at the proper height (about 52 inches).
Second step: Check that the sliding bar is at the proper height using a level, and then mark the positions of the screw holes on the upper and lower mounting brackets with a pen or pencil.
If the wall is tiled, use the drill bit to mark the center of each screw hole in the tile with the power drill if the tile is not already marked.
Make a hole in the wall using a drill. The stainless steel screws should be used to hold the sliding bar in place if you are lucky enough to hit a wall stud when installing it.
The third step consists in inserting the plastic wall anchors into the four holes that have been made in the wall. Double-check to ensure that the anchors are in the correct location. The post is secured in place with the help of mounting screws.
You can secure the slide bar while also hiding the screw heads on the ends by snapping the end caps onto the mounting brackets at the top and bottom of the slide bar.
In the fourth stage, finish the installation by connecting one hose to the water supply outlets and another to the hand shower to complete the installation process.
CONCLUSION
To conclude, there are benefits and drawbacks to using a handheld shower nozzle. It is simple to remove a handheld shower head from its mounting bracket when using one that is portable.
There are no screws or brackets to remove, and the extension hose is fastened to the wall with a nut and bolt to keep it in place.
Depending on your preferences, you may wash yourself in any direction and with whatever spray mode you choose.
Portable shower heads not only enable you to get concentrated streams of water where you need them, but they also save you money on both water and power since they are water and energy-saving devices.
Some portable heads are also fitted with a water filter, which is useful in hot weather. An additional benefit is that it is free. A large portion of the chlorine residues that are added to household water in order to kill germs are removed via the use of water filtering devices.
Because chlorine causes dry skin and hair to form, it has a detrimental effect on the health of one's skin and hair. Additionally, itching and burning may be experienced by certain individuals who are sensitive to it.
Some portable heads are equipped with their own built-in water pressure, which is very convenient. Because of these changes, the water pressure will not be impacted by a longer hose or a filter that has been added to your handheld.
It is possible to save up to 50% on your water cost by using a shower head with self-pressuring handheld features since oxygen is provided.
It is possible to buy several of these portable heads after they have paid for themselves. A portable toilet should come with a lifetime guarantee and the assurance that it will never get clogged.
Aside from thoroughly cleaning your skin and improving circulation, handhelds that add oxygen to the water will also give your skin a better sheen and stimulate cell growth in addition to their other beneficial effects.
According to the manufacturer, these handheld shower heads with a sliding bar will provide excellent performance even in houses with low water pressure.
Double Shower heads for Couples in 2021