The increasing concerns over the purity of municipal water supplies have brought the need for pure drinking water to the forefront. Most homes today have multiple water sources, ranging between 8 to 15, and ensuring that each source is filtered for impurities is essential.
In light of this, it is imperative to explore some of the most suitable and effective water filtration methods that can alleviate water contamination problems.
One of the most comprehensive solutions is a whole house water filter, which serves as a centralized point-of-entry water filter that purifies each droplet of water as it enters the household, providing every member with clean and chemical-free water.
On the other hand, an under-sink water filter is a point-of-use water filter that is installed into existing pipework beneath your sink, purifying all water that passes through your faucet. This type of filter is a great solution if the water in your house has an unpleasant odor, sediment, or mild TDS.
However, if the water in your home is contaminated with heavy metals, inorganic and organic materials, a whole house water filter may be the best option.
Thus, it is vital to examine the advantages and disadvantages of whole house water filters and under-sink water filters to determine which one will be most effective for your specific water contamination concerns.
Whole House Vs Under- Sink Water Filter Systems
About Whole House Water Filter Systems
Comprehensive home water filtration systems offer an excellent means of ensuring a continuous, safe, and refreshing supply of drinking water for your household.
While the upfront cost of installing a whole house water filter may seem relatively high when compared to a basic under-sink filter, the long-term advantages make it a highly cost-effective solution.
The cost of water filtration systems is determined by factors such as the type of materials used, system size, and lifespan. In addition to providing top-notch drinking water throughout your home, these systems offer numerous other benefits that are worth considering.
Benefits Of Whole Water Filters:
Save money and avoid buying bottled water.

Enjoy safe drinking water all the time.

Reduce potential plumbing issues.

Prevent skin irritation from the chemicals that the water may carry with them.

Save soap and enjoy cleaner clothes.

Reduces limescale and other minerals deposited.
Investing in a whole-house water filtration system can be a wise decision for homeowners, as it provides comprehensive filtration of the water supply without the need for constant maintenance or monitoring. However, it is crucial to select a high-quality system that offers reliable and effective filtration.
To ensure the quality of a water filter, it is recommended to look for the NSF certification. This certification serves as an indicator of the filter's efficiency and safety, giving homeowners peace of mind in knowing that their water is clean and healthy for consumption.
---
About Under-sink Water Filter Systems
Under-sink water filters are purpose-built devices that effectively treat tap water before it is dispensed from the kitchen sink. This type of filtration is essential to remove physical, chemical, and sedimentary contaminants from the water, which results in a healthier and purer water supply.
In terms of installation, most under-sink water filters are user-friendly and can be easily installed by those who are not intimidated by a simple DIY project, similar to replacing a light bulb.
Typically, these filters are secured to the valve underneath the sink. Consequently, when the tap is turned on, the water will flow through the filter before it reaches the sink.
It is important to note that the level of filtration varies depending on the type of under-sink water filter being used. Inexpensive models are designed to remove sediments and physical particles only, while more advanced models are equipped to remove biological contaminants such as viruses and bacteria.
High-end filters, however, are capable of eliminating all harmful chemical compounds. The pricing and specifications of the device will indicate the level of filtration.
In conclusion, under-sink water filters play a crucial role in ensuring the purity and safety of tap water. The straightforward installation process, coupled with the various levels of filtration available, makes under-sink water filters an accessible and valuable investment.
Benefits Of Under-sink Water Filter Systems
They improve the water taste.
They make water safe for drinking.

Makes water healthier for drinking.

Cost-efficient.
When evaluating the performance of under-sink water filters, it is essential to prioritize products that have earned certification from the NSF. A quality water filter should not only eliminate chlorine, but also a range of other contaminants commonly found in our drinking water supply.
To ensure maximum protection, an under-sink water filter should feature multiple stages of filtration, capable of removing a wide range of chemicals, microbes, and allergens. The layering of these stages is key to achieving sufficient filtration for you and your family.
Most under-sink water filter systems incorporate four filtration stages, which typically include an activated granular carbon filter, a multi-media block, an ion exchange filter, and a sub-micron filter. This combination of stages is highly effective at removing impurities from your water.
To find the most reliable under-sink water filters on the market, it is important to conduct thorough research and read reviews from reputable sources. Similarly, when selecting a whole house water filter, it is critical to prioritize systems that are capable of meeting your specific needs and requirements.
---
Best Whole House and Under Sink Water Filter Systems
1. Culligan (WH-HD200-C) Whole House Heavy Duty Water Filtration System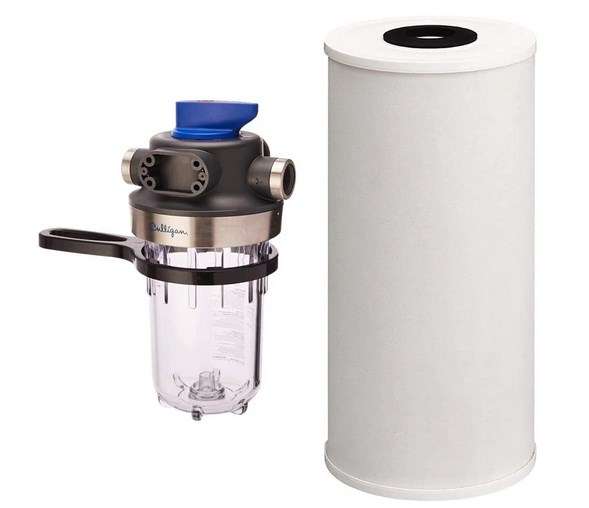 The Culligan WH-HD200-C System is an optimal solution for safeguarding household appliances and plumbing from sediment damage.
With its compatibility filtration system, which includes Culligan filter cartridges such as R50-BBSA, CW25-BBS, CP5-BBS, CW5-BBS, and RFC-BBSA, this system effectively removes rust, scale, dirt, coarse particles, and sand, providing healthy, great-tasting water for drinking, cooking, and more.
The Culligan WH-HD200-C offers many preventive benefits, such as significant reduction of iron, no scaling in water pipes, showerheads, and kitchen sink faucets, as well as sparkling clean dishwashers and washing machines.
Additionally, the system is designed to withstand heavy-duty use with a pressure rate of 125 psi, while its integrated bracket design ensures easy installation.
Certified by WQA against NSF/ANSI standard 42 for materials safety and structural integrity, the Culligan WH-HD200-C is a dependable and efficient whole water filtration system for residential use.
Pros
Clean, pure drinking water.
Less expensive.
Reduces the hustle of having to buy bottled water.
More flavorful drinking.
Reduces sediments like rust, scale, dirt, coarse sand, fine sand, and sand.
Cons
Poor packaging- missing parts.

---
2. iSpring 2-Stage ( WGB21B) Quality Whole House Water Filtration System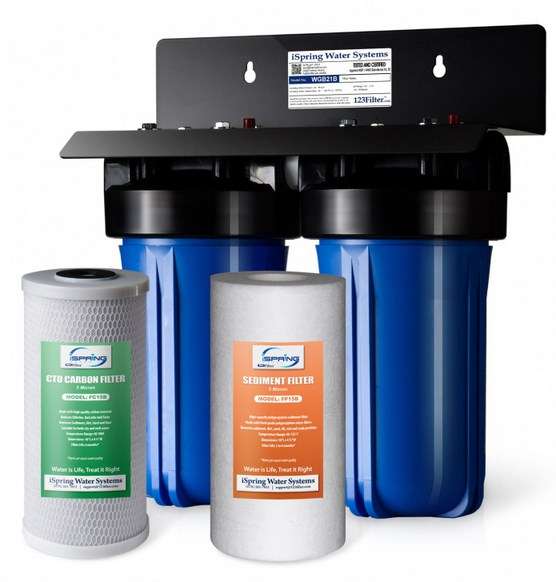 The iSpring WGB21B 2-Stage Whole House Water Filtration System boasts a unique two-tank design that effectively filters water throughout the home. The first tank employs 5-micron polypropylene filtration media, efficiently reducing chlorine taste and odor, as well as removing large particles and sediments.
In the second tank, the CTO filter (FC15B) is utilized to eliminate cloudiness, bad tastes, and odors, while removing over 90% of chlorine. This filter is highly effective in removing volatile organic compounds (VOCs) such as pesticides, herbicides, and industrial solvents.
The premium design materials used in the system ensure that filtered water is both healthy and delicious, while also preventing clogging of water pipes and extending the service life of household appliances.
The iSpring WGB21B system is an ideal solution for consumers seeking an affordable and straightforward whole house water filter. The product is designed to maintain consistent and continuous water flow, without causing significant drops in water pressure.
Installation is simple, thanks to the pre-assembled mounting bracket, and requires no maintenance beyond a yearly check-up. Additionally, the system requires no chemical additives and is installed permanently as an integral component of the home's water system.
Pros
Long-lasting service life.
Effectively prevents the clogging of the pipes.
Effective filtration.
Increase the water quality.
Protect your water equipment.
It's backed up by many consumer reviews.
Cons

---
3. Waterdrop (NSF/ANSI 42 Certified) 10 Under-Sink Water Filter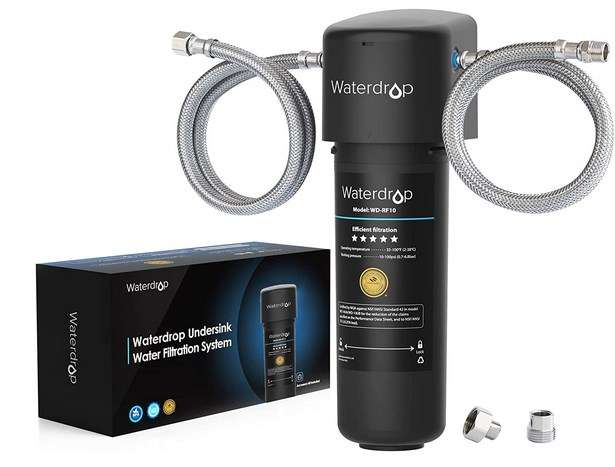 The Water Drop offers an innovative multistage filtration system that connects directly to your under-sink filtration system. This system is designed to effectively reduce the levels of chlorine, heavy metals, chemical pollutants, sediments, and other large particles present in your tap water.
By utilizing this system, you can enjoy fresh, clean and healthy water without the need to purchase bottled water.
The filter has undergone extensive testing by WQA and meets NSF 372 standards. It incorporates an activated carbon block and advanced filter media to ensure efficient and effective filtration.
It is designed to remove contaminants while retaining essential minerals like calcium, potassium, sodium, and magnesium that are important for your body.
Installation of the system is relatively easy, thanks to the convenient push-to-connect fittings. The entire process takes less than three minutes and the system should only be connected to the cold water supply. The twist and lock design ensures that filter replacement is a hassle-free process.
The Water Drop comes with a durable 3/8 inch hose that has a direct connection and adapts to standard 3/8 feedwater valves found under US sinks. When used with municipal water, the filter has a long service life that lasts for 12 months or up to 8,000 gallons of water. The system operates at a pressure of 60 psi.
With the Water Drop, you can enjoy the convenience of fresh, clean, and healthy water straight from your tap. The innovative multistage filtration system ensures that you have access to high-quality water that is free from contaminants, while retaining the essential minerals that your body needs.
Pros
Easy installation.
Used at commercial and residential places.
Removes sediments and odors.
Saves you money from the expenses of buying bottled water.
Cons

---
4. Frizzle with Direct Connect Under Counter Drinking Water Filtration System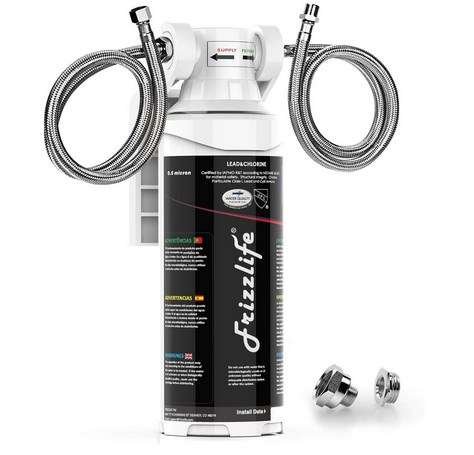 The Frizzle Under-sink Water Filter System offers an advanced, two-stage water filtration process with a 0.5 micron rating, making it an effective water purifier.
The system features high-performance compound filters that are designed with cutting-edge technology to eliminate over 99.99% of contaminants while retaining essential minerals.
This double water filter is capable of removing lead, heavy metals, chlorine, rust, organic compounds, carcinogens, and other harmful contaminants. The Frizzle Under-sink Water Filter System is versatile and can fit both ½ inch and 3/8 inch cold water lines, ensuring easy installation.
To install the system, a directly connected hose is used to fit the 3/8-inch hose feeding the water valves under the US kitchen sinks.
The inline water filter system also comes equipped with 3/8 inch to ½ inch converter fittings that allow the system to be installed on existing ½ inch and 3/8 inch cold water lines and faucets under your sink.
Installing the filter takes less than 3 minutes, with no plumbing required. Additionally, the filter has a twist-in installation mechanism for quick changes and filter replacement, with a convenient auto shutoff design.
This under sink water filter system contains a replaceable core filter cartridge inside the housing. When the filter is due for replacement, you only need to replace the core part of the filter cartridge instead of the entire plastic housing, which helps you save money on replacements and promotes environmental sustainability.
Pros
High flow rate.
Money-saving and satisfaction.
Best auto shut design.
Two-stage advanced filtration for pure and clean water.
Cons
 The thread tapes do not work effectively.

---
5. APEC 3 Stage (WFS-1000) Super Capacity Premium Quality Under-Sink Water Filter System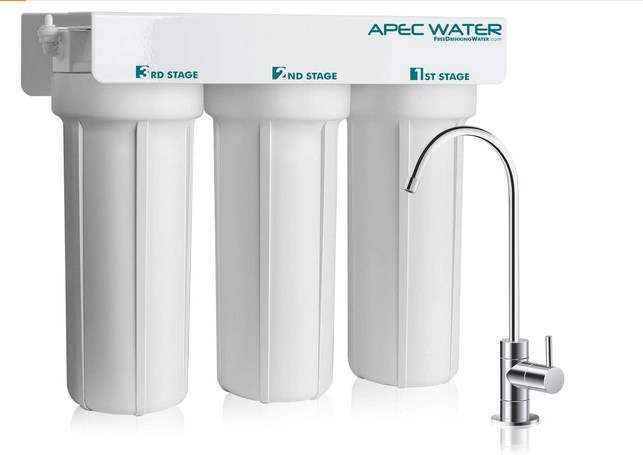 The Apex under-sink water filtration system employs a three-stage filtration process that guarantees the delivery of odorless, colorless, and pH-balanced water from your faucet.
The initial stage begins with the entry of water into the first chamber, where a sediment filter effectively removes dirt and sand particles. Two carbon-based chambers follow, which actively eliminate bacteria and germs from the water.
In the second stage, the filtration system works diligently to eradicate chlorine chemicals and odors, ensuring that only the freshest and purest water enters your home and comes in contact with your appliances.
Moreover, the filters are double-sealed, cost-effective, and require replacement only once or twice a year, making them an economical choice.
Additionally, the system incorporates a leak-stop valve that automatically detects and prevents overflow when excess water is present. The materials used in manufacturing the filter are BPA-free, providing a safe and healthy water filtration experience for you and your family.
Pros
Easy installation.
Cleaner, fresher, softer, odorless water.
Company warranty.
Filters water in three distinct stages.
Cons

---
Conclusion
In this post, we have explored various ways in which water filters can enhance the quality of water used in our homes, and highlighted some of the most effective whole house and under-sink water filters available in the market.
It is crucial to ensure that each water source in your home is filtered, particularly the water you consume and use for cooking.
The skin is capable of absorbing water and toxins, as well as water vapors that are inhaled through the lungs, which underscores the importance of protecting oneself against potential contaminants with a water filter.
When choosing a water purification system, it is essential to conduct thorough research and examine the specifications of different systems available in the market. It is worth noting that multi-stage water filters tend to be more effective in eliminating contaminants than other systems.
As the decision to purchase a water purifying system carries significant weight, it is imperative to invest time and effort in finding the most suitable option for your needs.
Recommended:-
Citric Acid for Water Softener