The need for pure drinking water has taken center stage as concerns over the purity of municipal water supplies rise. Most homes also have between 8 and 15 sources, and each water source in your house must be filtered. 
Therefore, we need to discuss some of the most suitable and effective water filtration methods that will fix your water problems.
A whole house water filter is a centralized point-of-entry water filter that filters each drop passing through so that every household member has clean, chemical-free water.
Under-sink water filter is a point-of-use water filter installed into existing pipework below your sink so that all water from your faucet is filtered.
If the water in your home has a foul odor, sediment, or mild TDS, an under-sink water filter may be your solution. 
You may need a whole house water filter if you have more sinister contaminants such as heavy metals and some inorganic and organic materials.
So let's look at what whole house water filters and under-sink water filters are.
Whole House Vs Under- Sink Water Filter Systems
About Whole House Water Filter Systems
Whole house water filter systems are the perfect solution if you want a total supply of pure, healthy, and great tasting home water.
The initial expense of a whole house water filter installation can appear to be excessively expensive compared to an under-sink water filter, but in the long term, it is a very cost-efficient option.
Water filter prices are dictated by the material composite, size, and lifespan. Besides supplying top-quality tap water for the whole house, there are additional benefits that can be gained.
Benefits Of Whole Water Filters:
Save money and avoid buying bottled water.

Enjoy safe drinking water all the time.

Reduce potential plumbing issues.

Prevent skin irritation from the chemicals that the water may carry with them.

Save soap and enjoy cleaner clothes.

Reduces limescale and other minerals deposited.
Whole house water filters are a great investment for the home and do not require maintenance or monitoring.
The best whole-house filtering system is one that is of high quality. A good way to determine the quality of a water filter is by making sure it has been certified by the NSF first.
---
About Under-sink Water Filter Systems
Any under-sink water filter is designed to treat tap water before it reaches the kitchen sink. This type of filtration will make sure that sediments, physical and chemical factors are removed from the water, thus making it purer and healthier.
Installation is often easy – if you are not generally afraid to change a light bulb, then you should have no problem installing an under-sink water filter.
Most under-sink water filters are screwed onto the valve that exists below your sink. Therefore, when water is turned on, it will first flow through the filter, and then reach your sink. The process is rather simple and logical.
Of course, not all under sink water filters do the same thing – the cheaper ones will only clean your water of sediments and similar physical particles.
Others may clean your water from any biological (bacteria and viruses) particles, and the top-notch ones will ensure that all harmful chemical compounds are removed too.
You can easily notice the difference by looking at the price tag or the specification of the box.
Benefits Of Under-sink Water Filter Systems
They improve the water taste.
They make water safe for drinking.

Makes water healthier for drinking.

Cost-efficient.
So, what should you be looking for as far as the performance from your under-sink water filters? You should first ensure that you are looking for a product that is NSF certified.
The under-sink water filter system should eliminate most contaminants currently found in our drinking water supply, not only chlorine.
Moreover, it should be capable of removing all types of chemicals, microbes, and allergens by utilizing several different stages of filtration all within a single unit to ensure maximum protection.
The layering of these stages is what guarantees sufficient filtration for you and your family.
Most under-sink water filter systems have four different filtration stages which include an activated granular carbon filter, a multi-media block, an ion exchange filter, and a sub-micron filter.
These four stages will effectively remove everything that you have in your water. Let's now dive in and see what are the most reliable whole house and under-sink water filters on the market.
---
Best Whole House and Under Sink Water Filter Systems
1. Culligan (WH-HD200-C) Whole House Heavy Duty Water Filtration System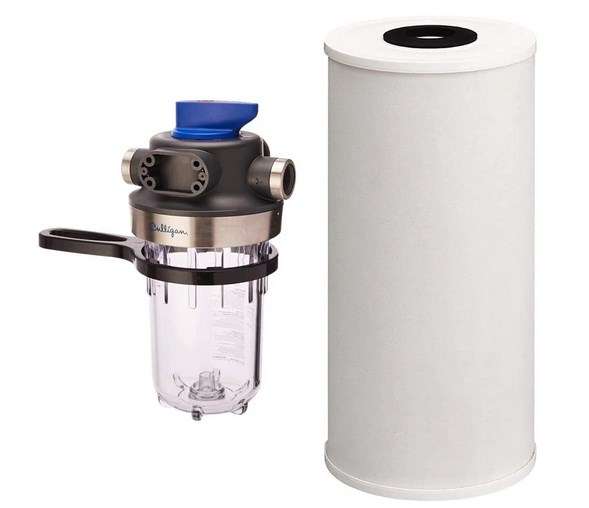 The Culligan WH-HD200-C System is the most suitable choice when it comes to protecting appliances and plumbing within residential homes from sediments.
The Culligan has a compatibility filtration system that includes Culligan filter cartridges: R50-BBSA, CW25-BBS, CP5-BBS, CW5-BBS, RFC-BBSA.
The Culligan WH-HD200-C preventive benefits include significant reduction of iron, no scaling in water pipes, showerheads and kitchen sink faucets, dishwashers, and washing machines become sparkling clean.
Culligan provides the family with healthy, great-tasting water for drinking, cooking, and more. It reduces sediments' rust, scale, dirt, coarse particles, and sand.
This is a heavy-duty whole water filtration system with a pressure rate of 125 psi. The integrated bracket design guarantees easy installation.
The filter has been certified by WQA against NSF/ANSI standard 42 for materials safety and structural integrity only.
Pros
Clean, pure drinking water.
Less expensive.
Reduces the hustle of having to buy bottled water.
More flavorful drinking.
Reduces sediments like rust, scale, dirt, coarse sand, fine sand, and sand.
Cons
Poor packaging- missing parts.
---
2. iSpring 2-Stage ( WGB21B) Quality Whole House Water Filtration System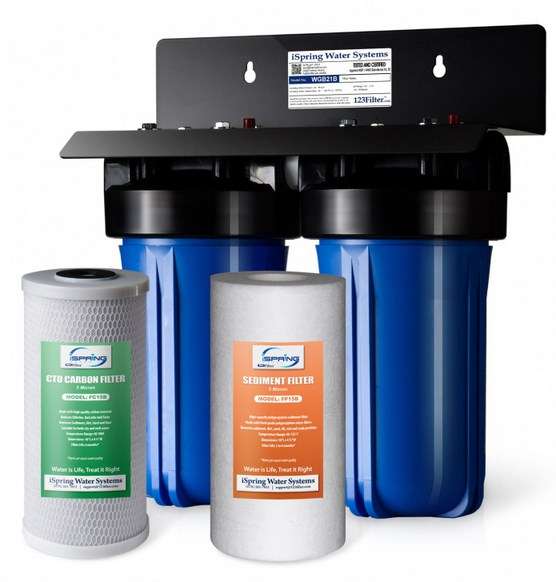 The iSpring WGB21B 2-Stage Whole House Water Filtration System uses a unique two-tank design. One tank uses an efficient filtration media that adopts 5-micron polypropylene filtration media.
By using this media, chlorine taste and odor, as well as large particles and sediments, can be effectively reduced.
The second filter uses the CTO filter (FC15B) to remove cloudiness as well as bad tastes and odors, removes over 90% of chlorine, and is highly effective on VOCs like pesticides, herbicides, and industrial solvents.
The premium design material is committed to providing you with tasty and healthy filtered water. The system effectively filters, prevents clogging of water pipes and prolongs the service life of household appliances.
This filtration system is for any consumer looking for an easy inexpensive no-fuss whole house water filter. This product is designed to provide consistent and continuous water flow without causing big drops in water pressure.
Installation is easy thanks to its pre-assembled mounting bracket. With its simple installation process, it requires no maintenance outside of a yearly check-in and absolutely no chemical additives. Installed permanently, it is an integral part of the home's water system.
Pros
Long-lasting service life.
Effectively prevents the clogging of the pipes.
Effective filtration.
Increase the water quality.
Protect your water equipment.
It's backed up by many consumer reviews.
Cons
---
3. Waterdrop (NSF/ANSI 42 Certified) 10 Under-Sink Water Filter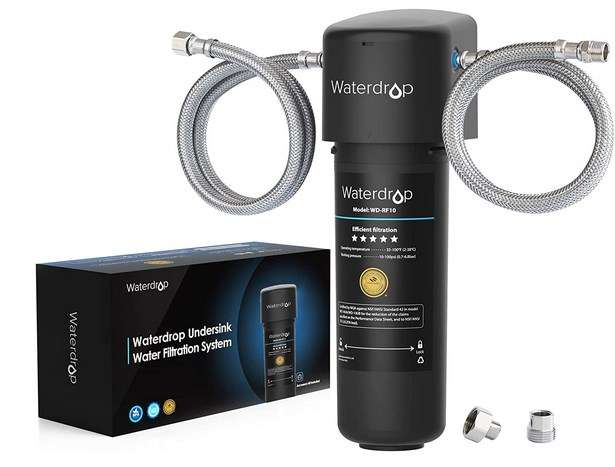 The Water Drop has an innovative multistage filtration for direct connection to the under sink filtration system that can effectively reduce chlorine, heavy metals, chemical pollutants, sediments, and other large particles.
Enjoy fresh clean healthy water straight from your tap and not have to purchase bottled water.
The filter has been tested by WQA and it meets NSF 372 standards. It features an activated carbon block and other advanced filter media to ensure effective and efficient filtration.
It removes contaminants while also retaining minerals that are essential for your body such as calcium, potassium, sodium, and magnesium.
With the convenient push-to-connect fittings, the filter is relatively easy to install. The whole process takes less than 3 minutes. The system should only be connected to the cold water supply.
The twist and lock design ensures that you can replace the filter without any problem. The system includes a durable 3/8 inch hose with a direct connection that adapts to standard 3/8 feedwater valves under US sinks.
Its filter long service life when used with municipal water ensures that it lasts for 12 months or 8,000 gallons of water. Its pressure is at 60 psi.
Pros
Easy installation.
Used at commercial and residential places.
Removes sediments and odors.
Saves you money from the expenses of buying bottled water.
Cons
---
4. Frizzle with Direct Connect Under Counter Drinking Water Filtration System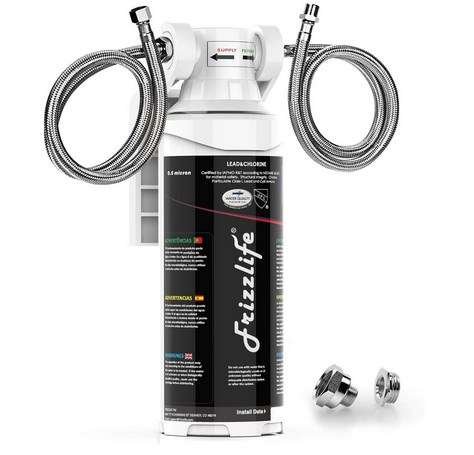 The Frizzle Under-sink Water Filter System has a 2 stage advanced water filter water purifier with 0.5 microns.
This double water filter features high-performance compound filters whose features are technologically designed to remove over 99.99% of contaminants while leaving all the essential minerals.
Lead, heavy metals, chlorine, rust, organic compounds, carcinogens, and other contaminants are all reduced.
The filter fits both ½ inch and 3/8 inch cold water lines; installation is butter smooth to install. A directly connected hose is used to fit the 3/8-inch hose feeding the water valves under the US kitchen sinks.
The inline water filter system also comes with 3/8 inch to ½ inch converter fittings that allow the system to install to the existing both ½ inch and 3/8 inch cold water line and faucet under your sink.
It takes less than 3 minutes to install the filter and no plumbing is required. With the twist-in-installation for quick changes and filter replacement, the filter has a convenient auto shutoff design.
This under sink water filter system contains a core filter cartridge inside the housing that's replaceable. Once it's done, you will only need to replace the core part of the filter cartridge rather than throwing away the whole plastic part.
This will save you a lot of money on replacing the cartridge and will do a lot of help with environmental protection.
Pros
High flow rate.
Money-saving and satisfaction.
Best auto shut design.
Two-stage advanced filtration for pure and clean water.
Cons
 The thread tapes do not work effectively.
---
5. APEC 3 Stage (WFS-1000) Super Capacity Premium Quality Under-Sink Water Filter System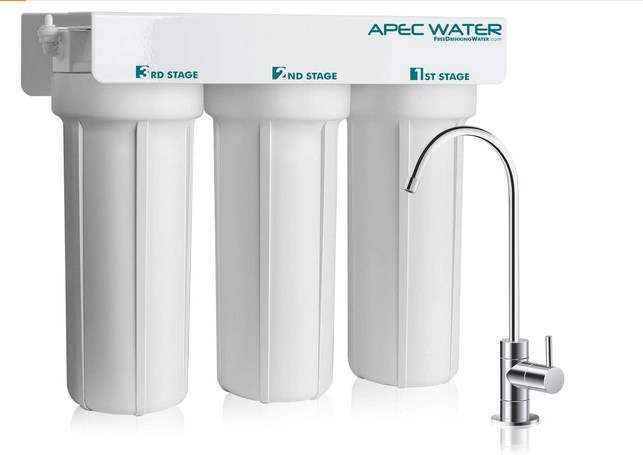 This Apex under the kitchen sink water filter uses a 3 chamber filtration system to filter water that comes through your faucet. The system makes sure that the water is completely odorless, colorless, and pH balanced.
Water enters the first chamber. In this chamber, a sediment filter removes dirt and sand while two additional carbon-based chambers work to eliminate bacteria and germs.
Following the first stage of carbon is the second stage, which works diligently to remove chlorine chemicals and odors. This chamber works to ensure the freshest pure water before it enters the home and comes in contact with home appliances.
Since these filters are double sealed, inexpensive, and need only be changed once or twice a year, installing one won't break the bank.
It features a leak stop valve that ensures the system won't overflow whenever excess water is detected. All the materials that make up this filter are BPA-free.
Pros
Easy installation.
Cleaner, fresher, softer, odorless water.
Company warranty.
Filters water in three distinct stages.
Cons
---
Conclusion
The above are among the most effective whole house and under-sink water filters. Throughout this post, we have seen several ways water filters can improve the quality of the water we use in our homes.
Since each water source in your house must be filtered, the water we cook with and drink must be pure.
Our skin is also designed to breathe, releasing toxins from our bodies. As such, it is highly efficient at absorbing water, not to mention the water vapors that enter your body through your lung. You should use a water filter to protect yourself against such contaminants.
Because the decision to purchase a water purifying system is so critical, you will need to research the different types of systems on the market thoroughly.
Read the specifications on each. Some systems are far more effective than others. For the most part, you will find a multi-stage water filter that will maximize the removal of contaminants.
Recommended:-
Citric Acid for Water Softener