If you rely on well water for domestic use, you should be aware of the levels of harmful contaminants in water. As a result, testing your water is a great way to discover what bacteria, germs, and minerals are present.
In this post, we analyzed the most reliable home well water test kits on the market by focusing on ease of use, accuracy, and price tag.
We have compiled a list of the Best Well-Water Testing Kits of 2022. In addition, we discussed some of the features, pros, and cons which make these test kits the best on the market today.
Here is a quick summary of our findings.
Best Pick

WaterSafe Well Water Test Kit – Check Today's Price on Amazon
"Tests for copper, lead, nitrates, iron, bacteria, nitrates, and also toxins from fertilizers or pesticides."
---
Second Best
Safe Home STARTER Test Kit – Check Today's Price On Amazon
"Check a total of 20 contaminants and EPA Certified Test Kit."
---
Budget Pick

Hach 2745250 Water Test Strips – Check Today's Price On Amazon
"Contain 50 Quality test strips that are Convenient for home and field use."
---
The 6 Best Well Water Test Kit in 2022
1. Hach 2745250 Water Test Strips – Total Hardness – 0-425 mg/L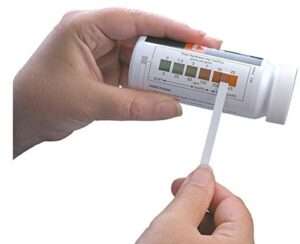 Water hardness arises when minerals such as magnesium and calcium ions come into contact with groundwater. Water with high levels of magnesium and calcium has a negative impact on our health and laundry.
Hach Water Test Kit contains 50 test strips and a color chart, which are more than adequate for domestic use, and the test strip is easy to use.
The procedure involves dipping a single strip into the sample water. You will note the color change according to the hardness of the water.
In addition, match the color of the Hach test strip with the color scale printed on the bottle.
We recommend this because:
Easy to use and provides results in less than a minute.
Quality water testing kit at a cheap price.
Convenient for home and field use.
Contain 50 strips test.
Product Information
Test: Hardness, calcium carbonate.
Reagent Platform: Strips.
Measurement Points: 0, 25, 50, 120, 250, 425 ppm.
Tests per Kit: 50.
Pros
Disposable and easy to use.
Effective to detect water hardness.
The color chart is detailed.
Cons
Colors are hard to differentiate.

---
2. Test Assured Complete Water Analysis – Detect Lead, Bacteria, Iron, Copper & Pesticides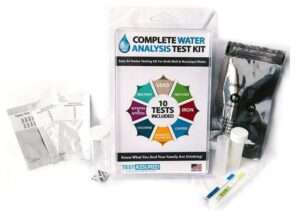 Whether at home or on a camping trip, we all know how imperative it is to know whether the water we drink is safe.
For this reason, we do our best always to go above and beyond the norm and test the water we rely on daily for our survival and well-being.
The Test Assured Water Analysis kit analyzes 10 factors that will help you check more precisely for water contaminants such as ferrous iron, lead, pesticides, nitrates, water hardness, pH, alkalinity, bacteria, and chlorine.
This water test kit allows users to perform 10 tests simultaneously, resulting in an in-depth water analysis that is 99.99% accurate.
And displays what type of water contaminants or imbalances you're dealing with, providing the user with a sense of water purity and safety.
We recommend this because:
Simple to use, with results available after 10 minutes of waiting.
The test kit is portable, making it easy to take with you on a camping trip.
Reasonably priced.
Calibrated to the standard of EPA. The result provided with the test kit is reliable and trustworthy.
Great deal for the price.
Product Information
Item Weight: 5 ounces.
Product Warranty: 1 year.
Item model number: COMINHKPR136163.
Pros
Perfectly suited to check water from different sources including: tap, lake, well or river water.
Has a full refund if the test kit doesn't please the user.
Fast result regardless of water quality.
Cons

---
3. WaterSafe Well Water Test Kit – Testing Strip for Water Contaminants
The presence of large amounts of bacteria and iron is one of the most common issues with well water.
This WaterSafe Test kit focuses mostly on this, and while it does test for other elements such as lead, copper, and chlorine, the kit is highly useful with an accuracy of 99.999 percent when it comes to checking iron and bacteria in water.
The advantages of utilizing this test kit are as follows: it produces accurate results that are comparable to those acquired from a laboratory.
It provides quick results, eliminating the need to wait for hours; and it is simple to use.
We recommend this because:
Affordable prices, for those on a budget.
Best to use both for well water and municipal water supply.
Provide high-quality results equated same as those from the lab.
The best water test kit to identify traces of chlorine in the water.
Product Information
Item Dimensions: 7.9 x 4.3 x 1.6 inches.
Manufacturer: Silver Lake Research Corporation.
Item Weight: 2.4 ounces.
Item model number: WS425B
Pros
Comprehensive use – the WaterSafe kit comes with easy to follow instructions.
Checks over 10 different factors in a single test.
Delivers accurate results within a very short period.
Cons
Is a onetime use water test kit.

---
4. JNW Direct Drinking Water Test Strips 10 in 1 – For An Accurate Quality Water Testing At Home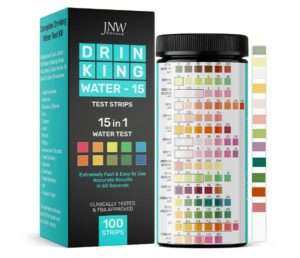 JNW Direct 10-in-1 water testing kit comes with 125 strips. This allows the user to test 125 times, ensuring accuracy with each test.
Each strip tests more than 10 parameters, including fluoride, nitrate, copper, lead, water hardness, iron, free chlorine, nitrite, and total alkalinity.
Furthermore, a single water test strip provides accurate results within a 30 second waiting period from any water source including tap, well and river.
The test kit has a simple and easy-to-use procedure. By dipping a test strip into the sample water, wait for a few seconds for the strip to change color.
Then match it with the color chart on the bottle to find out the exact contaminants present in the water.
We recommend this because:
Has a Lifetime money-back guarantee.
Comprehensive E-book explaining in detail what each result means.
Easy-to-use with clear instruction.
Product Information
Product Dimensions: 2.1 x 2.1 x 5.1 inches.
Manufacturer: JNW Direct.
Item Weight: 3.04 ounces.
Pros
125 Test strips are included in one package.
The price is affordable.
Easy-to-use process.
Useable in tap, well and even river water.
Cons

---
5. Safe Home STARTER Test Kit – DIY Testing for 20 Different Contaminants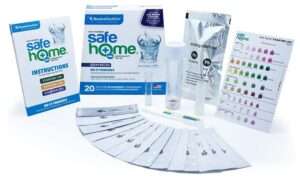 Safe home test kit is a product made in the USA and is EPA Certified.
It is designed to test for all major water contaminants present in well water. These include copper, free chlorine, zinc, total chlorine, hexavalent chromium, lead, silver, nitrate, nitrite, sulfate, pH, phosphate, hardness, dissolved solids, and pesticides.
This test kit also has a number of appealing features, including the ability to test for all 20 harmful chemicals in a variety of water sources, including city water, well water, rivers, lakes, streams, and ponds.
We recommend this because:
EPA certified product – this firmly shows the results are trusted.
Affordable price.
Best to check in-organics, organic, bacteria, and metals in water.
Provide more testing parameters than other well water test kits.
Product Information
Item Weight: 1.6 ounces.
Color: white, blue, green.
Dimensions: 6.2 x 5.5 x 1.8 inches.
Package Quantity: 1
Pros
Safe and easy to use.
Check more than 20 harmful contaminants.
High-quality product.
Cons

---
6. Watts Premier 173006 Kit – All-in-One Premium Water Test Kit
The Watts Premier 173006 home test kit is the most comprehensive home test kit available in most online stores, including Amazon.
The kit not only tests for chlorine, iron, sulfate, lead, copper, nitrate, pH, pesticides, chloride, hydrogen sulfide, bacteria, nitrite, and alkalinity but also comes with an EPA-approved free chlorine strip.
Furthermore, the kit includes an exceptionally thorough list that allows the user to quickly determine what is in the water.
Which includes: 2 total chlorine, 2 pH, 2 free chlorine, 2 Copper, 2 total Hardness, 2 iron, 2 Hydrogen sulfide, 1 Pesticide, 1 Lead, 2 total Alkalinity, and 1 Bacteria.
We recommend this because:
EPA-approved free chlorine strip that assured the user of a complete, accurate result.
Has an easy-to-use process with fast results.
Analyzes more than 15 different water contaminants with high accuracy.
Product Information
Item Weight: 4.2 ounces.
Item Package Quantity: 1.
Dimensions: 5.8 x 2.5 x 4.5 inches
Pros
Save you time by eliminating the need to take water samples to the lab.
High water check accuracy.
Provides result in less than a minute.
Cons
One user complain of the test he perform was hard to decipher.

Conclusion
Clean water is necessary for all living things to survive. Every person requires between 10 and 40 liters of clean and safe water every day for drinking, cooking, and washing.
Testing the quality of your drinking water is essential because it allows you to evaluate the number of harmful substances in it. As a result, you will be aware of all the dangers lurking in the water.
As a result, it is critical to have a water testing kit that is simple to use and efficient. The Safe Home STARTER Test Kit is our most effective;
It's EPA-Certified and tests a total of 20 contaminants in water including free chlorine, water hardness, pH. Levels, etc.
The kit also performs tests on tap water, city water, rivers, streams, and lakes. It also delivers results in a short time, which can guide you on the best Water purification methods you can consider
Related Post
A Roundup of Deep Well Submersible Well Pump
Top Filtration Systems for well water
What kind of filtration system do you need for well water?
---