Several unique properties in well water make it a far superior water source to the public water supply. Whenever you drink the water, you'll notice that it has a cool, refreshing, and quenching effect on your tongue.
It is natural, safe, and clean since no water treatment chemicals have been added.
In the search for the World's Best Submersible Well Pump for Domestic Use, it might be pretty daunting to determine which pump is the most suitable.
So, here's a quick rundown of all the different types of well pumps designed to be submerged in underground water. These pumps have a larger coverage area and function well in shallow or deep wells.
Our list of the most popular submersible pumps for domestic use has proven effective for all your well water needs, durable, energy-saving, and affordable.
9 Best Submersible Well Pumps for Domestic Use
| | | | |
| --- | --- | --- | --- |
| Submersible Pump Model | Hose Power | Flow Rate | Dimensions |
| 1. Red Lion RL12G05 Submersible Well Pump | 0.50 HP | 33 GPM | 24 x 6.5 x 5 inches |
| 2. Hallmark Industries MA0343X-4A Deep Well Pump | 0.50 HP | 25 GPM | 39 x 6 x 6 inches |
| 3. Red Lion RL22G10-3W2V Pump | 1.0 HP | 23 GMP | 43.2 x 5.7 x 4.6 inches |
| 4. PWS Stainless 316 Submersible Well Pump | 0.16 HP | 5.7 GPM | 20.4 x 11.9 x 5.8 inches |
| 5. Hallmark MA0419X-12A Water Well Pump | 0.5 HP | 33 GPM | 29 x 8.5 x 5.5 inches |
| 6. ARKSEN 110V Deep Well Submersible Pump | 1.0 HP | 33 GPM | 46 x 9 x 6 inches |
| 7. OrangeA 1/2HP – 150 Well Pump | 0.5 HP | 25 GMP | 28.74 x 5.51 x 4.72 inches |
| 8. 2 Pack Hallmark MAO414X-7 | 1.0 HP | 33 GMP | 39 x 6 x 6 inches |
| 9. Goplus Deep Well Submersible Pump | 1.0 HP | 33 GMP | 3 x 6 x 34 inches |
1. Red Lion RL12G05 – Best Submersible Deep Well Pump for Home Use (

Best Pick

)

This review starts with the Red Lion RL12G05-2W2V deep submersible well pump, a heavy-duty electric well pump.
The pump is robust and suitable for both residential and industrial use. With a motor capacity of 1/2 horsepower, it is ideal for wells with a diameter of 4 inches and above.
It has a high-performance standard and can be used up to 33 meters/100 feet deep, guaranteeing quiet operation. The pump is powered by an energy-efficient Franklin Motor that is highly reliable and can pump up to 12 gallons per minute.
Red Lion models are made from stainless steel that is hardened and rust-resistant for long-term use, with rubber hex bearings for shock absorption and stability. It also has a built-in Check Valve and a suction screen that prevents backflows and impellers from clogging.
Product overview:
Product Dimensions 24 x 6.5 x 5 inches.
Horsepower 0.50.
Flow rater of 33 GPM.
1-1/4″ NPT Thermoplastic Discharge Head.
The control box that comes with an all 3-wire pump (1/2 HP to 1 HP).
What Our Team Liked:
Suction Screen Impellers prevent clogging.
Quite when operating.
Doesn't rust (structure made from stainless steel).
Very powerful and superior Quality ensures quiet operation
Pros
Deep well 4-inch Submersible pump – 2 wired 230V.
With Hex Rubber Bearing that provides shaft stability and many channels flow.
3 Year Manufacturer Warranty.
Powerful Thermoplastic discharge and motor bracket.
Cons
Recommendations and Options:
Red Lion company makes a whole variety of well pumps ranging from 0.5 to 1 horsepower versions. With a 240 to 110 voltage and 3-wire as well as 2-wire, only the 3-wired motor comes with a control box.
With a 12 GPM from the lower side to 22 GPM for the deepest well, the lower pump version is mostly intended for shallow well.
NOTE: Amazon buyers have positively rated this horsepower pump performance of 4.5 out of 5.
Red Lion submersible pumps are available in these versions.
Horsepower and power configurations:
1. 0.5 hp with 2-wires.
2. One hp with 2-wires.
3. 1.5 hp with 3-wires.
4. 0.75 with 3-wires and a control box.
---
2. Hallmark Industries MA0343X-4A (1/2 hp 230V) Deep Well Submersible Pump
This is a top-rated submersible pump that is made in the US and has the capacity to pump water from even the deepest wells, thanks to its dimensions of 29 x 8.5 x 5.5 inches.
The product is made from corrosion-resistant material, solid stainless steel for durability, and is fitted with a hermetically sealed motor for enhanced energy saving and efficiency.
As a result of its heavy-duty design, this pump can handle a flow rate of 25 GPM, which is much higher than other 1/2 HP well pumps.
Besides being the most reliable submersible pump, it comes with a tape kit, an installation procedure, and a detailed user manual to help install and use the pump.
Product overview:
A flow rate of 25 GPM.
Built-in 1/2 HP start capacitor, and thermal protection switch.
Built-in starter box-no external needed.
Two-wire pump with 3-wires (ground wire).
What Our Team Liked:
The pump comes with a 12 months warranty.
1.25″ NPT discharge is excellent.
Durable solid stainless steel construction.
Sound design that eliminates the need for priming.
A 10-meter long electric cord that is waterproof.
Pros
A solid stainless steel body with heavy-duty iron cast.
Designed with a fit of 5″ ID inside, which is a standard size.
Built-in control box which is user-friendly.
Patented impeller provides a powerful high flow rate of 25 GPM greater than almost all the 1/2 HP well pumps.
Cons
Recommendations and Options:
This Hallmark MA04 submersible pump comes with a whole range of specifications. 1 Horsepower, 210 Volts to 230 Volts motors, make sure you get the right voltage pump, to avoid burning the motor. Shell and motor shaft are made from corrosion-resistant stainless steel.
Despite the Hallmark MA04 well pump having a 1-year warranty, this pump has received very good reviews on Amazon. This pump performs well in old and deeper wells, that are prone to a lot of dirt and sand. According to real users.
---
3. Red Lion RL22G10-3W2V Deep Submersible Well Pump with Control Box
Our third product is the Red Lion RL22G10-3W2V deep well submersible pump. This well pump is best known for its powerful pull, which makes it ideal for farms and rural households.
It measures 43.2 x 5.7 x 4.6 inches. Its standard stainless steel chassis creates a sturdy and durable frame pump.
Comes with one horsepower motor using 230 volts; this powerful 3-wire pump ensures reliable operation. It transfers clean water from a 200 ft. deep well to the holding tank, with a flow rate of 22 GPM.
It has all the modern submersible well pump features, such as the hex rubber bearing for shock-absorbing and two suction screening bands that prevent debris from clogging the impeller.
Product overview:
Flow rate 23 GMP @ 140.
1 Horsepower.
Voltage single phase, 240 Volts.
Dimensions 43.2 x 5.7 x 4.6 inches.
What Our Team Liked:
Red lion submersible pump is designed to use for wells that are up to 200 ft. deep.
Classic stainless structure steel for durability and strength.
Anti-clogging suction screening.
Has 11/4 thermoplastic discharge head that makes it easy for water to reach the holding tank faster.
Three years of limited warranty.
Pros
One Horsepower and 230 Volts ensure smooth and reliable operations.
Capable of drawing water from a 200 feet water well.
Anti-clogging system that is perfectly designed to filter debris.
Easy to install and use.
Cons
Recommendations and Options:
The Red Lion RL22G10 is very light, simple to install and comes with a 3 years warranty. This 4″ submersible deep well pump will perfectly fit for larger well from a depth of over 100 feet deep.
One Amazon buyer reports: In 2016 I purchased this well pump and it worked perfectly, and in 2017 I did purchase the second pump for a different location based on the first performance.
---
4. PWS Stainless -(24VDC, 0.16HP, 165ft) 316 Submersible Well Pump
There is no doubt that this particular well pump can be used both at home and in the industrial sector since its performance is excellent. Stainless steel material has been used for the construction of this product, thus guaranteeing its durability.
Additionally, it is a fully submersible pump that can be powered by batteries when needed whenever the user needs to pump water at any given time.
It has a high energy conversion rate and low energy consumption, making it an environmentally friendly pump that can be connected to a solar panel.
This pump is fully automated, as the sensors switch off the pump when water levels have dropped or when the header tanker is full.
Product overview:
A 6ft cable with the pump at 120watts
Stainless steel material
Weighs 21.5 pounds.
Comes with an installation manual.
What Our Team Liked:
Saves time as it is self-primed.
It is efficient and works for a long time without stopping.
Energy-saving as it can cooperate with gravity.
Pros
This pump is ideal for all types of water needs be it large or small.
Saves on cost as it does not require regular maintenance as the motor is sealed.
The durability of this pump is impeccable as it is always submerged in cool water well.
Cons
Difficulty in fixing in case of a breakdown of the motor.
In the case of a breakdown of the pump it proves to be a task to pinpoint the problem early for fixing and may be recognized too late.
---
5. Hallmark MA0419X-12A Deep Submersible Pump for Domestic Use
The pump can be utilized both for home and industrial use since it is heavy-duty, and the control box is designed to meet the demands of industrial use.
The submersible nature of this pump, combined with its thermal protection, ensures that it does not overheat or deteriorate over time.
As the control box is built-in, it eliminates the need for an external control box that would typically be required. The pump has a flow rate of 33gpm and is excellent for use in industrial applications.
The installation of this pump is straightforward, and because it is made of stainless steel, the material is durable and easy to maintain.
This pump comes with a manual that explains how to maintain it and install it for long-term use by the user.
Product overview:
Made of stainless steel
Flow of 33gpm
Built-in control box
230 volts use
Pros
The manual is clear on the installation and maintenance.
Production of up to 33gpm.
An inbuilt control box.
Cons
---
6. ARKSEN 110V Deep Well Submersible Pump + Control Box Stainless Steel 4′
This is our sixth review of the Arksen Deep Submersible Water Pump. This submersible well pump is an excellent choice for wells specifically to be submerged, as it is durable and reliable.
Featuring a stainless steel housing made from 304-grade stainless steel, a powerful motor, and a flow rate of 33 GPM, this unit offers impressive performance.
This heavy-duty submersible pump will keep water flowing in the house, cabin, or farm without any disappointments/inconveniences.
It has protected water well pump sealed motor that minimizes overheating and can reach up to 200 ft. max head.
The purchase package includes a control box, a submersible water pump, and a 200ft cable. This will enable you to draw water from the deepest wells with no problem.
Product overview:
Dimensions 46 x 9 x 6 inches.
33 Gallons per minute flow rate.
Cable up to 200 ft.
A single Phase Motor.
Protected sealed motor.
What Our Team Liked:
The housing is made of Highest quality 304 stainless-steel.
200ft max head and 33 gallons per minute.
Perfectly sealed motor prevent overheating and high efficiency.
Pros
Durable and quality workhorse.
Versatile and easy to install.
Stainless steel shell boosts durability.
This pump has a 12 months limited manufacturer's warranty.
Cons
Recommendations and Options:
The ARKSEN Deep Well Submersible Pump will give you a class-leading constant flow rate of 33GPM and impellers that provide stable and remarkable performance.
With a hermetically sealed motor that is thermally protected to always prevent overheating, downtime and save on energy.
---
7. OrangeA 1/2HP – 150 Deep Submersible Well Pump, 25GMP Best for Domestic & Industrial Use
The OrangeA Submersible Pump has been designed for water lifting with a diameter of 4″. The stainless steel body optimizes functionality and enhances lifespan.
It is designed with a motor and a control box that are appropriate for home and industrial use.
This water pusher has a flow rate of 25 GPM and 0.5 horsepower, allowing water to be pushed up easily without consuming excessive energy.
Product overview:
Water depth of up to 125ft.
Motor 0.5 HP.
A maximum Flow rate of 25 GPM.
Body Weight: 27lbs.
What Our Team Liked:
Energy-saving capacity with a maximum flow rate at 25 gallons per minute.
Stainless steel body free from corrosion.
Easy to install just a few minutes of installing.
Pros
125ft water depth.
Corrosion resistance body.
Energy-saving water pump.
Durable water pump.
Cons
---
8. 2 Pack Hallmark MAO414X-7 1HP Deep Well Submersible Pump Stainless Steel 4′
Our eighth pick is the Hallmark Industries MA0414X-7 Deep Well Submersible Pump. This submersible well Pump is perfectly housed in stainless steel to ensure that it is protected from corrosion and is durable. This allows the Hallmark Pump to last for a long time.
It has a power of 2HP, 10.2 AMPS, and 230V, which is highly reliable for home use due to its energy-saving capacity, with a maximum flow rate of 35 gallons per minute.
Fortunately, the features present in this unit can provide your homestead with clean and constantly flowing water at all times.
This pump causes no noise pollution. In addition to this, it comes with a power switch that prevents the pump from overheating due to the power switch.
Product overview:
Flow rate of 33 GPM.
1/4 HP Submersible Thermoplastic Utility Pump.
Dimensions 12 x 7 x 7 inches.
90 PSI pressure.
1.0 Hose power.
Heavy-duty stainless steel.
230 Volts and 750 Watts.
What Our Team Liked:
Resistance to corrosion, made from stainless steel materials.
Top high-quality production material that ensures longevity and reliability.
The pump is perfectly designed in such a way that produces less noise pollution.
33 GPM flow rate is more than enough for most homesteads.
Has incorporated start capacitor, hermetically sealed in the motor and thermal protection from unnecessary overheating.
Pros
Hermetically sealed and start capacitor to protect against overheating.
Stainless steel material, resistance from corrosion.
A top maximum flow rate of 35 gallons per minute.
Easy setup.
One-year manufacturer's warranty from the pump purchase date for parts and labor.
Cons
Poor customer service from customers' reviews.
---
9. Goplus Deep Well Submersible Pump 200 ft, 1HP 200FT with Control Box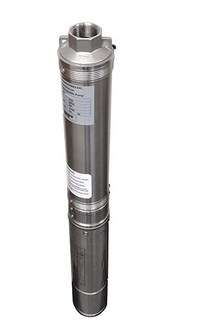 Goplus is a trusted and well-established manufacturer of a variety of pumps. Their pumps are made from stainless steel and are silver in color.
This Goplus 1 HP Stainless Deep Well Submersible Pump serves multiple purposes, including drawing water from shallow and deep wells and emptying reservoirs, among many others.
The pump is durable and extremely powerful, capable of handling most demanding operation jobs such as drawing water from a deep well effortlessly. This is because it has a flow rate of 33 GPM and a working depth of 49 ft.
Product overview:
Product Dimensions 4 x 6 x 34 inches.
3 wires pump and one for the ground wire.
Made from stainless steel.
Pump dimensions are 3 x 6 x 34 inches.
Has a maximum working depth of 49 feet or 15 M.
Pros
Made from high-quality stainless steel thus protected from corrosion, long-term use, and high-temperature resistance.
Has a maximum flow rate of 33 GPM which is a steady supply of the required water resources.
The Pump contains a control box that is easily operated.
This well submersible pump has 2 wires and a ground wire for safety.
A standard dimension of 34″ H x 3.5″ D.
Cons
---
Conclusion
Water can be obtained from a well without much difficulty. Using water pumps allows for more accessible options, as the water is pumped through the pipes to the house.
These pumps can be used for many other purposes besides supplying water to households, such as irrigating farms and gardens.
As a result of these pumps, the water supply will be made easier and faster in industries and homes. This will provide users with the convenience they need to enjoy well water.
---
Recommended Post
Well Water Filter for Sediments
Drinking-Water Test Kits Reviews
How to Keep Outside Well Pump from Freezing
---
How to Choose a Submersible Pump
If you are planning to install a new or replacing an old submersible pump, then, you need to be specific on what pump to get for the job.
Here are important factors you need to consider when selecting a well pump that will meet your specification:
Gallons Per Minute [GPM]
Submersible pumps are measured by the flow rate or regulated by the gallon per minute. The best way to calculate GMP is by counting the number of fixtures in the house.
Such includes the showers, tubs, clothes washers, dishwashers, faucets, and even outsides spigots; Each fixture requires GPM [Gallon per minute], i.e., four to five-bedroom requires a pump of at least 12 GPM.
Submersible pump wiring
To differentiate between a 3-wire and 2-wire submersible pump is purely based on the make of the motor, which the pump is currently using.
A 3-wire single motor requires a starting capacitor and a control box. The 2-wire motor does not use starting capacitor; the pump has a built-in electrical circuit, that powers the motor; Thus,  it does not require a control box.
Water pump materials
In all the deep well submersible pumps reviewed herein, the materials are made of stainless steel (316 or 304 and titanium) which are corrosion-resistant.
These materials make the pumps to handle chemical fluids of low PH value, e.g., salty water and corrosive acidic fluid.
The highly corrosion-resistant parts that are mostly exposed to fluid are casing, the impeller, motor frame, outer cover bend, flange, strainer and sealing parts.
Water well diameter
A well is a shaft, hole or excavation mostly used for the main purpose of extracting groundwater from the subsurface.
The well diameter is always determined by how much the water is needed or the use of the well, and influenced by the power and size of the pump.
Most wells used at homes are between 4 or 6 inches(check measurements, is it inches), to fit economically-priced pumps, with water yielding from 10 gallons per minute to more than 60 gallons per minute. submersible water pump
What is the lifespan of a submersible well pump?
The standard average life span of a submersible well pump is between 10 to 15 years, more so there are different factors that may affect the life expectancy of a well pump.
The list below outlines all the major factors that play an essential role in determining the life span of a well pump.
1. Quality of Motor: Well pump motor plays a vital role in the driving the engine of a well pump. This determines how long a pump is going to last.
Having said that, a well pump with a Franklin Electric motor tend to last for an average of 13 to 15 years since these Motors are made from quality and durable variable/materials.
2. Number of Cycles: A pump that runs throughout the day is more likely to last less than the expected life expectancy, due to overheating of the motor, wearing and tearing of the bearing as well as nuts, that support the well pump, to pump water smoothly.
3. Concentrates of Sediment in Water: Sand, dirt and rock particles cause friction that results into wears and tears in bearings and other important variables/features.
We have witnessed well pump that last less than 4 years due to high concentrates of sand particles buildup.
Recommended

:

What Causes Black Particles in Well Water
---