Are you on the lookout for a cost-effective yet highly efficient solution to combat hard water issues? Look no further than ScaleBlaster water systems, which not only tackle hard water problems but also prevent limescale build-up in plumbing systems.
ScaleBlaster water conditioners harness the power of high-frequency waves to neutralize calcium carbonate molecules in water, without requiring salt or chemicals for filtration. This makes the process environmentally friendly, and reduces the negative impact on your plumbing system.
To help buyers make an informed decision on which model of water softening system to choose, we have conducted a thorough analysis of the key features that must be considered before investing in any model.
We have provided:
A detailed comparison table.
An extensive product description.
Pros and cons.
Final verdict.
We hope that at the end of this article, you will be able to purchase the best model that meets your requirements.
ScaleBlaster SB-Elite vs SB-75 vs SB-30 Comparison Tables
| | | | |
| --- | --- | --- | --- |
| Model | SB-Elite | SB-75 | SB-30 |
| Water Levels | | | |
| Wattage | | | |
| Usage | | | |
| Product Dimensions | | | |
| Installation Type | | | |
| | | | |
| #Price | Check Price on Amazon | Check Price on Amazon | Check Price on Amazon |
Key Difference Between SB-Elite, SB-30 and SB-75
Within this section, we have conducted a thorough evaluation of the distinctive product features and analyzed the advantages and disadvantages of each in order to provide a comprehensive overview.
Regarding performance, the Scaleblaster water softener units are equipped with advanced electronic descaling systems that utilize complex modulating frequency waves to alter the calcium molecule bonds present in water.
It is important to note that each water softener conditioner has a maximum capacity for descaling water hardness, and thus it is incumbent upon the buyer to assess the hardness of their water supply to determine the most suitable unit for their needs.
Scaleblaster SB-75
The SB-75 is designed for descaling water hardness of up to 19 GPG, equivalent to a 1 to 4-bathroom home. This water conditioner model requires no maintenance and comes with a three-year warranty.
SB-75's notable benefits include:
Reducing and preventing new scale formation.
Further dissolving existing limescale deposits in your plumbing system.
Increasing water pressure in your shower head and faucets.
Scaleblaster SB-30
The SB-30 water treatment system is an exceptional solution to all your water-related issues. With a water hardness level of up to 30 GPG, it outperforms the SB-75 in terms of water conditioning capability.
This technology is particularly well-suited for larger homes, providing optimal descaling performance and preventing the formation of additional limescale.
Additionally, we are confident in the quality of our product, which is why we offer a three-year warranty against any potential defects or malfunctions.
Scaleblaster-Elite
The SB-Elite model surpasses its counterparts in terms of performance, making it the ideal option for those seeking top-notch results. Capable of managing water hardness levels of up to 40 GPG, the SB-Elite can effectively combat even the most challenging water hardness issues.
Crafted specifically for use in larger homes of up to 5,000 square feet, the SB-Elite utilizes advanced technology to alter the properties of calcium ions, preventing any further buildup within your plumbing, showerhead, and faucet.
Additionally, the SB-Elite boasts an unlimited water treatment capacity, without requiring any maintenance. It is free from the use of chemicals or salt, making it a more cost-effective solution than many other water softeners available in the market.
Pros and Cons
What we Like
Both water treatment systems are inexpensive and ideal for dealing with hard water problems.
They take up less space and can be installed indoors or outdoors.
Both models use an electronic descaling system that does not add salt or chemicals to the water, making them suitable for people sensitive to salt in their food.
There is no waste of water or salt during the descaling process.
Scaleblaster is fully certified and A+ rated by the Better Business Bureau and the WQA (Water Quality Association).
Designed, manufactured and tested in the USA.
What We Don't Like
The SB-Elite model is quite expensive.
The scaleblaster water softener is only intended for city/municipal water use and has limited efficacy with well water.
Verdict
In today's day and age, concerns about the impact of hard water on our domestic plumbing systems have become increasingly commonplace. Consequently, the necessity of filtering out this mineral and other water impurities has become a critical issue for many households.
Fortunately, the Scaleblaster water conditioner offers a straightforward, efficient, and cost-effective solution for addressing water hardness. With its range of products, including the SB-75, SB-30, and SB-Elite water conditioners, Scaleblaster provides an effective solution for varying degrees of water hardness based on the city you reside in.
Among these models, the SB-Elite stands out as the most effective solution for very hard water conditions, capable of handling water hardness of up to 40 gpg (grains per gallon). This distinguishes it from the SB-75 and SB-30 versions, which are less capable of dealing with such high levels of water hardness.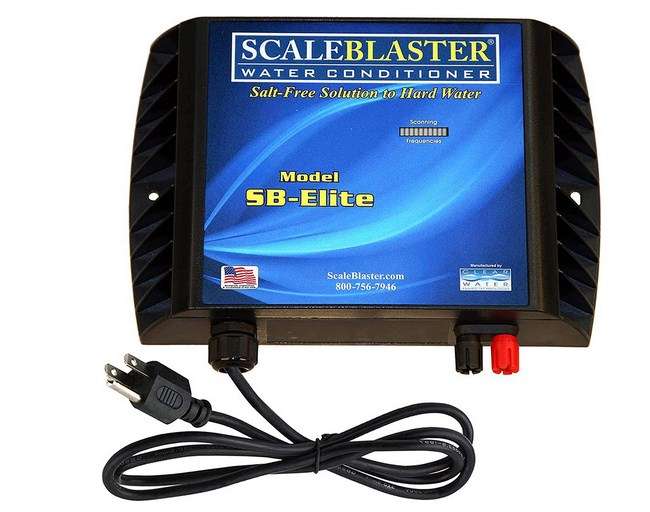 ---
SB-Elite & SB-30 & SB-75 ScaleBlaster Reviews
1. ScaleBlaster SB-75 Model
The initial product under consideration is the ScaleBlaster SB-75, a non-chemical water softener that accommodates residences of varying sizes. With a water hardness capacity of up to 19 grains, or 325 ppm, this water softener guarantees an efficient solution to hard water issues.
The ScaleBlaster SB-75 is a budget-friendly device, conceived, produced, and assessed in the United States, that offers homeowners an economical and salt-free remedy for hard water complications.
Notable advantages of scale blaster SB-75 are:-
Eco-friendly to our environment.
No water wastage.
It will extend the life of your washing machine, water heater and dishwasher.
Doesn't use salt, unlike other water softeners on the market.
The SB-75 is a highly efficient device designed to remove dirt and sediment from water while consuming minimal electricity, only 15 watts. It offers an affordable alternative to traditional water softeners, which can be costly and consume a lot of energy.
By using the SB-75, you can prevent the buildup of limescale deposits in your plumbing system, resulting in improved water flow through your pipes. In addition, the softened water will create a richer lather with soap, leaving your skin, hair, and nails feeling smoother and healthier after showering.
This compact unit is designed for indoor installation and requires no special plumbing skills. Simply locate your main water supply pipe and install the device to start enjoying the benefits of softened water.
Product Features
Indoor installation.
Product measurements :- 7.5 x 4.75 x 2.2 inches.
No salt or chemical need.
Wattage:- 15 watts
Power:- Corded-Electric.

---
2. SB-30
The Scaleblaster SB-30 represents a significant advancement in water treatment technology, surpassing its predecessor, the SB-75, in both sophistication and power.
One of its notable features is its versatility in installation, being compatible with both indoor and outdoor water lines, a capability that was previously absent in the SB-75 which was limited to indoor installations only.
The SB-30 is designed to combat hard water issues by utilizing an innovative electronic deactivating system that effectively removes and prevents limescale buildup on pipes and faucets.
It boasts the added benefit of increasing water pressure and preventing limescale formation throughout the household piping system, contributing to the extension of the operational lifespan of appliances such as dishwashers, water heaters, and washing machines.
This cutting-edge device is ideal for use with CPVC, copper, PVC, and Pex piping systems, and can handle water hardness levels of up to 30 gpg.
With a remarkable three-year warranty offered by the manufacturer, the Scaleblaster SB-30 is a reliable and effective solution for addressing water hardness and limescale issues in your home or business.
Notable advantages of SB-30
Support both outdoor and indoor installation.
Less maintenance thus saves on that.
Removes and prevents scale deposits buildup.
Best for water hardness levels of up to 30 gpg
Product Features
Product Measurements: 10.25 x 7 x 2.25 inches.
Wattage: 15 watts.
Indoor & Outdoor installation options.

---
3. SB-Elite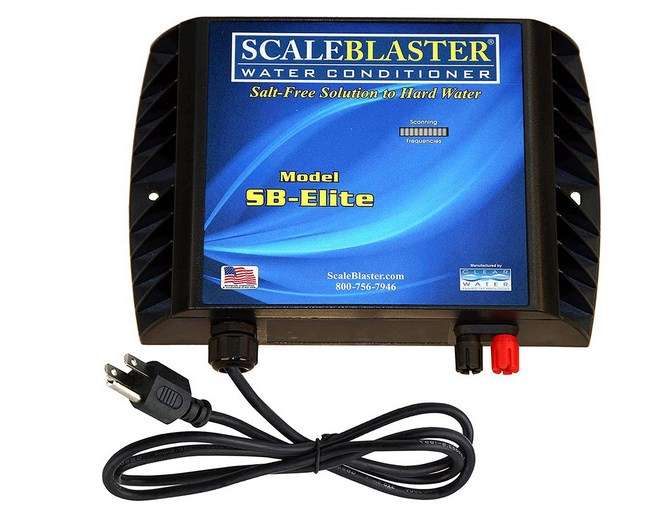 Introducing the SB-Elite, our top-tier water descaling model designed to effectively mitigate calcium hardness in water, with a capacity of up to 40 gpg (grains per gallon). It is regarded as one of the most efficient and effective water softeners available for households with up to 5,000 square feet.
The SB-Elite boasts a versatile installation that can be set up indoors or outdoors, successfully eliminating any trace of limescale buildup within pipes, faucets, and sinks.
This leads to the extension of the lifespan of all home water-using appliances, including dishwashers, tankless heaters, coffeemakers, washing machines, humidifiers, and water heaters.
The Scaleblaster SB-Elite is offered at an affordable price point and can be easily purchased through various online retailers, including Amazon and their official website. The installation process is uncomplicated, making it possible for individuals with no prior plumbing experience to set it up themselves.
Notable benefits of SB-Elite:-
Requires no chemical or salt for it to soften water, thus eco-friendly.
Affordable with no additional cost when you purchase it.
Easy installation steps.
Durable

---
Overview
Water is an essential commodity that is indispensable for our daily lives, including drinking, washing, and bathing. The need for clean and safe water cannot be overstated, as it is vital for our health and wellbeing.
However, the water we receive from our taps may not be as pure as we think, as it often contains impurities such as calcium and magnesium minerals.
These minerals, commonly found in tap water, can cause significant damage to household appliances and piping systems over time. Therefore, it is crucial to invest in a reliable, long-lasting, and cost-effective solution to combat the harmful effects of hard water. Doing so not only prolongs the life of your water devices but also helps to protect the environment.
One such solution is the Scaleblaster electronic water conditioner, which stands out as the best option for several reasons. The Scaleblaster employs electronic waves to modify the size and shape of calcium and magnesium molecules, thereby rendering them unable to cling to surfaces.
As a result, the formation of limescale deposits in appliances such as showerheads, faucets, sinks, washing machines, and piping systems is prevented. With regular use of the Scaleblaster water conditioner, limescale deposits will gradually disappear.
After comparing various water softeners, it is evident that the Scaleblaster SB-Elite is the best option of the three reviewed. This particular water softener is ideal for medium to large households, with an impressive capacity to manage up to 40 gpg, which is a measure of water hardness.
Additionally, the SB-Elite is more affordable than other water softeners on the market, has an unlimited water treatment capacity, and requires minimal maintenance. Therefore, it is an excellent investment for those seeking a reliable and cost-effective way to improve the quality of their water supply.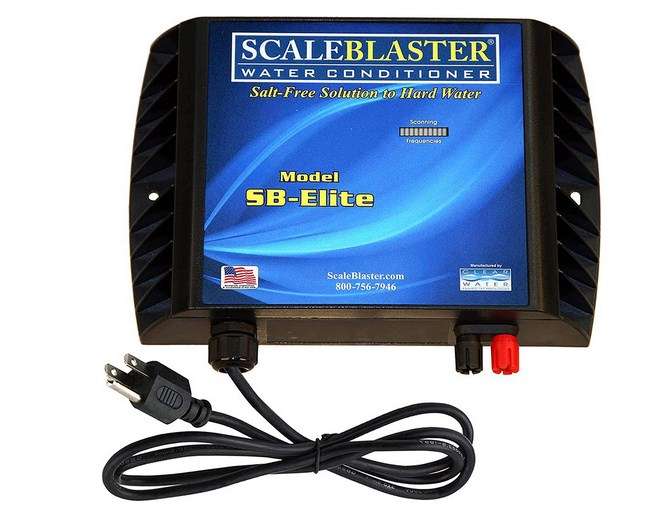 ---
Conclusion
If you have concerns about the quality of water in your home, particularly the level of water hardness, and you wish to avoid the hassle of installing a conventional water softening system, then the Scaleblaster water conditioning option may be a suitable investment for you.
The Scaleblaster system is designed to offer a "set and forget" solution to your water hardness issues, providing you with peace of mind that the problem has been permanently resolved.
This option is an excellent choice due to its simplicity, affordability, and quick installation time, making it a more convenient and cost-effective alternative to traditional salt water softeners.
Read:- How Big of a Water Softener do I need for My House
---
FAQS About ScaleBlaster Water Conditioner
How long does it take for ScaleBlaster to work?
The scaleblaster can take 2 to 3 months, depending on the hardness of your water and the extent to which the deposit affects the pipe system.
Does ScaleBlaster work on well water?
Yes, but the scaleblaster water conditioner is limited to a hardness level of 40 gpg. Before using a water conditioner, you should seek professional advice on the hardness of your tap water.
Because most ground or well water has a hardness level greater than 40 gpg, using a scaleblaster for water softening will not be effective.