Everyone enjoys taking a hot shower. However, did you know that the water in your shower could be causing damage to your skin and hair? Shower water contains chlorine and chloramine, the primary causes of dryness and itchiness on skin and hair.
Imagine taking a shower that is both chlorine-free and oxygen-rich; this is what an ionic showerhead achieves as one of the most practical point-of-use technologies for removing chlorine and chloramine from shower water.
To help you choose the most effective ionic showerheads, we have compiled a list of the top 7 ionic shower models by highlighting their key features, pros, and cons.
Utilizing these Ionic shower heads will protect your skin, hair, and nails from harmful chlorine and chloramine.
Best Ionic Shower Head Reviews in 2023
| | | | |
| --- | --- | --- | --- |
| Showerhead Model | Filters | Features | Ratings |
| 1. Original Vitamin C Ionic Shower head | Chlorine, chloramine, odor & impurities | 15 layers of filtration | 9/10 |
| 2. Luxsego Ionic Filtration Showerhead | Chlorine, rust, heavy metals & sediments | Double filtration system | 8/10 |
| 3. Nosame High-Pressure Shower head | Chlorine, sediments & heavy metals | 3 Mode Function | 8/10 |
| 4. Vitamin C Filter Ionic Shower Head | Chlorine, chloramine & heavy metals | Vitamin C cartridge | 8/10 |
| 5. PRUGNA LED Stone Stream | Chlorine | Double filtration system | 7/10 |
| 6. KAIYING Ionic Spa | Chlorine & dirt | Double filtration system | 6/10 |
| 7. HOTEL SPA Ionic Shower Head | Heavy metals, chlorine, sediments & dirt | KDF™/CAG filtration system | 8/10 |
1. Original Ionic Shower head System with Vitamin C StoneStream –

Editor's Pick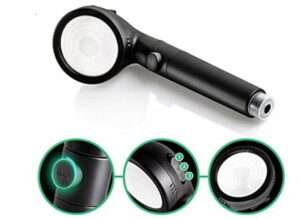 The Original StoneStream ionic shower system stands out as our number one pick ionic shower head in this review. 
Thanks to a spate of revolutionary features that not only instantly soften hard water and remove the unpleasant odor but also come with a deluge of shower settings that will surely improve your showering experience.
With 15 layers of filtration, including natural vitamin C and three types of mineralized Germanium stones, this combination will effectively and instantly soften hard water. It will also restore water pH balance to an optimal level.
Additionally, remove high levels of shower water impurities, chloramine, and chlorine, which are the primary causes of dry skin, dull nails, and damaged hair.
This shower unit included a new generation anodized aluminum plate with 250 laser-cut nozzles constructed to allow air to mix equally with water jets on the way out to improve the user experience.
As a result of the shower jets overlapping and coalescing, the shower water flowing to your skin feels soft and creates a pleasant bathing experience.
The refreshing citrus aroma that the vitamin C cartridge injects into the shower water is a significant component of this shower unit. This makes the shower water have that incredibly relaxing effect and feel as it relaxes the body and mind while showering.
Product Features
Brand: StoneStream
Shower head Dimensions: 9.8 x 7.72 x 5.28
Material Made: Aluminum
Spray Settings: Rainfall
Hose Length: 5-ft Hose
No. of Spray Modes: Three spray modes
Pros
Utilizes Vitamin C and mineral stones to eliminate water impurities.
Remove unpleasant chlorine and other chemical odor and taste from shower water.
Restore the pH balance of the shower water.
Remove multiple unwanted water impurities that include: chlorine, chloramine, calcium, magnesium, dirt, and chalk.
Cons
---
2. Luxsego Ionic Showerhead with 3-Setting High Pressure & Water Saving –

Budget Pick
Thanks to the Luxsego Ionic Showerhead, you can now shower in the cleanest, healthiest shower water your body has been craving.
This is a 3-Setting High-Pressure Shower Head system made of premium stainless steel metal and chrome-plated ABS plastic with special beads in the showerhead for a double filtration system.
You will experience the most fulfilling and healthy shower experience by using rainfall, jetting, and message settings.
The Luxsego Ionic Showerhead has the latest design and shower water filtration technology which reduces 99.9% of chlorine, heavy metals, rust, sand, and other sediments.
After the chlorine and other impurities are eliminated, the shower water is restored to its intended pH balance. The aim is to rejuvenate the hair, skin, lungs, and mucous membranes by removing the harmful effects.
This showerhead is simple to install and takes only a few minutes to set up. It works with typical shower types, such as wall-mounted rainfall and handheld showers, and requires no installation equipment.
This product has received numerous positive reviews from repeat customers who have been pleasantly pleased by its performance.
Product features
Dimensions: 9 x 5 x 3 inches.
Color: chrome.
Material: ABS, stainless steel.
Style: handheld.
3 high-pressure settings: rain, massage, and combo.
Pros
Easy to install.
Lightweight.
Value for money.
Very sturdy.
Very soft water.
Cons
Decreased water pressure.
---
3. Nosame Ionic High-Pressure Water Saving with 3 Mode Function Sprayer Shower Head
The Nosame High-Pressure Ionic Shower Head filters chlorine, heavy metals, minerals, and other impurities while providing a spa-like showering experience.
Moreover, equipped with a 3 Mode Function shower head that includes a power rainfall setting, pulsating massage setting, and stimulating jetting settings. This will customize your showering experience to your personal preferences.
Using multi-layer filter protection, one of the most effective point-of-use filtration systems, removes 99% of chlorine and other heavy metals from the shower.
The purified steam vapor smoothes and silkens hair while also revitalizing the lungs. A filtered shower will make you never want to take another untreated shower again.
The handheld ionic shower head is very easy to install in the shower arm. An easy-to-follow step-by-step guide is provided in the manual to make this task straightforward for anyone without plumbing experience.
Furthermore, the Nosame Ionic High-Pressure Shower Head saves you up to 30% on your water bill thanks to its groundbreaking micro nozzle technology.
Replacing the filters every six months is essential to keep your shower flowing with healthy and clean water.
Product Features
Dimensions: 11.1 x 3.6 x 1.2 inches
Material: eco-friendly ABS plastic
Color: transparent, see-through design
Flow rate: 1.6 GPM
Multi-layer filter protection
Pros
Easy to hold.
Lightweight.
Easy to install.
Value for money.
Durable.
Cons
Less sturdy plastic material.
---
4. Vitamin C Filter Ionic Shower Head with Replacement Filters
Consider the Vitamin C Filter Ionic Exchange Shower Head if you are looking for an affordable showerhead that works like a more expensive one.
It features chrome-plated stainless steel construction, high-quality ABS materials, and a vitamin C cartridge that improves pH and removes chlorine from the shower water.
The shower unit promotes healthy skin and hair as well as body cleanliness. When you use this shower head, you will first notice the strong shower pressure and the wonderfully perfumed aroma from the cartridge.
It produced a stunning and soothing amount of water flow when showering, which is fantastic since we all deserve to relax and refresh after a long day at work.
Installation is straightforward and compatible with a wide range of plumbing systems. As a result, you will not have any problems.
To top it off, each purchase includes a premium gift box and bonuses of a 60-inch handheld hose with a replacement cartridge filter, Teflon tape, and a one-year warranty, so you get the maximum bang for the buck.
Product Features
Dimensions: 3.27 x 2.8 x 8.7 inches.
Material: stainless steel, ABS plastic, iron, stone.
Color: vitamin C shower head.
Finish: chrome.
The handheld showerhead comes with a 60-inch stretchable hose Aroma filter cartridge.
Pros
Easy to install.
Value for money.
Great filters.
Power stream and water-saving.
Cons
---
5. PRUGNA LED Stone Stream Shower Head with High-Pressure Filter Handheld Shower
You should consider this showerhead if you enjoy functional and simplistic shower design. As a result, it justifies its price and provides even more value than it costs.
The Prugna LED High-Pressure Ionic Shower Head is a single-solution device meant to provide the appropriate amount of pressure in your shower without stinging your skin.
From a design standpoint, this showerhead has a tidy chrome-finished circular body that merges with stainless steel. It also has a unique micro-nozzle structure that generates 1.35 GPM, which is enough to reach every part of your body.
This shower head will solve your low water pressure and water volume problems by boosting your low shower water pressure to high water pressure.
The deal-breaker with Prugna LED High-Pressure Ionic Shower Head is the 3 color LED light that automatically changes color according to water temperature. It is a handy feature designed to make showering as enjoyable as possible.
Product Features
Dimensions: 9 x 3 x 2.5 inches.
Material: ABS plastic.
Flow rate: 1.35 GPM.
3 colors LED light.
59 inches long shower hose.
90-days replacement or money back.
Pros
Value for money.
Easy installation.
Saves water by as much as 35%..
Durable.
Lightweight.
Great water pressure.
Cons
---
6. KAIYING Ionic Spa Shower High-Pressure with On-Off Switch
KAIYING Ionic Shower Head deserves your attention because, despite its low price, it does not look or perform cheaply.
This showerhead combines an appealing yet durable design with a powerful three-setting performance, allowing you to select the mode that best meets your needs. This is done to ensure you have the most enjoyable shower experience possible.
It will clean your shower water and balance its pH value, making the water weakly alkaline, and leaving you feeling refreshed and energized.
This shower model is compatible with a variety of shower arms. This is highly convenient because installation is quick and requires no plumbing expertise, and it will always remain in place once fitted.
After you have completed the installation, you will see that the showerhead contains micro nozzles. You should not be concerned about your water expenses because this showerhead micro nozzle technology will save you up to 30% on your water bill.
Its corrosion-resistant surface coating ensures you can use it for a long time without detecting any loss in durability or performance.
The showerhead comes with a 60-inch stainless steel hose, which is fantastic because you will not feel constrained using it. This is one of the top selections on the market, and people continue to buy it because of its high-quality performance.
Product Features
Dimensions: 9.25 x 5.35 x 3.23 inches.
Material: chrome-plated premium ABS & transparent ABS.
Color: chrome and transparent.
59 inches long hose length.
3 function shower head.
Pros
Value for money.
Easy installation.
High pressure and water-saving design.
Ultra-comfortable experience.
Cons
---
7. HOTEL SPA Ionic Shower Heads, High-Pressure with Handheld Spray
Hotel Spa Ionic Shower Head has an ultra-luxurious appearance and an impressive 2.5 GPM flow rate to make your shower experience as relaxing and pleasant as you have ever experienced.
From a design standpoint, this showerhead features a 4-inch circular chrome face complemented by energizing nozzles that will ensure outstanding performance.
It has a KDF™/CAG filtration system that can remove 99 percent of chlorine, other heavy metals, and pollutants, replacing them with minerals while enhancing the shower water's pH balance.
This stimulates the immune system and aids in the removal of toxins and wastes, improves cell activity, and gently exfoliates the skin and hair.
Furthermore, when you open the box, you will find a Teflon tape in addition to the showerhead, and you will be prepared for installation with everything you need.
You will have wonderfully clean filtered water that will not only thoroughly clean your entire body but also luxuriously refresh and rejuvenate your skin, hair, and all the small messes life throws at you.
Product Features
Dimensions: 6 x 4 x 9 inches.
Color: chrome.
Flow rate: 2.5 GPM.
60 –inch super flexible stainless steel hose.
Showerhead filter with filtration cartridge.
Multi-setting dual shower head.
Pros
Tool-free easy installation.
Value for money.
Affordable.
Good spray functions.
Durable.
Cons
---
Our Top Pick
The benefits of ionic showerheads are quite significant, especially for people with hard water problems.
These shower units are designed to successfully eliminate traces of chlorine, chloramine, and other water contaminants from shower water, resulting in healthier nails, skin, and hair.
Original StoneStream Vitamin C Ionic Shower Head System
In this ionic shower head review, we recommend the Original StoneStream Ionic Shower Head.
We recommend this ionic shower head for the following reasons
Featuring premium ionic filtering systems and a variety of spray settings, shower water flow velocity increases by up to 200 percent. In addition, water consumption decreases by up to 50 percent.
---
Our Second Pick
Luxsego Ionic – 3 Setting High-Pressure Shower Head
This showerhead is now the greatest Ionic shower head alternative on the market, and many consumers continue to buy it because of its high performance; but why?
Let's get started right away and discover the key to its success.
From a design standpoint, the Luxsego Ionic Shower Head features specially designed beads that serve as a double filtration system.
This Special Bead is the most recent innovation in shower water filtration, capable of removing 99.9% of chlorine, heavy metals, rust, sand, and other particles.
And replacing them with minerals to improve the pH balance of shower water. After the chlorine and other impurities have been eliminated, the shower can be used again.
This showerhead has three spray settings, which means you can quickly switch between three spray patterns, each of which will play a significant role in your showering experience. All you need to do is flip a switch on the showerhead.
You can adjust the intensity of the rain. To be more specific, choosing/selecting the intense mode means that the showerhead will produce a large volume of shower water.
The rain will ensure that every drop of water is large enough to keep the heat on your skin and effectively clean your body.
The massage and jet settings are ideal after a long day at work or after jogging or other similar activities. This is because they provide a thick spray of water, allowing you to have the most relaxing showering experience you've ever had.
Overall, the Luxsego Ionic Shower Head is the most ideal buy if you want a high-pressure showerhead with numerous shower patterns.
Solid and Durable Construction
The Luxsego Ionic Shower head has a robust ABS plastic and stainless steel structure with a polished chrome finish that significantly improves its visual appearance.
When combined with a variety of interior decors, this device will dramatically improve the attractiveness of bathrooms.
Furthermore, its 4-inch surface will ensure that your entire body is adequately cleaned, giving you the impression that you are in a spa center.
This showerhead is incredibly durable due to the materials used during the manufacturing process. Therefore, even if you want to use it for years, you will not notice any difference in its performance or appearance, so you can consider it a lifetime investment.
Additionally, because the internal components are composed of easily detachable panels, calcium and other hardness deposits or build-up in the head can be simply cleaned, guaranteeing that it is free of scale or clogging and virtually effortless to maintain.
Bottom Line: It's time to love your hair and skin again with Luxsego Ionic Shower Head.

---
Read: Ionic Filtration Shower Head Benefits
---
Conclusion
The ideal shower experience is now a reality. Because of the modern shower heads presently available on the market that offer shower water that is both clean and hygienic, you may enjoy both the pleasures and health advantages of every shower you take.
The majority of shower water is chlorine-treated, which is effective in killing bacteria and other live creatures. However, it is strongly advised to remove it from the water supply before it comes into contact with our bodies.
Because the skin is the largest organ in the body, you should take good care of it by investing in ionic shower heads.
These showerheads will refresh your body by purifying the water. They activate the immune system and aid in the removal of high percentages of toxins and wastes.
Which improves cell activity and gently exfoliates the skin and hair. In terms of durability, they can keep their original quality for an extended period.
There are many colors to choose from, but regardless of your choice, each works well.
---
Related Post:
 Simple Ways to Remove Iron from  Bore Water
---
To quickly recap, these are the FAQs we have discussed.
---
Are ionic showers any good?
In a simple and easy terms in understanding ionic shower heads, an 'ion' is an electrically charged atom. A negatively charged ion is transformed or activated from a non-metal atom gain.
Negatively charged ions are associated with the improvement of health and well-being.
They are generated naturally by regular showers and moving water. The ionic shower heads go an extra mile by ensuring the continued generation of the negative ions which are known and associated with the following;
• Life satisfaction with mental improvement.
• The reduction in blood pressure.
• Improved focus and energy levels.
• Much improved sleeping cycle.
• A reduction in domestic pollution.
• Less oil secretion by the skin.
• Cell viability is improved.
How do I clean an ionic shower?
The need to clean your ionic shower head may or always arise when you notice you are not getting the best out of it.
The removal of the scalping brought about by hard water will only take a couple of minutes to have a fully functional shower head again. The following steps will guide you through it.
STEP 1
This step will require you to inspect the flexible rubber hose and see if any damage is caused on it. With time the minerals and lime scale buildup and cause clogging on the nozzles.
The deposits may be scrubbed off using a brush softly. This should be done with care to avoid damaging the nozzle.
STEP 2
Remove the shower head carefully not to damage the threads, this is after getting advice on the precise shower head model you own and how to go about it, have the filter screen removed.
The filter membrane should always be gently, the wise thing is to scrub with a toothbrush and water when clean have it back into the shower head and test it for functionality.
There may be a difference or not but you will notice the improvement of the water pressure.
The Vinegar Method
The scrubbing of the shower head nozzles using a toothbrush at times may not be able to remove the mineral deposits on the shower head.
The stubborn brownish buildup may be cleared up by the use of a readily available household vinegar, with the mild acidity agent of vinegar this will dissolve all the deposits.
To achieve this cleaning method successfully and effectively, you will need a clear plastic bag filled with vinegar. Have the shower head submerged in the plastic bag and tighten the opening with a rubber band.
You may leave in overnight to get the best results. Let the water run through the shower head before getting into the shower. This is to get rid of the salad dressing smell.
What is ionic filtration
Ion Exchange
This ion exchange process sees water going through bead-like resin materials that are known as ion-exchange resins. The ions found in the water are replaced with other ions attached to the beads. The two popular ion-exchange proccess are the softening and the deionization.
The softening method is mostly used generally as a pretreatment care or method to remove water hardness buildup before the process of reverse osmosis (RO).
This softening method sees the replacement of every two sodium ion for every magnesium or calcium removed to soften the water.
The deionization (DI) beads have the hydrogen ions replaced for cations or hydroxyl ions replaced for anions. This cation will have hydrogen ion charged and replaced when encountered with styrene and the divinylbenzene.
This will also occur or take place with the anions and the hydroxyl ion replaced/changed with random anions by the styrene.
Pure water is formed when the hydrogen ion unites with the hydroxyl ion. The deionization method is able to eliminate ions but not very effective in the elimination of organisms or microorganisms.
Below is a list showing the pros and cons of deionization.
Pros
• Able to get rid of dissolved inorganic.
• Not that expensive.
Cons
• Does not remove particles or bacteria effectively.
• The operating costs are high.
• The beads are known to generate culture bacteria and particles.
Which is the best purifier or ionizer
Calcium and magnesium ions are found in high levels in hard water from rocks having naturally filtered through before collected stored and let run into the plumbing system.
These ions are removed easily with the ionic shower head which is known to have bioactive mineral balls. The negative ion minerals are also known as bioactive stones or mineral stones.
Their main purpose in the ionic shower is to remove water hardness and acts as a water softener and ionic filter.The simplest way to represent an ionic filtration shower head the small unit of a water cycle but the other way round.
The water goes through the beads leaving it much softer thus a better showering experience for users with eczema issues. It also has the excess chlorine in the water eliminated and leaves the water smelling much better ionic shower head benefits, while also reducing skin dryness and flakiness.
The water naturally filters as it goes through the rocks as the ionic shower head acts as a filter system for toxin and water hardness.
The stone stream shower head filter has its own unique ability to have hard water softened in a more natural way. The ions that are electrically charged atoms.
When the non-metal atom gets an electron it automatically becomes a negatively charged ion.
Negatively charged ions are associated with health improvements and well being and are naturally generated with moving water and regular showerheads.
Are ionic shower heads effective in removing chlorine and other impurities from the water?
Ionic shower heads employ electrolysis to remove dirt and other particles that may be present in the water. This method passes an electric current through the water, separating the water molecules into positively and negatively charged ions. Ions with a positive charge, such as chlorine, are drawn to the shower head's negative charge, neutralized, and eliminated from the water.
Ionic shower heads are intended to eliminate impurities from water, such as chlorine, chloramines, heavy metals, and microorganisms. Specific versions of ionic shower heads use various technologies to filter pollutants from the water, including activated carbon, ceramic, and KDF.
The effectiveness of an ionic showerhead in eliminating pollutants from water is dependent not only on the model but also on the types and quantities of impurities present in the water supply. Ionic shower heads outperform traditional ones that do not use the electrolysis process in terms of their capacity to eliminate chlorine and other impurities from water.
It is critical to note that ionic shower heads are not a replacement for a whole-house water filtration system, which is recommended to eliminate toxins from all household water. This is something to keep in mind when shopping for ionic shower heads. Furthermore, if you have hard water, the minerals in the water have the potential to clog the filter, so you may need to replace it more frequently.
Ionic shower heads, in general, are an effective way to improve shower water quality by lowering chlorine levels and other contaminants in the water supply. It is necessary to conduct some research to obtain an ionic shower head manufactured by a reputable company.
How often do I need to replace an ionic shower head?
Ionic shower heads, sometimes known as "negative ion shower heads," are intended to improve water quality while creating the sensation of bathing in a spa. These are the types of shower heads that work by discharging negatively charged ions into the water. These ions can aid in the neutralization of chlorine and other potentially dangerous compounds.
The answer to the question of how frequently you should replace your ionic showerhead is dependent on a number of different elements.
If you notice a change in the taste or smell of your water and a decrease in water pressure, you should replace the filter cartridge in your ionic shower head. This should be done approximately every six to twelve months.
Furthermore, it would be best if you cleaned your ionic shower head regularly to avoid the accumulation of minerals and other pollutants that could prevent the filter from functioning correctly. This can be accomplished by soaking the shower head in a vinegar solution or gently cleaning away any buildup.
It would help if you also reviewed the manufacturer's instructions for your ionic shower head to determine how often it needs to be changed and how to keep it in good working order.
To recap, if you want your ionic shower head to work effectively and maintain good water quality, clean it frequently and replace the filter cartridge every six to twelve months, depending on the model.
Can I install an ionic shower head myself or do I need a professional?
The procedure of assembling an ionic shower head may be akin to putting together a jigsaw puzzle. It may appear difficult at first, but if you have the necessary equipment and perseverance, you can accomplish it independently.
First and foremost, assemble all of the necessary equipment and supplies. You'll need a tool, some plumber's tape, and the ionic shower head. It would help if you also had Teflon tape and an adjustable wrench to guarantee the installation goes smoothly.
The next step is to locate and turn off the valve controlling the water flow into the shower. Most homes have this in the basement, a crawlspace, or next to the shower in the bathroom.
After turning off the water, remove the previous shower head from its attachment with the tool. Keep a towel nearby to soak up any water that may have remained in the pipes.
The next step is to install the new ionic showerhead. Wrap Teflon tape across each thread on the shower arm. This will aid in the prevention of leaks and the attainment of a secure fit.
With your hands, tighten the new ionic shower head to the desired level.
Reconnect the water supply and inspect the shower head for any evidence of a leak. Your new ionic shower head should be ready to use when everything is correctly fixed and secured.
In general, installing an ionic shower head is a simple task that can be completed by practically anyone who is familiar with the fundamentals of plumbing and has a few essential tools. You are not necessarily to work with a seasoned professional, but it is always a good idea to talk with one if you are doubtful of your abilities.
Are there any downsides to using an ionic shower head?
An ionic shower head is a type of shower unit that infuses water with negatively charged ions. These ions help neutralize chlorine and other potentially harmful substances, resulting in gentler water on the skin and a more pleasant overall sensation. However, like anything else, there are some drawbacks to using an ionic showerhead.
Ionic shower heads are frequently more expensive than standard shower heads because they employ more contemporary technology and include a filter cartridge that must be replaced anywhere from six to twelve months after it is installed in the shower head. This will increase the cost of purchasing and installing a new filter.
Second, once the water has been refiltered, the flavor and odor may differ from everyone's liking. Ionic shower heads can eliminate some of the chlorine and other toxins found in water. These substances can change the flavor and odor of the water.
Some people may embrace the change, while others may not because they prefer the flavor and aroma of their present water source.
Third, the filter cartridge in an ionic shower head has the potential to become clogged over time, resulting in a drop in water pressure. Showering may become less comfortable, and you may need to replace the filter cartridge more frequently to maintain the correct water pressure.
On the other hand, Ionic shower heads are not compatible with all types of water or hardness. If you reside in a hard water location, the filter cartridges may become clogged much more quickly, and the shower head may need help to remove all the minerals in the water.
Ionic shower heads can make your shower feel like a spa and increase water quality. Still, they have certain negatives, including the fact that they are pricey, change the taste and smell of the water, reduce water pressure, and are not suitable for all types of water. 
Finally, ionic shower heads can increase water quality and make your shower seem like a spa. Before investing, consider the advantages and disadvantages of using an ionic showerhead. This will enable you to make informed decisions.
Is there any maintenance required for an ionic shower head?
A negative ion shower head, also known as an ionic shower head, is similar to having your spa in your bathroom. These are the types of shower heads that work by discharging negatively charged ions into the water. 
Because these ions can help neutralize chlorine and other potentially harmful elements, they can provide a more exhilarating and renewing experience in the shower. However, like a spa, your ionic shower head needs some TLC to keep working properly.
Consider your ionic shower head's filter cartridge to be the same as the system responsible for cleaning the water in a spa. If you notice a difference in the taste or smell of your water and a decrease in water pressure, it is time to replace the filter cartridge in your ionic shower head. This should be done every six to twelve months, or anytime there is a change in water pressure, taste, or smell.
When it's time to utilize your ionic shower head, clean it and replace the filter, consider all the minerals and other chemicals that may accumulate in the spa water over time. Your shower head is also prone to the same issue. You may either soak your ionic shower head in vinegar to keep it from clogged and functioning correctly or gently use a soft brush and vinegar to scrape away any buildup.
In general, caring for an ionic shower head is equivalent to taking your spa for a peaceful day at the spa. Your ionic shower head, like a spa, must be cleaned and the filter replaced regularly. However, if you continue to do so, you will benefit from a more energizing and refreshing shower.
How does the cost of an ionic shower head compare to other types of shower heads?
A wide variety of shower heads are available for purchase, each with its unique attributes and price range. Ionic shower heads, in particular, purify the water as it passes through the head using an ionization mechanism. This method may aid in removing pollutants such as chlorine and filth, making bathing more enjoyable.
But how much more does an ionic shower head cost compared to other types of shower heads? Compared to more traditional shower heads, ionic ones are frequently found on the higher end of the price spectrum. This is because of the expanded number of technologies and materials employed in the ionization process.
It is important to note, however, that the price of an ionic shower head can vary greatly depending not only on the brand but also on the product's unique characteristics and overall quality. Even if certain ionic shower heads are less expensive than others, they are likely to offer many of the same benefits as more expensive models.
Also, while comparing the price of an ionic shower head to the cost of other types of shower heads, such as rainfall or massaging, it is critical to consider the benefits that will accrue over time. 
Purification may increase the life of your shower head and enhance the overall quality of the water you use in your shower. As a result, while an ionic shower head may be more expensive at first, it may save you money in the long run.
In other words, an ionic shower head is similar to a luxury automobile in that it may have a higher initial purchase price. Still, it comes with some capabilities that may help you save money in the long run while also giving the appearance that your bathroom is a spa.
Recommended Post
Pelican vs Aquasana vs Jonathan Shower Filter
Aquabliss vs Aquasana vs Culligan Shower Filter