The need for filtered water when showering is essential. This is because these point-of-use shower units provide multiple benefits that keep our skin and hair healthy and offer an overarching health benefit as well.
Every morning and evening, when you step into the bathroom, the water running from your tap might not be as clean as you think.
This tap water contains harmful chemicals and contaminants that may make their way into the shower water. The substances are so detrimental to our skin and hair by depleting natural oils and moisture.
Investing in a good shower unit might prove to be a good idea since these are specially designed to filter out unwanted chemicals and contaminants.
The purpose of this comparison is to present you with the top and most effective shower filters that have proven to be effective in removing the most harmful chemicals from our shower water, such as chloramine, chlorine, and various harmful contaminants.
Aquabliss SF500 VS. Aquatheory Shower Filter Comparison Table
| | | |
| --- | --- | --- |
| Shower Filters Features | Aquabliss Shower Filter | Aquatheory Shower Filter |
| Brand | Aquabliss | Aquatheory |
| Filtration Methods | 8 Superior Multi – Stages | 10 Filtration Stages |
| Filter Lifespan | 6 months | 6 months |
| Product Dimensions | 3.7 x 3.7 x 5.4 inches | 12.8 x 8.99 x 8.79 cm |
| Replaceable Cartridge | Yes | Yes |
| Availability | Buy Now on Amazon | Buy Now on Amazon |
Verdict of the Best Shower Filter
Nowadays, a shower filter is a necessity because the water that normally flows through our taps cannot be trusted for a variety of reasons.
Firstly, the water treatment companies uses chlorine and chloramine for obvious reasons. These chemicals are the main cause of dry borne hair and dry skin.
In most homes, the piping system that connects to the water supply is more than three decades old. Due to the oxidation of iron particles in these piping systems, they tend to rust and contaminate the water.
This is why we all need shower filters that will remove these two prone chemicals and contaminants, as well as many other substances that tend to seep into the water as it is pumped through the piping system.
Modern shower filters are specially designed to remove all these impurities, they have a longer filter lifespan, anti-clog capabilities, and are affordably priced. They fit comfortably on most showerhead and arm, which is a great convenience.
These two shower filters are manufactured by reputable companies well known for the highest quality filters, well-priced, and durable casing, which makes them the most effective shower filter for city and well water.
Here is a comparison of some of the product features that set these shower units apart from one another.
1. Shower Filter Design
Aquabliss SF500 Shower Filter
From a design standpoint, Aquabliss SF500 is made from a chrome-plated casing, which ensures durability and resistance to limescale and rust.
The chrome casing is shiny and beautiful, with unique curves that blend perfectly with your shower head and arm.
Also features a universal fitting that fits perfectly any standard shower head and arm with just a simple twist on both sides.
Aquatheory Shower Filter
Aquathoery's chrome finish is solid and shiny and blends beautifully with any shower head or arm.
This shower filter is built to last and resist hard water effects, allowing it to keep its silvery, shiny appearance for a long time.
This product has a universal fitting compatible with a standard shower head and arm.
Overview
These shower filters are designed to increase durability and compatibility and blend well with any shower head and bathroom interior decor.
Even if you purchase one or both, you will still receive the best value from a design standpoint.
---
2. Price tag
Aquabliss and Aquatheory shower units are both reasonably priced, with a price tag of not more than 40 dollars for a six-month filter lifespan.
Considering that both devices are effective in removing all the harmful chemicals and water impurities common in shower water, I think this is a good deal.
---
3. Filter Lifespan
Aquabliss SF500 has a lifespan of 6 months before the need for replacement arises. This measurement is done with a family of four that showers at least twice a day.

With a price tag of less than 40 dollars, this filter offers more value than the average filter on the market.
Aquatheory shower units, on the other hand, feature a long-life shower filter cartridge that lasts up to 7 months. However, this will depend on the quality of your shower water.
Typically, shower water with fewer impurities and chemicals will last more than 12 to 18 months.
---
4. Verified Buyer Reviews
Both shower filters received positive reviews from verified buyers. However, the Aquabliss SF500 shower unit wins, as it has over 3,300 reviews with a 4/5 star rating.
As a result, it is the most popular and widely used shower filter because of its effectiveness, durability, and price.
---
Our Pick
Aquabliss and Aquatheory are both quality shower models precisely crafted to solve all of the water problems we encounter daily.
Previously, we discussed some key features that make these shower units the most effective for removing chemicals and impurities from your shower water.
If you purchase one or the other shower filter, you are more likely to get more value in enhancing your showering experience through these filters.
Since this is a comparison, we must choose a winner based on the shower filter's quality, durability, and effectiveness.
We recommend the Aquabliss SF500 because it features some of the best and most effective filtration stages to solve all your shower water problems.
Here are the reasons why Aquabliss SF500 is the winner:-
The filter is certified for its effectiveness in removing chlorine, chloramine, and harmful contaminants found in shower water.
Chrome plating ensures durability.
PH balance enhances your shower experience, which helps reduce itchy skin, softens hair, and eliminates Eczema and Dandruff.
Prevent the growth of mold and scales from your shower head.
30% more powerful than many other shower filters on the market.
Affordably priced.
Aquabliss SF500 Shower Filter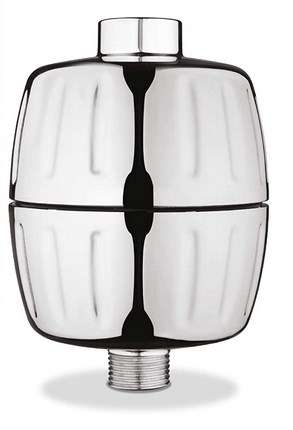 ---
Aquatheory and Aquabliss Shower Filter Reviews
Aquabliss SF500 Shower Filter Reviews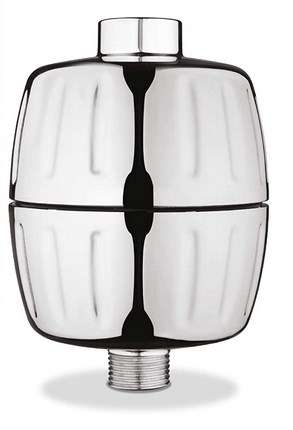 The new Aquabliss SF500 shower unit is the latest SF series from the Aquabliss Company. This unit is designed to work effectively on well and city water.
So you won't find yourself wrong with this shower filter as it will filter high traces of chlorine, sediments, iron, and mineral buildup from the shower water.
A new model of the SF series, this shower filter, was specifically designed and manufactured from honest buyer feedback to improve many of the setbacks the previous models were experiencing, such as leakage and clog filters.
The SF500 filter comprises active carbon, calcium sulphite, and redox media. It has been designed to filter out chlorine, the leading cause of dry and flaky skin and hair.
This filter also works with cold and hot water, so you do not have to worry about efficacy and efficiency as it depends on the type of water you prefer.
The SF500 shower unit has several desirable features, such as a longer filter lifespan, universal arm and shower head fittings, and an affordable price range from 20$ to 40$.
Product Features
Brand : Aquabliss
AquaBliss Reusable Sediment Pads
Universal fit.
Heavy Duty HD Shower Filter.
Chrome plated
Pros
Affordable.
Utilizes a multi-stage filtration system that reduces impurities 30x more.
Longer filter lifespan.
Doesn't affect shower flow rate.
Installation is simple and easy thanks to the universal connection.
Cons
Shower filters cartridges from different companies are not compatible.
---
Aquatheory Shower Filter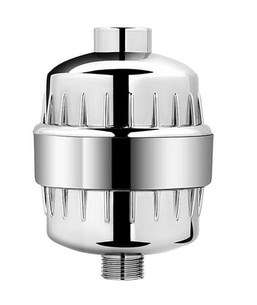 This filter model is best known for its 10 stage filtration steps that water passes through giving you a cleaner showering experience. The filters removes chlorine, chloramine, sediments, and unpleasant odors from water.
This model is designed to filter all chemicals and contaminants in your shower water without affecting the flow rate, ensuring a spa-like experience.
Additionally, this shower unit will remove impurities like chlorine, heavy metals, chloramine, pesticides, bacteria, dirt, and will inhibit the growth of mold, scales and algae in your shower filter, shower head, and bath tub.
Aquathoery shower filters have many advantages, including a long-lasting shower filter, anti-clogging filter, and affordable priced, thus offering a more rejuvenating and cleansing shower experience.
Product Features
 Brand:- Aquatheory
Universal filter.
10 Filtration stages
Made from chrome
Pros
Features a universal connection that fits most shower heads and arms.
A ten-stage filter system removes chemical and water impurities from shower water.
You will definitely be able to get rid of dandruff and itchy dry skin with the Aquatheory.
Priced reasonably.
Filter lasts more than six months before needing to be replaced.
Specially designed to remove heavy metals, pesticides, chlorine, chloramine, sediments, ammonia odor bacteria, among others
Cons
---
Conclusion
The need to filter water from the showerhead is vital, as we are usually unaware of the type of chemicals and contaminants found in water.
For most homeowners, shower filters are the most convenient, cheapest, and most effective point of use for bathroom water filtration methods.
As a matter of fact, 7 out of 10 people shower twice a day. That is a lot of time that is spent in contaminated shower water, which can have detrimental effects on your health.
We believe that protecting your family from these dangerous water contaminants and chemicals is of the utmost importance.
Most shower filters are designed to work well with cold and hot water and do not affect the flow rate of the water in the shower.
The two shower models we reviewed above are all certified and well-known brands. Therefore, by investing in them, you can take a clean, pure, and refreshing shower every time you go into the bathroom.
---
Is Aquabliss a good shower filter?
Aquablis shower filters are the most effective in terms of removing all water impurities and harmful chemicals found in shower water.
Aquabliss shower filters combine redox media, activated carbon, calcium sulfite, pre-filter washers, and sediment filter pads.
The combination of filtration media reduces 99.9% of all harmful chemicals and water impurities in shower water.
Moreover, the filter has a six-month lifespan, which is a lot for a price tag of below 30$, which the Aquabliss shower filter retails for in most online stores.
Do Aquabliss cartridges need to be replaced?
All shower filters have a specific lifespan. Aquabliss shower filters have a lifespan of 6 months, so it may be necessary to replace them.
After six months of filtering, most filters are clogged with sediments and impurities. These sediments and impurities have built up over the past six months of filtering and are now reaching their end of life.
Taking a shower with a clogged filter may be more harmful than beneficial. This is because the filter will not be able to remove contaminants from the water and will affect the flow rate. We recommend replacing Aquabliss shower filters at least every six months.