Are you sick and tired of the shower's low and uninteresting pressure? There is no need to look any further than the most effective high-pressure rain shower head.
By delivering forceful jets of water that massage your body and leave you feeling refreshed and invigorated, these shower heads provide a pleasurable and stimulating experience during your shower.
In this post, we'll take a closer look at some of the most excellent high-pressure rain shower heads on the market, analyzing their features and benefits and supporting you in deciding which would work best in your bathroom.
To quickly recap, these are the topics we have discussed.
---
The Benefits of Using a High-pressure Rain Shower head?
High-pressure rain shower heads deliver a more powerful and stimulating experience than ordinary shower heads. These shower heads provide stronger jets of water, which can massage the body and leave you feeling energized and refreshed.
Increased water flow: High-pressure rain shower heads also improve water flow and coverage, resulting in more consistent and uniform water distribution throughout the shower space.
Taking a shower with a high-pressure rain shower head, which creates big droplets of water that resemble raindrops, may give you the feeling that you are in a luxurious spa.
The increased water pressure and flow help remove shampoo, soap lather, and dirt from your hair and skin, making your hair and skin cleaner and healthier. This is very beneficial for both your hair and skin.
High-pressure rain shower heads are available in various styles, making it much easier to find one that will work in your bathroom and fulfill your personal preferences.
---
7 Best Rain Shower Head with High Pressure
1. Moen S6320 Rain Shower head – Our Best Pick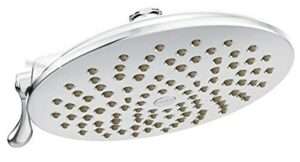 The Moen S6320 is the epitome of modern showerheads, ranking first in our top-rated rain showerhead ratings and earning the title "king."
This showerhead has attractive features and a flow rate of 2.5 gallons per minute. This allows for a relaxing experience when having a shower at the end of a long day.
Furthermore, its 8-inch rain shower has been upgraded with "Immersion Technology," which provides three times the spray force of an average rain showerhead on the market today.
This ensures thorough cleaning and minimizes the amount of water needed. Personalization of the shower experience is also possible thanks to the adjustable water flow rate and the simple-to-use flip lever.
This showerhead is the pinnacle of form and function. It has a gleaming chrome finish and a universal design that allows for simple integration with the vast majority of pipes used in modern architecture. Despite the showerhead's exceptional performance, it requires manual manipulation of the lever.
Pros:
Increased water pressure results in a more energizing shower experience.
Dual spray modes provide a plethora of adjustable spray options.
Innovative immersion technology delivers a more potent spray.
Volumetric throughput of 2.5 gallons per minute is exceptional.
The flow of water can be controlled using an easy-to-use flip lever.
Cons
The flip lever must be manually moved to change the settings.
---
2. BESy 12 Inch Handheld Combo Wall Mounted Shower Head
Our second is the Besty shower system, a creative addition to your bathroom experience. The 12-inch square fixed shower head comes with a multifunctional handheld showerhead, a shower arm, and a hand shower that creates a realistic rain effect.
This is one of the product's most prominent features. These components work together to produce a forceful, high-pressure water flow that simulates standing in a deluge.
Furthermore, the Besty shower system integrates air injection technology, which decreases noise pollution and cuts water consumption by up to 30%. The water restrictor enables better water flow control, making the solution more ecologically friendly.
The handheld showerhead has several options for the type of shower, spray gun, and other features, making it adjustable and personalized. Not only does its matte black appearance give your bathroom modern refinement and sophistication, but it also protects against corrosion in moist or humid settings.
This shower system comes with all the required components and accessories for a simple installation, and a one-year warranty backs it for added peace of mind. Showering can be an exciting experience when you switch to the Besty shower system, which is also environmentally friendly.
Pros:
Being entirely immersed in rain technology saves water and the environment.
Corrosion protection.
Suitable for usage in humid areas
Cons:
The installation may need more space than you have available.
---
3. Voolan Large Rainfall Shower Head with High Pressure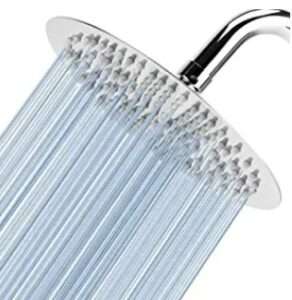 This high-pressure water shower is a revolutionary and innovative approach to the showering experience, giving you complete control over the water flow and the amount of pressure the water puts on you.
This showerhead delivers a powerful and exhilarating shower, similar to a summer thunderstorm, and comes with various settings and spray patterns to select from. The giant square shower head covers a large area and creates an immersive feeling.
The showerhead includes a pressure booster that can raise the water pressure from low to high and has a maximum flow rate of 2.5 gallons per minute. Air-in-technology significantly increases water pressure, resulting in the most luxurious shower experience. The nozzles have 144 soft silicone jets that clean themselves, preventing obstructions and oxidation.
The swivel ball connection provides maximum versatility by allowing the showerhead to be aimed in any direction over a 360-degree arc. The shower unit is simple to install and maintain, making it a fantastic addition to any bathroom.
This high-pressure water shower will take your showering to a new level, providing you with a powerful and stimulating shower like you've never had before.
Pros:
Flow and pressure characteristics that can be changed to meet your requirements.
Complete coverage and an all-encompassing showering experience approach that integrates air bubbles to boost water pressure.
Self-cleaning nozzles, a swivel ball connection with 360 degrees of rotation, and ease of installation and maintenance.
Cons:
---
4. DreamSpa 3-way 8-Setting Handheld and Fixed Rainfall Shower Head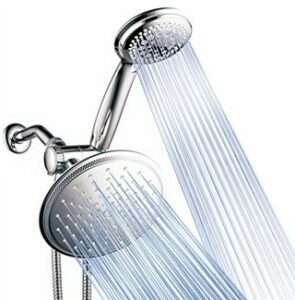 The DreamSpa 3-way rain shower head is a combination set that is less expensive and more convenient than the most expensive shower head on the market. Despite its low price, this model has outstanding features that have earned it a spot on our top four list.
Depending on your preferences, the wall-mounted rainfall showerhead and the handheld showerhead included in the combo pack can be used independently or in tandem.
The showerheads are each 7 inches in diameter, and the handheld showerhead comes with a 5-foot stainless steel line. Even though the water supply only has a low pressure, the showerhead's flow rate of 2.5 gallons per minute may give a high-pressure water flow.
The anti-swivel lock and angle-adjustable above bracket ensure stability and prevent unwanted collapses, while the rub clean jet nozzle simplifies cleaning and maintenance. The chrome color finish gives it a classy and modern appearance. In addition, the showerhead features eight distinct spray settings.
This combination bundle is inexpensive and offers a high return on investment. The only two disadvantages of this product are that it is only available in chrome and is constructed of plastic.
Pros:
The finishing color is chrome, with eight different water spray modes.
Clean the jet nozzle by rubbing it.
Ceiling support that may be adjusted.
A budget-friendly combination kit that contains both wall-mounted and portable showerheads.
Cons:
Chrome is the only color available.
Made entirely of plastic material
---
5. Rainfall High Pressure Premium Rain Showerhead
Although it may not be the most well-known brand, the NewMoon premium line showerhead is worth noting. This spherical showerhead has a diameter of 6 inches, a chrome finish, and is made of ABS material. Compared to well-known brands such as Delta and Moen, this is a much more cost-effective option.
Even if the water pressure in the supply is low, the showerhead will deliver a powerful and appealing rainfall spray. It has a unique feature that consists of a detachable water pressure limiter that allows the user to adapt to the water pressure that most closely matches their demands.
It also contains anti-clogging silicone jets, which make cleaning easier and prevent the accumulation of lime and hard water deposits over time.
One of the key advantages of this showerhead is that it does not require using any equipment during installation. As a result, it can be installed by nearly anyone and does not necessitate the services of a qualified plumber. It is also versatile and may be used in any bathroom that meets industry standards.
In conclusion, the SomovWorld showerhead is a cost-effective solution for anyone looking for a high-quality, low-cost showerhead that is straightforward to install.
Pros:
Excellent performance even with low water pressure.
No installation tools are required, and the jet nozzle is self-cleaning and anti-clogging.
Compatibility with any standard bathroom layout.
Inexpensive
Con:
The size is slightly smaller than other available varieties.
---
6. SR SUN RISE Ultra Thin 12 Inch Square Rain Shower Head
Because of its exceptional design and operation, the SR SUN RISE SRSH-F5043 showerhead has again earned a spot on our list. Contrary to the standard combo set, this showerhead is available in not one but two distinct colors and sizes.
The showerhead shown here is a large chrome-colored 12-inch model. Both showerheads have a sleek square form and are made of rust- and wear-resistant finishes.
Its flow rate is 2.5 gallons per minute, allowing it to produce water sprays that simulate the effects of a severe downpour. Even if the water supply is inadequate, the unique air energy technology will ensure a consistent downpour shower.
In addition to being heat and clog resistant, the silicon jet nozzle avoids the collection of limescale and hard water deposits. The showerhead angle can also be adjusted for further convenience and comfort.
Those looking for a large and stylish showerhead that also features water-saving technologies will find this showerhead to be a worthwhile choice. However, it may not be appropriate for restricted spaces.
Pros:
Heat-resistant silicone nozzle
The shower head has a 12-inch diameter.
There are numerous colors and sizes to choose from.
Technology that aids in water conservation.
Outstanding design
Cons:
The disadvantage is that it may not fit in compact spaces.
---
7. Suguword 16-inch LED Rain Shower Head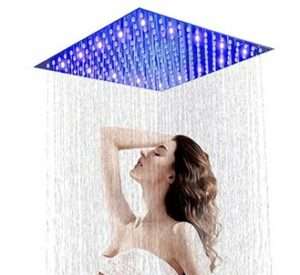 We are glad to introduce the Suguword showerhead, a product that solves the problems of low water pressure and blocked shower nozzles caused by dirty water. With self-cleaning nozzles, the showerhead will not become clogged with mineral deposits from mineral-rich water. This will keep the spray uniform and vigorous.
Furthermore, it does not require batteries to work and includes a cutting-edge LED lighting system with color-changing capabilities based on the temperature of the water. The shower set is made of high-quality materials, contributing to its extended longevity and corrosion resistance.
The gadget already includes all the necessary components, and no specialized tools are required for the installation process in any manner, shape, or form. The fact that the shower kit comes with a one-year warranty adds an extra layer of assurance and convenience.
Pros:
Self-cleaning nozzles improve performance and are an added bonus.
LED lighting that utilizes cutting-edge technology.
Long-lasting and reasonably priced.
Simple to implement
Cons:
Conclusion
A high-pressure rain shower head is a must-have for any bathroom since it provides a more effective and pleasurable showering experience. Because they mimic the sense of rain falling naturally, rainy water sprays are efficient at reducing stress and anxiety.
Showerheads designed for high water pressure are also advantageous for people with low water pressure since they increase water flow. A high-pressure rain showerhead produces more significant and more widely spaced water droplets, allowing you to use less water while still feeling completely rinsed. This adds to the showerhead's ability to conserve water.
A high-pressure rain showerhead with self-cleaning nozzles, anti-clogging features, and built-in water-saving technology may also help to reduce hard water buildup and clogging, ensuring a consistent and powerful spray.
To summarize, acquiring a high-pressure rain showerhead is an excellent investment that will improve the overall quality of your showering experience, help you save water, and reduce the maintenance required.
---
Are High-pressure Rain Shower heads More Expensive than Regular Shower heads?
The price of high-pressure rain shower heads can vary significantly between manufacturers and even within the same manufacturer. There are alternatives available at prices comparable to regular shower heads and high-pressure rain shower heads, which may be more expensive.
High-pressure rain showerheads with added features like self-cleaning nozzles, anti-clogging components, and built-in water-saving technologies may cost more than standard showerheads. However, common types with only the high-pressure feature are available for the same price as standard showerheads.
Before purchasing a brand-new showerhead, you should always research to see which model has the desired features at the lowest feasible price.
Are There Any Safety Concerns with Using a High-pressure Rain Shower head?
When utilizing a rain shower head that has high pressure, there are a few safety precautions you need to keep in mind.
Firstly, high-pressure water can cause harm to a person if it makes contact with their skin or eyes. It is critical to keep a comfortable distance from the showerhead while taking a shower.
Second, studies have indicated that high-pressure showerheads increase the probability of slipping and falling when bathing. To reduce the possibility of injury in the shower, installing a non-slip mat or slip-resistant tile is critical.
There is a risk of water damage or leaks if the showerhead is not installed correctly. This is a particular safety concern. It is critical that the showerhead is placed in accordance with the manufacturer's instructions and that an experienced technician evaluates any issues.
Furthermore, if the showerhead has not been maintained or cleaned for a long time, it may contain bacteria, mold, or other germs. It is critical to do routine showerhead maintenance, such as washing it with non-hazardous cleaning chemicals and cleaning it regularly.
In conclusion, using your high-pressure rain showerhead should be safe so long as you use it responsibly and follow the appropriate safety procedures.
How Do I Install a High-pressure Rain Shower head in My Bathroom?
Although it is not a complicated process, installing a high-pressure rain shower head in your bathroom demands careful attention to the manufacturer's instructions and the necessary tools.
The following is a breakdown of the primary phases involved in installing a high-pressure rain shower head:
You can turn off the water supply to the shower by turning off the main water supply or closing the water supply valves.
You may remove the old showerhead by turning it counterclockwise. If you need to, you can use a wrench.
Clean any dirt from the pipe threads with a wire brush so they can be reused.
To prevent leaks, wrap the pipe threads with Teflon tape. When you install the new showerhead, you will aid in the formation of a watertight seal.
Turning it clockwise will assist you in screwing on the new showerhead. By not overtightening the showerhead, you can avoid causing damage to the pipe.
Check for any leaks once the water supply has been turned on. Check the water pressure by turning on the shower if there aren't any leaks in the system.
You may customize the water flow rate and spray pattern to meet your specific demands.
It is crucial to keep in mind that installing some showerheads may demand the completion of extra steps or the usage of specialized gear. Here is the place to go if you're looking for expert counsel.
Another important consideration is that installing a new showerhead may only be the solution if your water pressure is sufficient. Before installing a new showerhead, you are strongly advised to check your home's water pressure and address any issues you discover.