Using the restroom is a necessary and frequent activity in our daily lives. With modern advancements, flush toilets have become a popular choice among homeowners due to their affordability, durability, efficiency, and advanced technology.
The idea of using a comfortable bathroom experience is appealing to everyone, which is why selecting a quiet flush toilet is crucial for a satisfying experience. In addition, it's important to consider the amount of water used by the toilet to conserve water and save on costs.
This article provides a comprehensive guide on the top quiet flushing toilets available in the market, making it easier for you to make an informed decision when purchasing a toilet.
8 Best Quiet Flush Toilet Reviews
1. WOODBRIDGE T-0019 – Best Dual Quiet Flush Toilet Cotton White (Our Best Pick)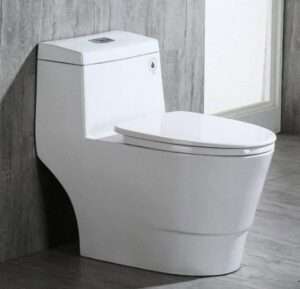 Introducing a modern, luxurious One-Piece Toilet that combines sleek style with impressive functionality. With its elongated shape, soft closing seat, and round button design, this toilet is a standout addition to any bathroom, perfectly complementing modern, craftsman, traditional, and other styles.
Unlike other toilets, this model boasts a smooth, seamless exterior that makes cleaning a breeze. Even those hard-to-reach spots are easily accessible, thanks to the absence of any corners or grooves.
The traditional gravity dual flush system is another highlight of this toilet. With a range of 1.0 to 1.6 GPF, the water tank delivers 1.28 gallons per flush, ensuring both quiet and effective flushing.
Plus, the Siphon Flushing Design with a fully glazed flush system reduces the risk of leaks and clogs, while also producing a powerful, super quiet flush.
Designed for maximum comfort, this toilet features a chair-height seating that makes sitting and standing a breeze for most adults.
And with everything you need included in one package, including the toilet, pre-installed soft closing toilet seat, water fitting, wax ring, floor bolts, and installation instructions, you can have it up and running in no time.
As an added bonus, this toilet features a high-end soft closing seat that enhances consumer convenience by preventing seat slam. And with a water sense certificate, you can rest assured that it saves water consumption while also delivering exceptional performance.
Why we recommend this:
It's easy to clean.
It's easy to install.
Has a very powerful yet quiet dual flush system allowing you to save water consumption.

---
2. Best Toto CST744SL#01 Drake 2 – Piece Quiet Flush Toilet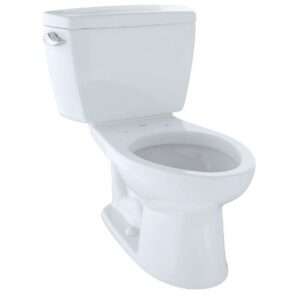 If you're no stranger to the world of toilets, then you must have heard of TOTO, the largest toilet manufacturer in the world that has revolutionized the toilet industry with its innovative products.
One of their most popular offerings is the TOTO Drake 2-piece toilet, which is available in five different colors to match your bathroom decor. With its high-profile design, it adds a touch of elegance to your bathroom.
What makes this toilet stand out from its competitors is its G-Max 1.28 flushing system, which features a wide flush valve that is 125% larger than regular valves, an extra-large siphon jet, and a large trap way.
The larger openings allow for a greater volume of water to be released, resulting in a faster and stronger flush that ensures nothing is left behind.
Furthermore, this toilet is designed with a fully-glazed trap way, which ensures a quiet yet powerful flush. To make it even quieter, you can purchase a TOTO soft-close toilet seat separately.
Despite its powerful flushing system, this toilet uses only 1.6 gallons of water per flush, making it environmentally friendly and budget-friendly.
Why we recommend this:
It's environmentally friendly.
It's budget-friendly.
Very quiet and powerful G-Max flush system.
Comes in multiple colors.

---
3. Kohler K-3589-0 Cimarron – Best Silent Flush Toilet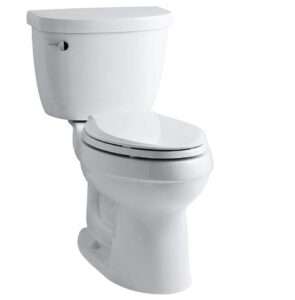 If you're looking for a quiet flush toilet that can fit in a smaller bathroom, then this one might just be the perfect option for you.
This particular toilet is a two-piece elongated model that provides extra space and comfort with its comfortable height, which is similar to that of a standard chair. This makes sitting and standing much easier for most adults.
In addition, this toilet also boasts an innovative Aqua Piston technology that delivers a powerful flushing system. The water tank delivers a precise 1.6 gallons per flush, thanks to this technology.
Furthermore, this toilet comes equipped with two flush valves that allow you to choose between a full flush or a half flush depending on your needs. This helps save water, as you can use less water for liquid waste and more for solid waste.
This toilet is available in seven different colors, so you can choose one that matches the decor of your bathroom perfectly.
However, it's important to note that this product doesn't include a seat or supply lines, so you'll need to purchase those separately.
Why we recommend this:
Great in disposing of solid waste.
Includes a dual-flush system.
Very powerful yet quiet flush.

---
4. Niagara 77001WHCO1 Stealth 0.8 GPF Fast Flush Toilet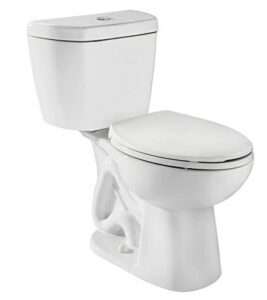 The Niagara 77001WHCO1 Stealth toilet is an excellent choice for those who value water conservation and budget-friendliness. It consumes only 0.8 gallons per flush, making it highly eco-friendly and cost-effective in terms of water bills.
This toilet boasts a simple yet elegant design, with an elongated bowl that provides comfortable seating. The gravity flush system generates a powerful flush that efficiently clears away most liquid and solid waste, despite the slightly audible flushing water sounds.
While the toilet's flushing performance is slightly below average for heavy solid wastes, its water-saving function and comfort features more than compensate for this drawback.
It's worth noting that this toilet doesn't come with a toilet seat included, which is an additional expense to consider. Overall, the Niagara 77001WHCO1 Stealth is an excellent choice for those seeking an environmentally friendly and budget-conscious toilet that also delivers on comfort and functionality.
Why we recommend this:
It's very affordable.
Having the elongated bowl feature makes it very comfortable.
Has an efficient flush cleaning property.
It's environmentally friendly since it saves a lot of water consumption.
It is budget-friendly when it comes to payment of water bills.

---
5. TOTO CST744EL#01 (1.28 GPF) Eco Drake Two-Piece Elongated Toilet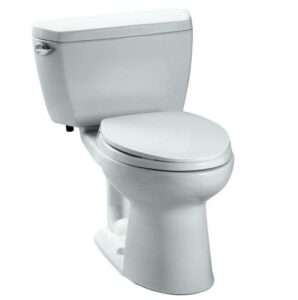 The TOTO CST744EL#01 is a unique and highly functional two-piece elongated toilet that has recently climbed back to the top of the list due to its exceptional features.
Compared to the TOTO CST744SL model, the Eco Drake consumes less water during each flush, with a water storage capacity of only 1.28 gallons per flush. This makes it incredibly budget-friendly, especially when it comes to paying water bills.
Despite its water-saving feature, the Eco Drake boasts many of the same features that made the original Drake toilet a standout. For instance, it has a tall and comfortable elongated bowl, an unassuming design, and a powerful flush system that employs some of the best flushing technologies available today.
Its E-Max 1.28 GPF flushing system, for example, features a 3-wide flush valve, an extra-large siphon jet, and a large trap way that operates using the same principles as the G-Max technology used in the original Drake.
The only difference is that the Eco Drake uses less water per flush, making it better than the original Drake in terms of water efficiency.
Apart from its quiet flush system, the Eco Drake also features a fast-flush process that minimizes the amount of time taken to flush the toilet.
However, the Eco Drake has one minor flaw; its E-Max flush system is slightly louder than its counterpart due to its water-saving feature. To make the toilet quieter, one can purchase the TOTO soft-close separately.
Overall, the TOTO Eco Drake is an efficient and cost-effective toilet that may not be the fanciest but performs exceptionally well. It's an excellent option for those who want to save money on water bills without compromising on performance.
Why we recommend this:
It provides a powerful and yet quiet flush with 1.28 GPF in its tank.
It comes in multiple colors.
It saves a lot of water hence budget-friendly and environmentally friendly.

---
6. American Standard 2988101.020 Cadet 3 FloWise 2-Piece Super Flush Toilet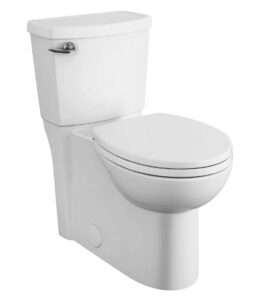 For years now, American Standard Cadet 3 has been the go-to brand for bathroom installations. It boasts a sleek round front design that fits perfectly in smaller bathrooms and a right height bowl that provides utmost comfort for both sitting and standing. Plus, it is ADA compliant.
The smooth-sided concealed trap way of the Cadet 3 ensures easy cleaning as it eliminates any curves or crevices where dirt and debris can accumulate. It also features a glazed trap way and oversized 3-inch flush valve that provide a thorough and powerful flush, making it super efficient.
What makes this toilet unique is its never-clean surface, which prevents the growth of unwanted growths like mildew, fungus, mold, or algae, ensuring that your toilet remains clean and odorless for years to come.
Additionally, the Cadet 3 comes with a top mount slow-close seat and cover with an easy lift-off feature, eliminating any slamming sounds and adding to the convenience.
The Cadet 3 uses only 1.28 gallons of water per flush, which is 20% less water than standard toilets, making it an excellent option for those who want to save water while still having a reliable and quiet flush toilet.
Why we recommend this:
The ever clean surface makes the toilet easy to clean.
It saves a lot of water because it consumes 20% less water than the standard toilet.
It comes with a pre-installed with a quiet close seat.

---
7. TOTO CST454CUFG#01 Drake II 1G Two-Piece Universal Height Toilet
This exquisite two-piece elongated toilet boasts a stunning high-profile design that adds a touch of sophistication and elegance to any bathroom. Not only is it visually pleasing, but its compact design allows it to fit comfortably in most bathroom spaces.
The TOTO Drake 11 toilet features a universal height that caters to a broad range of users, conforming to the regulations set by the Americans with Disabilities Act. This ensures that everyone can have a comfortable seating position.
This toilet is also equipped with TOTO's innovative 1G technology, which provides a powerful flush using only 1.0 gallons per flush. This makes it highly water-efficient, saving you money on water bills in the long run. Additionally, it comes with a WaterSense certification, which confirms its low water usage.
The Tornado Flush technology used in this toilet has a rimless design with two nozzles that create a centrifugal washing action. This innovative feature helps rinse the bowl more thoroughly, while minimizing the use of water and harsh chemicals, and reducing cleaning time.
Furthermore, the CEFIONTECT smooth glaze applied to the bowl provides a lubricous texture that prevents particles from sticking to the ceramic. This makes cleaning easier, and helps keep the toilet sparkling clean.
One minor drawback is that the SoftClose seat is sold separately, which may require an additional cost. Additionally, certain installation and use items must be purchased separately. However, the result is a toilet that is incredibly quiet when in use, making it a great choice for those who value peace and quiet.
Why we recommend this:
It offers comfort to a wide range of users.
It saves a lot of water by using less water.
It has a lubricious quality that inhibits particles from adhering to the ceramic hence making it easier to clean.

---
8. Best Toto MS604114CEFG#01 UltraMax II One-Piece Universal Height Toilet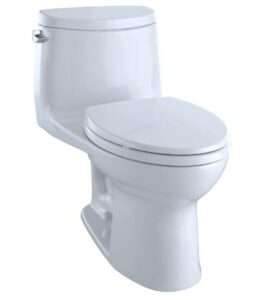 Individuals have different preferences when it comes to toilets. If you happen to prefer a one-piece model, the TOTO one-piece toilet is an excellent option. It features a stunning one-piece design that enhances the appearance of your bathroom.
In addition to its sleek look, this toilet is both classy and luxurious. The one-piece design is also incredibly easy to clean, requiring only a simple wipe to maintain its cleanliness. Unlike two-piece toilets, it does not suffer from leakage caused by bolts or gaskets.
This one-piece model includes a CEFIONTECT glaze layer, which prevents particles from adhering to the ceramic.
Furthermore, the Tornado flush ensures that waste is disposed of quietly and effectively, reducing the need for frequent toilet cleaning, minimizing water usage, harsh chemicals, and the time required for cleaning. With only the occasional use of a toilet brush, any remaining waste can be removed.
This toilet has a WaterSense certification, indicating that it uses minimal water per flush. It is also designed with a universal height that accommodates a wide range of users, meeting the Americans with Disabilities Act regulations.
Additionally, the SoftClose seat reduces the likelihood of injury and eliminates the inconvenience of toilet seat slamming, demonstrating its high standard of quality and consumer ease.
Why we recommend this:
It saves a lot of water by less water consumption.
It's very easy to clean.
Its powerful yet quiet flush.

---
Final verdict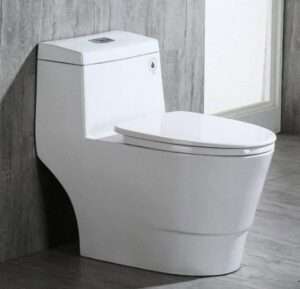 Having looked at all the quiet flush toilets, the best quiet flush toilet that one can go for is the WOODBRIDGE T-0019, Dual Flush Elongated One-Piece Toilet.
When it comes to choosing a flush toilet, we all want one that is affordable, durable, high-quality, and effective, and this particular toilet checks all of those boxes.
Not only that, but we also want a toilet that looks great in our bathrooms. This toilet has a sleek and clean design that will add a touch of class to any bathroom.
Another important factor to consider is the noise level when flushing the toilet. It can be frustrating to wake up others in the middle of the night or disturb them during the day. This toilet has a traditional gravity dual flush system that operates quietly and efficiently, so you won't have to worry about disturbing anyone.
We've all experienced the embarrassment of a toilet that doesn't flush properly and requires multiple attempts to get rid of solid waste. This toilet has a Siphon Flushing design with a fully glazed flushing system that provides powerful and quiet flushing, reducing the likelihood of clogs or leaks.
Finally, comfort is a crucial consideration when choosing a toilet. This toilet offers the best comfort for a wide range of users, thanks to its comfort height design that makes sitting and standing easier for most adults.

---
Conclusion
It's incredibly satisfying to find a product that not only meets but exceeds your expectations, and continues to do so for a long time without causing any frustration.
To ensure that level of satisfaction, it's crucial to identify your specific product needs beforehand, and then make sure they are fully met when you go to make your purchase.
Of all the products we use every day, few are more important than a toilet. Because we rely on it so frequently, it's essential to select a toilet that is of high quality and built to last.
And since we all want to avoid unnecessary costs, it's wise to choose a toilet that doesn't leak or clog easily.
Fortunately, as technology continues to advance, we now have access to toilets that are designed to meet the needs of a wide range of individuals. While it may cost a bit more upfront, investing in a toilet that lasts longer is well worth it in the end.
Another factor to consider is noise. Gone are the days of waking up the entire household with a loud flushing toilet. Choosing a toilet that operates quietly can go a long way in ensuring everyone's comfort.
Finally, it's important to keep in mind that our needs change over time. When selecting a toilet, it's best to choose one that can serve a diverse range of users, regardless of age or ability.
Interested in more options for your home? Our Toto Eco Ultramax vs Ultramax ii vs Drake ii Comparison is another helpful resource.
---
FAQs
Why are toilets so loud?
Most of us tend to wonder why toilets are so loud and this question comes after the use of a loud toilet that frustrates you.
There are many reasons why toilets are so loud and this comes with a plumbing issue. One of the reasons is that water may not be flowing properly into the toilet.
This happens when water is not flowing into the refill valve which makes it harder for the toilet to fill up again and get enough water to flush the waste down. This can cause backups and may cause some of the pipes or other connections of the toilets to rupture.
Another reason is that the seals might be stiff which may come from excess debris around the seals that may inhibit the management of flow in the area.
As a result, the added pressure coming from the seals will generate more noise. Therefore, the seals should always be kept relaxed at all times.
Also, the flushing mechanism may not be aligned properly which may cause the toilet to stop working properly hence causing backups.
Additionally, the water may be stuck at the bottom which happens when the refill water is going down the overflow pipe. This results in added pressure inside the toilet which makes it harder for the water to move out properly causing substantial backups.
However, not all toilets are loud and different toilets have different modifications that determine the sound of the toilet.
A toilet may be loud depending on the flushing system it has and this happens with toilets that have a pressure-assisted flushing system that uses pressurized air to force water into the toilet bowl.
These toilets are commonly found in airplanes or used in public.
How do I make my toilet flush quieter?
Everyone wants a quiet toilet since loud noise is very annoying. A toilet can be made to flush quieter by cleaning it thoroughly once a month besides the usual daily or weekly cleanup.
This can be done by cleaning the water tank to ensure there are no buildups which might cause the toilet flush to get even noisier. Also, it can be made to flush quieter by adjusting the water flow.
This is done by adjusting the water valve and controlling the water flow to reduce too much water pressure that may cause the noise.
Additionally, one can tighten everything to ensure that loose clamps or pipes may not be the reason it generates noise. Also, it can be done by checking the tank to ensure that the inner workings of the tank are functioning properly.
Are toilets supposed to make noise?
Toilets are only supposed to make minimum noise during flushing and after that, they should remain quiet. Toilets may make noise due to different reasons which may include a plumbing issue or the flushing technology of the toilet.
Continuous noise from the toilet means that the toilet is faulty and it should be checked and repaired while noise made during flushing means it's either because it's faulty or the technology of the toilet.
The flushing system technology of the toilets determines the noise it will produce during flushing. Therefore, not all toilets make noise during flushing because different toilets come with different flushing technologies.
There are three flushing system technologies which are pressure-assisted flushing system, gravity flush system, and dual flush system.
The pressure-assisted flushing system toilets makes more noise because they use pressurized air to force water from the tank into the bowl.
The Gravity flush system toilets are the quietest since they use gravity to force water into the bowl. Lastly, Dual flush system toilets are less noisy since they use two flush systems hence you can control the amount of water you expel from the tank.
Is a hissing toilet dangerous?
A hissing toilet is not dangerous at all, it only brings discomfort when visiting the bathroom. A hissing toilet is brought about by leakage of air or water from the fill valve which can be repaired by adjusting the fill valve.
Why does our toilet randomly run?
A running toilet may cause discomfort and stress due to occasional ghost flushing and wastage of water.
There are a couple of reasons why your toilet may randomly run. The toilet may randomly run because the flapper valve may be damaged or worn out, or there may be some sort of debris in the tank that isn't allowing the valve to seat correctly.
These may cause leaking of the cistern silently without your knowledge. The cistern leaks water slowly into the toilet bowl and the height of the level of the cistern turns the inlet valve randomly to fill up.
How do I stop our toilet from running randomly?
You can stop your toilet from running randomly without or with the help of a plumber. First, you need to inspect the flapper valve, if it's damaged or worn out the flapper valve should be replaced.
The flapper valve should also be cleaned by wiping it if it's the dirt that was causing the problem.
Also, you can check the refill tube if it's detached from the outside of the overflow pipe, which you can reattach it to keep the tube from entering the overflow pipe.
This will stop an internal leak from the tank to the bowl preventing "ghost flushing'. Besides, if all of the above does not resolve the issue you can replace the entire flush valve with the help of a plumber if it becomes difficult.
Can a running toilet increase your water bill?
A running toilet will increase your water bill since the toilet keeps on flushing by itself and depending on the modification of a tank the toilet may use a lot of water.
However, no matter the modification, a running toilet may ghost flush several times hence using water unnecessarily.
Besides, different running toilets with different flushing system technologies may vary in wastage of water hence increasing your water bills.
Why my toilet does make noise after every few minutes?
There are different reasons which can make the toilet noisy after every few minutes which are ghost flushing, fill valve hiss, and water resonance.
Ghost flushing is the noise that makes if there is leakage of water internally or externally. Internally it occurs when water leaks slowly from the cistern into the toilet bowl and the height of the level of the cistern turns the inlet valve randomly to fill up.
Externally it occurs when water leaks from the bottom of the tank due to certain factors.
Fill valve hiss is another reason a toilet may become noisy which alerts that the water is constantly passing through the fill valve into the tank.
Lastly, water resonance is also another reason a toilet may become noisy which alerts you to shut off the valve at the wall which has an obstruction in the flow of the water path.
Recommended Post