We all know that having a shower is an essential part of our daily routine. However, did you know that the water from your showerhead may include potentially dangerous substances such as chlorine?
Chlorine, a common chemical used to disinfect water in water treatment plants, has the potential to cause dry and itchy skin, hair damage, and even lung difficulties. Installing a shower filter to remove chlorine from your water could be a worthwhile idea. This will shield you and your family from the harmful effects of chlorine.
In this post, we will discuss the finest chlorine shower filters on the market today. We will also look at their attributes, the benefits they bring, and how to choose the most suitable filter for your shower.
Investing in a shower filter is a wise decision if you want to increase the quality of your water while also protecting your skin and hair. So let's get started and select the most effective shower filter available, shall we?
Best Shower Filter to Get Rid of Chlorine n 2023
1. Aqualiss SF100 – Effective Shower Filter for Chlorine
Installing a multi-stage filter system is the most straightforward approach to protecting yourself and your loved ones from the potentially harmful effects of chlorine in shower water. The fact that the shower filter works in this manner contributes to its status as one of the top products currently available.
This shower filter removes chlorine and other potentially dangerous substances using a ceramic ball, activated carbon, calcium sulfate, redox media, and debris filters. These elements all work together to filter the water.
The ceramic ball, activated carbon, and calcium sulfate all combine together to remove chlorine and other contaminants from the water. In addition, calcium sulfate also helps to balance the pH. The redox media and the debris filters work in conjunction to eliminate odors.
This shower filter minimizes the quantity of chlorine in the water while also enhancing the overall quality of the water, making it healthier for your skin and hair. It has a six-month lifespan and can filter 10,000-12,000 gallons of water, making it a cost-effective and long-lasting option.
This shower filter is simple to install and requires no extra tools or supplies. Furthermore, it is compatible with the vast majority of standard showerheads, making it a versatile addition to any bathroom in which it is installed. Moreover, the chrome finish completes the sophisticated look of the bathroom.
Finally, this multi-stage refined system shower filter is a beautiful alternative for anyone searching for a solution to remove chlorine from their water supply while improving the overall quality of their showering experience. It is a superb buy for any home because it is long-lasting, requires only minimal care, and can serve multiple functions.

---
2. Berkey Inline Shower Filter
The Berkey shower filter is an exceptionally efficient tool for individuals looking to improve the overall quality of the water used in their showers. It is intended to remove chlorine, a primary disinfectant used in water treatment facilities.
This disinfectant has been linked to dry and irritated skin, hair damage, and even lung difficulties in some people. A Berkey shower filter can lower the quantity of chlorine in the water by up to 95%, as well as other impurities, including hydrogen sulfide and water-soluble heavy metals like lead, scale, and rust.
Taking a shower in filtered water makes the experience more relaxing and minimizes the possibility of harm to your hair and skin. As skin is the body's biggest organ, responsible for absorbing both water and external pollutants.
Moreover, adding a shower filter minimizes the number of contaminants inhaled through evaporation. This function is especially beneficial for people who suffer from respiratory ailments like asthma.
Furthermore, hard water increases skin and hair dryness and irritation. The KDF-55 media included in the Berkey shower filter is designed to eradicate bacteria, fungus, and mold to prevent the spreading of these infections.
It should be noted that the Berkey shower filter does not remove fluoride from water. On the other hand, the cartridge can last up to 20,000 (25,000) gallons or one year, whichever comes first, which is a significant length of time before it needs to be replaced. This is something that should be remembered.
To summarize, the Berkey shower filter is a highly effective option for enhancing shower water quality. It protects hair and skin from the harmful effects of chlorine and other contaminants in shower water. This innovation improves the showering experience significantly and is also simple to install and maintain.

---
3. BWDM Hard Water Shower Filter
Many people believe that to improve the water quality in their showers, they must spend a large sum of money. However, this is different from the BWDM shower filter.
This low-cost filter is of high quality and reasonably priced. It boasts a 15-stage filtration system that is easily detachable and replaceable, making it a more cost-effective option than other filters on the market.
The presence of vitamin C is one of the distinguishing features of the BWDM filter. This added component not only aids in removing chlorine and other contaminants from water but also provides numerous benefits to the skin and hair.
Vitamin C is well-known for its anti-aging effects, which include the ability to prevent wrinkles and age spots, as well as brighten and even out skin tone. Vitamin C's ability to brighten the skin is another anti-aging advantage. Furthermore, it aids in hair fortification, which helps to decrease hair breakage and damage.
The BWDM filter can be fitted to any showerhead because it has a standard thread size of 12 inches. Shower water purification is made simple by the simple installation method, which does not require professional tools or additional plumbing.
Finally, if you want to increase the water quality in your shower at a reasonable price, the BWDM shower filter is a fantastic alternative to consider. Its 15-stage filtration system, which incorporates vitamin C, eliminates chlorine and other contaminants from the water while benefiting the user's skin and hair.
People who want to improve the quality of their shower water will find that the filter can be added to any showerhead, making it an easy and cost-effective solution.

---
4. Sonaki Inline 6 Stage Vitamin C Shower Filter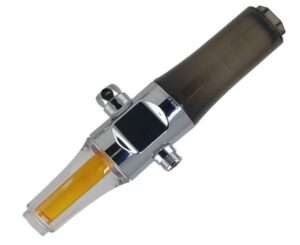 The Sonaki Inline filter is a game-changer in the industry, offering a revolutionary and one-of-a-kind way to remove chlorine and chloramines from shower water. This filter removes chlorine and chloramines by employing ascorbic acid. This works similarly to natural vitamin C. As a result, your shower water will be less harmful to your skin and hair.
One of the significant advantages of the Sonaki Inline filter is that it can easily be attached to your existing shower arm and head, regardless of location or height. This means you won't have to install a replacement showerhead or make any changes to the plumbing that's currently in place.
The filter has a 99.8 percent extraction rate, making it exceptionally effective at removing chlorine and chloramines from water. It also comes with three extra vitamin C cartridges, each of which can clean 5000 liters of water. This means you'll have enough filter cartridges for the foreseeable future.
This filter has various advantages, in addition to eliminating chlorine and chloramines. Both ascorbic acid and vitamin C, contained in the filter, help retain youthful skin and hair while also boosting the immune system by reducing exposure to potentially dangerous compounds.
Furthermore, vitamin C functions as an antioxidant and aids collagen formation. It helps to prevent skin aging as well as illnesses like eczema by doing so.
In general, the Sonaki Inline filter is a simple and effective technology that may be utilized to improve shower water quality. Because of the extra benefits of natural vitamin C and the flexibility to connect to the showerhead already installed in your bathroom, it is an excellent purchase for anybody who wishes to improve the health and attractiveness of their skin and hair.

---
5. AquaHomeGroup 15-Vitamin C Shower Filter for Removing Chlorine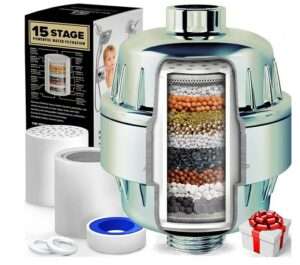 When it comes to shower water filtering, the AquaHomeGroup 15-Vitamin C shower water filter is a step in the right direction. It is one of the most effective filter shower heads available since it has a 15-stage filtering system that removes and eliminates potentially dangerous and nutritionally deficient products while regenerating damaged hair and skin.
This shower head differs from others on the market because it filters the shower water via 15 distinct "sieves." The first stage employs sediments to protect subsequent steps, particularly stages 1, 4, 14, and 15, from filter damage. These stages use steel mesh with very thin openings and a high density to filter out even the tiniest particles.
Thick grids designed to resist pollutants and toxins are built in the second and thirteenth phases utilizing PP cotton as a building material. In Step 6, KDF55 is employed to eliminate chlorine, bacteria, and algae. Microporous balls and activated carbon are used in stages 7 and 9 to remove any remaining chlorine and contaminants. Step 6, KDF55 is used to eliminate chlorine, bacteria, and algae.
The AquaHomeGroup shower head not only filters out potentially dangerous chemicals from the water but also adds nutrients that are beneficial for the user's health. Alkalines are employed in Stage 4, but Maifan stones are used in Stage 5 to restore minerals. Vitamin C is utilized in Stage 8 to increase collagen formation and protect the skin from free radical damage.
The germanium balls in Stage 10 increase the quantity of oxygen and negative ions in the water. The magnetic energy balls in Stage 12 increase the oxygen level even more, which is good for your hair, skin, and nails.
When purchasing the entire shower head set, there is an additional level that, when triggered, delivers vitamins C and E into the water. Both of these antioxidants are well-known for the long-term therapeutic and nourishing benefits they have on the skin.
For the first six months, the long-lasting filter cartridge will need to be changed after frequent usage, but the package includes an extra cartridge, so you won't have to buy fresh filters for an entire year.
This shower head is more than just a filter; it's a complete water-filtration system that will improve your skin and hair's overall health and beauty.

---
6. Pelican PSF-1NHPremium 3-Stage Shower Filter
The Pelican PSF-1NH shower filter is a high-quality shower unit that helps reduce dryness, hair loss, flattening, and odors. It also aids in the prevention of hair loss.
This is accomplished by using a patented method that does not affect the temperature of the water. As a result, aromatherapy can be administered without the need for additional shower filters.
Pelican is a well-known and recognized maker of water filters and showerheads, and the company is renowned worldwide for the high quality of its products. The PSF-1NH water purifier uses a three-stage filtering process to remove approximately 96.9 percent of chloramines and chlorine from water. As a result, it is a highly effective water filter.
Customers may customize their showering experience by selecting between a high rate of flow and water efficiency. This is thanks to the shower head's ergonomic and dual flow design, which makes switching between the two simple.
More seasoned consumers frequently employ the three-stage filtration technique due to its efficacy in purifying the water and removing impurities.
The PSF-1NH's aromatherapy feature, which has a peaceful ocean scent and can be used in conjunction with the product's purifying capabilities, will offer extra relaxation to your showering experience. This type also has a function that allows you to increase the water pressure while maintaining the same flow rate.
The Pelican PSF-1NH is not the cheapest shower filter on the market. Still, it is a worthwhile investment because of its long-lasting 15,000-gallon cartridges, ocean-fresh scented countertop, and three-stage water filtering technology.
Installing the Pelican Filter allows consumers to enjoy a quality shower experience that results in attractive skin, appealing hair, and even a spa-like ambiance. In addition to chlorine, synthetic pollutants and odorless scents that are not toxic to people are eliminated from the water.
The Pelican PSF-1NH shower filter is a high-end product with a three-stage filtration method that removes nearly 96.9 percent of chloramines and chlorine, an ergonomic and dual flow design, aromatherapy, and a unique feature that increases water pressure while also removing foul odors, making it a worthwhile investment for a premium showering experience.

---
7. Aquasana AQ-4100 Deluxe Shower Water Filter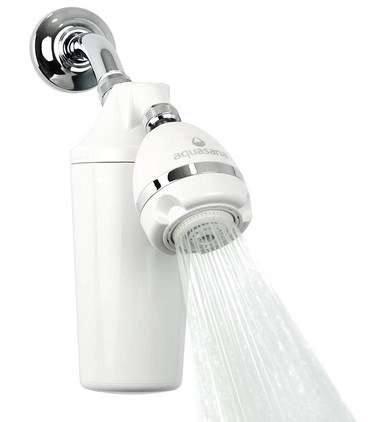 Chlorine is a widely used chemical in the disinfection and purification of water. On the other hand, it has been linked to several adverse health effects, including inflammation and skin problems. Furthermore, particles that have been dissolved in water have the potential to reduce skin tensile strength.
As a result, skin and hair issues may arise. The Aquasana AQ-4100 water filtration system seeks to address these issues by eliminating dissolved chlorine and particles from tap water.
The AQ-4100 employs a two-stage filtration system of carbon, KDF copper, zinc, silt, and several other organic volatile chemicals. This filter media combination is suitable for removing germs, chlorine, and chloramine from shower water, leaving only pure, clean water.
Furthermore, the AQ-4100 was designed with an easy-to-use user interface in mind. It is designed to allow water to flow upward, increasing water pressure and eliminating the chance of backflow. Furthermore, the cartridges are exact and may hold up to ten thousand gallons of liquid before refilling.
Because the AQ-4100 filters water using cocoa shells, it's less successful at removing chloramine than it is at removing chlorine. Furthermore, numerous of our clients have claimed that the AQ-4100 is leaking. The AQ-4100, on the other hand, is a handy instrument that has garnered overwhelmingly excellent reviews from prior buyers.
Notably, the AQ-4100 has received NSF accreditation in line with standards 42 and 61, indicating that it is safe and effective for use in aesthetic applications such as improving the appearance of skin and hair.
A water filter system, such as the Aquasana AQ-4100, can efficiently purify tap water by removing pollutants such as chlorine, chloramine, and bacteria. Also, it is simple to use and has gotten overwhelmingly excellent responses from clients. Furthermore, it has acquired NSF accreditation, ensuring that it is safe and efficient for cosmetic applications.

Conclusion
To summarize, chlorine is a popular chemical used in the water treatment process to disinfect and cleanse the water. Nonetheless, it could harm our health and appearance, particularly our skin and hair. Installing a shower filter could be a worthwhile investment in treating these difficulties.
We discovered that the Aquasana AQ-4100 is the most effective shower filter for removing chlorine after researching and testing several other options. This conclusion was reached after examining a variety of items.
In this case, a two-stage filtration system with carbon, KDF copper, zinc, sediment combination, and volatile organic chemicals is used. This combination is particularly effective at removing germs, chlorine, and chloramine from shower water, leaving clean water free of microorganisms.
Furthermore, the AQ-4100 is simple to use, its cartridges' up-flow design structure enhances water pressure while preventing backflow, and the AQ-4100's cartridges have the potential to last up to 10,000 gallons. Furthermore, it has NSF approval, demonstrating that it is safe and efficient for use in the beauty sector.
Investing in a shower filter like the AQ-4100 may substantially enhance the quality of the water in your shower, which may also improve the appearance of your skin and hair. The Aquasana AQ-4100 is the ideal gadget to buy if you want to improve the quality of your showering experience while eliminating chlorine.
---
Here is a summary of what we have covered in FAQs Sections
---
How does a shower filter remove chlorine from water?
Shower filters can be fitted to showerheads to remove chlorine and other contaminants. Activated carbon, KDF copper-zinc, and sediment combination are a few of the various filtering processes that can be employed in tandem to remove chlorine from water. This is the most popular method.
Activated carbon is a substance with a large surface area and high porosity, making it an excellent absorbent. When water passes through a carbon filter, chlorine and other pollutants are caught inside the pores of activated carbon. Adsorption is the mechanism through which contaminants are physically trapped inside the filter material.
KDF copper-zinc filtering media is another type commonly used in shower filters. An electrochemical technique called redox removes chlorine and other hazardous pollutants from water (oxidation-reduction).
Microorganisms such as bacteria and viruses are exposed to an unfavorable environment due to how this process is carried out, which hinders their development and reproduction in water.
Mechanical filtration, which uses a sediment mixture as the filtering media, is another way to remove pollutants from water. This approach is practical because it allows particles such as dirt and silt to build up on the filter medium, which is subsequently terminated. These particles are captured and retained within the filter medium, preventing them from accessing the drinking water supply.
The chlorine in the shower water is removed using a variety of filtration procedures, including activated carbon, KDF copper-zinc, and sediment combination, among others. These procedures use physical and chemical methods to remove contaminants from water, resulting in clean, pure water suitable for showering.
---
Are there any potential side effects of using a shower filter to remove chlorine?
There are a lot of potential negative repercussions to consider when selecting whether or not to use a shower filter to remove chlorine from the water. One of the most prevalent harmful effects associated with taking a shower may result in decreased water pressure.
This may occur if the filter becomes clogged with particles or the filter cartridge has to be replaced. These two scenarios are both plausible. In most cases, the filter cartridge may be cleaned or replaced to resolve this problem.
Another potentially harmful side effect is that your skin may become dry and irritated. This could happen if the water filter cannot remove every trace of chlorine. Chlorine can be irritating and dry to the skin, especially in persons who already have sensitive skin. Certain water filters may be more successful than others at removing chlorine from water, but not all filters are made equal.
Furthermore, there is a chance that some people will develop allergic reactions to the filter's components. It is critical to assess whether the filter's details are appropriate for your skin type.
Notably, it has been demonstrated that shower filters containing activated carbon, KDF copper, zinc, and sediment effectively remove chlorine and other toxins from water. They can be used without the risk of side effects.
Even though shower filters can successfully remove chlorine from water, a few potential adverse effects should be considered. Water pressure reduction, skin dryness and irritation, and allergic reactions to filter materials are all possible adverse effects.
However, by installing a high-quality filter and performing routine maintenance, one might mitigate the intensity of these adverse effects. Before using any filter, it is critical to visit a healthcare practitioner, especially if you have a medical condition or are aware of any sensitivities you may have.
---
How often do I need to replace the filter in my shower filter?
The amount of time that must elapse before changing the filter in your shower filter is determined by several things. Water quality in your area is one of the most significant factors to consider.
If you reside in a region with abnormally high amounts of chlorine or any other type of toxin, you may need to change the filter more frequently. The frequency with which the filter must be replaced is governed by the number of persons who use the shower filter and how often they use it.
Shower filters should be changed on average every six months to once a year. However, it is essential to note that this may vary based on the type and model of shower filter you use. Some shower filters contain indication lights that illuminate when it's time to change the filter, while others may not.
You should check the shower's water pressure and flow rate to ensure that the shower filter works correctly and provides the most effective filtration possible. If the water pressure or flow drops, the filter must be replaced.
Notably, shower filters should be cleaned regularly to avoid being replaced more frequently than they would otherwise. You must carefully follow the cleaning and maintenance instructions provided by the manufacturer to ensure that your shower filter continues to perform effectively.
To recap, the frequency with which you should change the filter in your shower filter depends on water quality, the amount of consumption, and the cleaning plan you wish to apply.
If you detect a decrease in water flow or pressure, or if it has been six months to a year since you last examined the filter, clean and maintain it according to the manufacturer's recommendations.
---
Can a shower filter remove chloramines as well as chlorine?
The ability of a shower filter to remove chloramines in addition to chlorine may vary depending on the specific filter and the filtering material that it employs. Chloramines, also known as monochloramines, are a mixture of chlorine and ammonia used as secondary disinfectants in water treatment.
Chloramines are also known by their chemical name. Although it is not as effective at eradicating potentially hazardous bacteria as chlorine, it is more stable in water and has a longer shelf life.
Some shower filters use a media blend of carbon and KDF to eliminate chloramines, chlorine, and other pollutants from water (Kinetic Degradation Fluxion). The carbon in the filter successfully removes chlorine, chloramines, and other volatile organic compounds from the water. KDF is a copper-zinc alloy that may remove heavy metals, microorganisms, and pollution.
On the other hand, some shower filters rely solely on carbon filtration, which can remove chlorine but may not be able to remove chloramines. As a result, before purchasing a shower filter, it is critical to thoroughly check its specs to ensure that it can efficiently filter chlorine and chloramines.
While some shower filters may not eliminate chloramines, they may be able to reduce their amounts drastically. It is critical to review the product's specifications to evaluate whether or not it will satisfy your needs.
To summarize, not all shower filters can remove chloramines in addition to chlorine. As a result, it is critical to look for filters that employ a combination of carbon and KD media. In addition, it is imperative to check the product's specifications to make sure that it is capable of removing chlorine and chloramines.
It is extremely critical to remember that while certain shower filters may not eliminate chloramines, they can significantly lower the amount in the water.
---
How easy is it to install a shower filter?
A shower filter is straightforward to install in most households, requiring only a few simple tools and minimal technical ability. Before beginning installation, it is always a wise idea to read the manufacturer's instructions. In this manner, the building process is ensured to be safe and appropriate.
Locating the shower arm before installing a shower filter would be wise. The pipe that protrudes from the wall and connects to the showerhead is known as the shower arm. This is frequently built into the shower ceiling or slightly above the bathtub.
Following the location of the shower arm, the next step is to determine the type of connection that will be employed. The link in some shower arms is made with a screw, while in others, the reference is made using a slip-fit.
If the connection between the shower arm and the filter is screw-on, attaching the filter is as simple as screwing it onto the arm. If the shower arm has a slip-fit connection, an adapter may be required to connect the filter to the arm successfully. The adapter is usually included with the filter, and installation couldn't be more straightforward.
It is critical to remember that the installation of certain shower filters necessitates using additional tools and components, such as Teflon tape, a pipe wrench, or an adjustable wrench. These are often the tools required to secure the shower arm's filter to make a secure seal and keep water out.
After installing the filter, it is vital to perform a flow and temperature test to ensure no leaks and water pressure issues. Furthermore, following the maintenance and replacement instructions provided by the filter manufacturer is critical.
In most circumstances, installing a shower filter is a simple task that can be completed quickly and with minimal work, equipment, and skill. It is critical to carefully follow the manufacturer's instructions and use the necessary tools to ensure a correct and risk-free installation.
---
Will a shower filter affect the water pressure in my shower?
One of the questions that may arise when installing a shower filter in your bathroom is whether or not the water pressure in your shower will vary due to installation. The quick answer is yes, but the specific answer depends on your filter type and the water pressure in your home.
It's vital to understand how shower filters function to remove water contaminants before reaching the showerhead. The use of various processes, including activated carbon, ceramic, and multi-stage filtration, achieves this goal. Depending on the type of filter you use, water pressure will vary in various ways.
Some filters, for example, utilize a screen with a larger mesh size to remove impurities, which may cause water pressure to be slightly reduced. However, some filters use finer mesh screens or more complicated filtering techniques that do not considerably reduce the amount of water pressure experienced.
Furthermore, some filters include a flow restrictor within the filter. This flow restrictor restricts the amount of water that may pass through the filter, which may alter the water pressure.
Consider the present water pressure in your home as a second factor. Installing a filter can cause your water pressure to drop even further if it is already low. If the water pressure in your home is already high, installing a filter may have very little effect on the pressure.
Researching and selecting a shower filter appropriate for your home's water pressure is critical. You should also check with a plumber or the filter's manufacturer to ensure that it will not drastically reduce the water pressure in your shower.
This can be accomplished by contacting one of these two providers. You may also compare the water pressure before and after installing the filter by adding a water pressure gauge to your showerhead and measuring the difference.
In conclusion, installing a shower filter may modify the water pressure in your shower; however, the extent to which this occurs depends on the type of filter you choose and the existing water pressure in your home.
By researching and speaking with industry professionals, you can ensure that the filter you purchase will not affect the water pressure in your shower. This will enable you to make an educated decision.
---
Are there any maintenance requirements for a shower filter?
Shower filters clean the water by eliminating pollutants and other undesirable substances as it travels through them. These filters, intended to be fitted into the showerhead, can improve the quality of water used for showering and bathing.
While these filters have the potential to be highly beneficial in terms of increasing water quality, they do require regular maintenance to continue to perform successfully.
Swapping out the filter cartridge is one of the most critical things that must be done regularly to keep a shower filter in efficient operating order. However, because they are designed to remove contaminants and poisons from water, these cartridges will ultimately become clogged and must be replaced.
Water quality determines the frequency with which the filter cartridge must be returned to the filter unit. The frequency of cartridge changes will differ depending on the type of filter. Some filters may need to be updated every few months, but others may last a year or even longer.
It is critical to clean the shower filter regularly and change the filter cartridge. Remove the filter cartridge and wash it in warm water with a light detergent. This can be accomplished by removing the cartridge. Furthermore, it is critical to inspect the filter for any signs of damage or wear, such as cracks or leaks. If the filter is damaged, it must be replaced as soon as possible to ensure it continues to function.
Checking the water pressure in your shower is another significant element of maintenance. When the water pressure is too high, it might damage the filter and impair its efficacy. You can check that the filter operates at maximum efficiency by increasing the water pressure to the specified amount.
To summarize, while installing shower filters is a very efficient means of improving the water quality used for showering and bathing, these filters must be maintained regularly to continue working well. This necessitates replacing the filter cartridge regularly, cleaning the filter, and inspecting the filter for signs of damage or wear.
You can ensure that your shower filter provides clean, safe water for your everyday showers by following these maintenance guidelines and ensuring that it is correctly operating.
---
Are shower filters suitable for use in hard water areas?
Shower filters are a popular method for increasing one's water supply quality, especially in areas with a high prevalence of hard water. The high concentration of minerals found in hard water, such as calcium and magnesium, can cause unsightly stains and deposits on surfaces and damage hair and skin.
There are many different types of shower filters, each with its own set of advantages and disadvantages. For example, carbon filters are well-known for their capacity to remove chlorine and other pollutants from water. As a result, these filters are a smart alternative for those concerned about the potential adverse effects of chlorine exposure.
Other shower filters, such as those that use ion exchange resin, are specifically intended to remove the minerals found in hard water. These filters soften the water by exchanging the minerals that cause hardness for sodium ions or other safer substances. In regions where the water is hard, this may reduce deposits and discoloration.
When visiting locations with hard water, remember that there are more suitable solutions than shower filters for proper water treatment and maintenance. People who reside in these areas and want to improve their water quality can install shower filters, which may be a viable alternative.
It is vital to clean and maintain the filter regularly to ensure that it operates at peak efficiency. Furthermore, it is critical to evaluate the filter's quality and any certifications it may have, such as those provided by NSF and WQA. This will ensure that it is appropriate for the specific requirements of your water.
Shower filters may be an alternative worth investigating in areas with hard water. It is, however, critical to select a filter capable of successfully removing hard water minerals, and the filter must be cleaned and replaced regularly.
It is essential to study the filter's credentials to ensure that it meets the requirements for water purity. If you have the proper shower filter, you may experience cleaner, healthier water, and a more pleasurable shower.