As part of our commitment to quality, we're informing you that this article has affiliate links. As an Amazon Associate, I may earn from qualifying purchases.
If you're searching for ways to get rid of black sediment in well water or discolored well water, this article is for you. We are going to list all the best and simple ways to get rid of them.
Black Sediments in Well Water
Black sediments in well water is a common occurrence to those who use private well water for domestic use. These Black particles in well water tend to clog piping system and shorten water appliances such as pressure tank, washing machine, and water heaters.
---
Main Causes of Black Sediments in Well Water Are:
1. Mineral Traces
Black particles in well water are mainly caused by iron and manganese in the water system. High level of manganese usually appears as black/dark blue sediments in the water.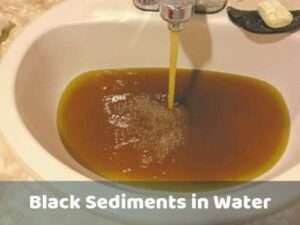 These black sediments turn water to an unaesthetic dark well water, have a musty smell and as well stain your plumbing fixtures, well pump, dishes, and laundry.
Health effects of manganese in drinking water
Manganese is mainly consumed from drinking tap water. Showering or bathing in manganese contaminated water doesn't increase your exposure because chances of skin penetration are very low.
Children between the age of 15 years and below are prone to absorb more manganese. High concentrations of manganese tend to affect the learning ability of a child and nervous system breakdown resulting in a disease that resembles Parkinson.
So it's very important for children and pregnant women to have clean drinking water free from manganese and other contaminants.
2. Water Pipe Corrosion
Rust particles chippings from an old, brown or black plumbing pipe system usually break off from the inner parts of the pipes and wind up in your glass of water.

You can do a D-I-Y inspection to check if your house or city pipes system leading to the house is corroded, by running cold water for a minute or two; check if you can see black/brown fragments from the water.
Call a plumber or local water authority to check if the steel pipes within your house plumbing system are probably rusty before they can spring a leak.
3. Disintegrating Rubber in Well Water
Experiencing oily, smudgy junks in your tap water? Generally, this should be a rubber hose pipe leading to your water heater that is disintegrating due to the effect of chloramine or chlorine.
Fortunately, the new version of rubber hose pipes is made from water disinfection-resistant lining that protect them from the negative effect of chlorine or chloramine; if your flex hose connection is from the old version, you need to call a plumbing professional to inspect and even replace the hose.
4. Black Sediments or Sand
If you're using private well as your primary source of water, and the water that you draw contains small brownish or blackish pieces of silt or sand.
These particles are likely to damage your washing machine, dishwasher and as well, ware out the well pump.
Possible remedies are: you may let water run for two to four hours non-stop; this should be for a new well. For an older well, there may be a need for a screen replacement or installation.
5. Granular Activated Carbon
Granular Activated Carbon is currently very popular, and the majority of water filter companies use them as a filtration agent in their cartridges.
The GAC particles are tough, irregularly arranged and shaped like coffee beans.

These GAC particles have a very short service life, and when they get filled or chocked with contaminants over a while, they tend to be loose from the cartridge and end up on your water glass.
It's advisable to check the water filtration system manufacturer instructions for guided steps to take in solving the problem.
What are the effects of Black Sediment in water?
Definitely, black sediments will affect the quality of water in various ways. Besides an awful smell and an unpleasantly dark brown look, the presence of deposits in water will wear down your water appliances, well pumps and clog plumbing system affecting the flow rate of water inside the pipes.
Also, some health risks posed by black sediments like manganese affect learning ability in small children and malfunction of the nervous system.
---
Best Sediment Filter for Well Water
1. 

North Star Self Cleaning Sediment Filter (

EPASF1)

North Star EPASF1 Whole Home Sediment Filter is perfectly designed for higher performance and maximum efficiency.
This sediment filter is installed at the main point of entry to the house pipe system, main aim to capture and flush all the sediments down the drain.
The unit comes with an installed energy saving automatic system that runs efficiently on a 9 Volt battery.
What Our Team Liked
Filter water at the main entrance of the whole house delivering clean water to every faucet without affecting the water pressure.
Eco-friendly by reducing the need for plastic bottled water, low energy usage to run the unit and no salt is used.
The unit has a proven system to filter a large amount of water and by removing sediments, chlorine, reduces unpleasant odor, and taste, leaving natural and pure tasting water.
Pros
Has a self-cleaning capacity and no need for cartridge replacement saving you money and time.
Has a high flow rate of 9.6 gpm that is enough pressure for the whole house piping system.
No need to purchase filters; has a self-cleaning capacity.
Space saving unit with less than 1sq feet footprint.
Cons
The need to change batteries.
Has a limited 1 year warranty.
---
2. ISpring WSP-50 Best Reusable Spin Down Sediment Water Filter
Editors' Pick

ISpring WSP 50 sediment filter is built with a transparent housing material that makes it easy to monitor and with dimensions of 3.5-inch by 9-inch width and length respectively.
Have double filtration layers, with the first stainless steel mesh, makes the cleaning and flushing of contaminants process very easy and simple.
And the second filtration method is designed with a multi-layer gradient system that flushers all the remaining contaminants and large sediments while preventing the cartridges clogging with silt and sediments.
What Our Team Liked
Double filtration system, ideal for filtering out coarse sediments that are larger than 50 microns.
The mesh filter screen is made from stainless steel and corrosion resistance.
We really like the transparent housing because it's very easy to see all the particles/sediments at the bottom that has piled up, so you can easily open the drain valve to flush out the gunk.
Pros
A double filtration system that is very effective removing 99.9% of sediments.
Easy installation with instruction provided.
Stainless steel metal filter that lasts longer.
Easy hose fitting and a standard flow rate.
Cons
We were unable to see any cons from our point of view.
---
3. Hayward S310T2 ProSeries 

30-Inch

 – Best Sand Filter

The Hayward S310T2 Pro series is the latest in sand filter technology that has a patented technology which increases the flow rate and reduces energy consumption.
The unit is made from a durable corrosion-resistance polymeric material and designed with an attractive ergonomic tank construction that can be operated with minimal care.
This Hayward Pro series has set a new standard for value, durability, and performance.
What Our Team Liked
The filter bases are designed with a rugged thermoplastic that is capable of withstanding all-weather performance.
The unit is an energy saving system that will save you a batch on dollars every month.
The 6 position Valve provides a variety of flow rate at very low pressure.
Pros
Designed to be used in all weather conditions.
Increases flow rate from its 6 positions Vari-flo valves.
The unit is entirely made to save energy.
Made from a durable corrosion-resistance polymeric material.
Very easy to assembly with precise alignment components.
Cons
The unit is a little bit heavy weighs 94 pounds.
---
4. Rusco Screened Spin Down – Best Sediment water filter System

The Rusco spin-down filter is amongst the top versatile sediment filter available in the market.
The filter system is a patented design that uses a spin-down or tornado to filter close to 99.9% of dirt sediments.
With a rating of 4.5 out of 5 and an impressive customer reviews from users who bought it.
The Rusco spin-down filter is very easy to clean using the flush valve, and you can re-use by quickly emptying the filter sump.
The ability for easy cleaning the filter when they get clogged with sediments or even replacing if the need arise this will save you money of buying filter cartridges after every six months or so.
The Rusco spindown filter system has a patented design which uses a tornado or spin-down action to filter dirt sediment.
What Our Team Liked
Has a high flow rate of up to 50 gpm.
The company has built a positive reputation on the quality of the sediment filter.
No need for power, the unit works well with water pressure.
Available in a variety of filtration mesh sizes.
Pros
Does not affect the water pressure.
Different range of mesh sizes to choose from.
Designed to fit all the standard size of fixtures.
Cons
---
What to do if your well water has black sediment
1. If the black sediments in water are accompanied by bad taste and unpleasant odor; testing of the water is required to ascertain the contaminants levels in your drinking water.
From our point of view, you need to test the well water for iron, silica, bacteria, hardness, and manganese.
You can visit your local health or state departments website for a certified laboratory inspection.
2. In a case where you find dark brownish rocks or sand particles, when you draw water from your faucet.
It might be your well pump that is way down below the set standard or a minimum of fifteen to twenty feet high from the bottom of the well; you can resolve this problem by raising the pump shaft thus increasing the distance between the pump shaft and the base of the well.
3. Another source for black sediments in well water might be worn out wall casing. (Casing is a lined PVC plastic placed inside the well wall that allows water to penetrate through and at the same time keep out silt and sand out.)
Overtime, the casing screen gadgets; then allowing silt sediment, and sand to get into the well. It is advisable to contact your well driller for further confirmation.
---
Conclusion
Black sediments in well water can be a nuisance if dirty well water coming from kitchen faucet every now and then, this indicates the presence of manganese, calcium, iron, and disease-causing organisms like viruses and bacteria in your water; it is advisable to test your water for further confirmation. That being said, you can check if your well pump is vertically placed inside the well to avoid sucking in sands or silt from the wall of the well.
---
Recommended Post  How to tell if your well pump is bad 
---
Summary
Article Name
Black Sediments in Well Water
Description
Black sediments in well water tend to clog your piping system and shorten your water appliances such as pressure tank, washing machine, and water heaters. Which is a common occurrence to those who use private well water for domestic use.
Author