Kohler has built and solidified its brand reputation over the past 150 years by producing creative, high-quality, long-lasting bathroom items.
The Kohler company primarily concentrates on bathroom, lighting, and kitchen equipment, with traditional and modern designs that have withstood the test of time.
Today's review will look at the KOHLER K-5172-0 low-profile toilet, which is noted for its modern looks, powerful aqua piston flushing technology and one-piece integrated toilet.
If you're looking for a low profile one-piece toilet, the Kohler K-5172-0 toilet is at the top of the list of the best and most efficient low profile toilets on the market today.
KOHLER K-5172-0 Low Profile Toilet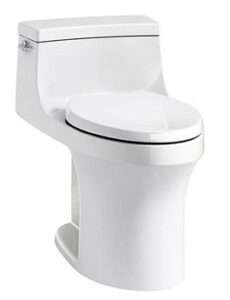 Here are some of the essential qualities that justify this toilet's position as the best in low-profile categories are as follows:
Kohler Aqua Piston Flushing system
The unique Aqua piston system is a powerful flushing technology that is entirely patented by the Kohler company.
This powerful flushing system delivers a powerful flushing mechanism that is rapid and, best of all, and it is almost plug-free.
The canister flush valve is precisely designed to deliver a forceful punch that flushes any size solid waste while conserving water.
Low-profile design
The toilet was precisely designed to cater for those who are looking for a low-profile toilet, and this is achieved from the first glance of the toilet, is a one-piece toilet which means the toilet tank and bowl are integrated.
The dimensions of 30.25 length x 20 width and 26.75 inches in height make it ideal for tall, medium, and short people to use the toilet comfortably without squatting or standing.
Easy to keep it clean
The toilet is designed with a seamless design from the water tank to the bowl to the toilet seat, making it simple to clean all around the toilet.
This toilet's concealed trapway is designed in such a way that cleaning inside the toilet with a toilet brush is simple and straightforward.
Furthermore, unlike the round shape bowl, which is always limited in area, the extended shape bowl provides more room for comfort and cleanliness when using the toilet.
Added Bonus
You get a quiet closing lid and a seat with grip-tight bumpers when you buy this Kohler toilet.
The slow-close mechanism keeps the lid from smashing on the seat after you've finished using it, and the tight grip bumpers keep the seat from sliding sideways when you're sitting on it.
Product Features
Brand: Kohler.
Color: White.
Toilet Shape: Elongated.
Product measurement: 30.25″ x 20.88″ x 26.75″.
Mount Type: Floor-mounted.
Flush model: Gravity flush.
Gallon per flush: 1.28 GPF.
Pros
Cons

The one-piece seamless design makes cleaning the toilet easy.
1.28 gallon per flush conserves water, saving you money on your monthly water bill.
Amazing product features at an affordable price.

Conclusion
A toilet is an essential component of our bathroom and a product that we use on a daily basis, thus it is critical to acquire an appropriate toilet that is both comfortable and water-saving, as this is one of the products that you will be using regularly.
Because a toilet is only purchased once per decade, getting the suitable toilet is critical. Getting it right the first time will save you money.
So, if you're looking for a low-profile toilet, this kohler KOHLER K-5172-0 toilet will save you money, improve user experience, and blend in well with your bathroom decor.
Recommended Post
What is the comfortable height for a kohler toilet?
Toilet height is created in a variety of heights to accommodate different individuals; the most common height that is suited for most purchasers is between 15 and 19 inches in height.
This is referred to as chair height toilet or comfort height, and it is the best average toilet height that most toilet manufacturers have researched and confirmed to be the best toilet height.
So, selecting a toilet with an average height of 17 inches should be the appropriate height so that every member of the household may use the toilet comfortably and easily.
Are chair height toilets better?
The chair height, also known as comfort height, has an average toilet height of 17 inches, which has been demonstrated to be the best toilet height.
This makes it easier for an average-height person to sit on the toilet seat and stand.
Furthermore, the ADA association has demonstrated and suggested that chair height toilets are useful for the elderly, persons with mobility challenges, and tall individuals.
Which is better: one-piece toilet or 2?
There are two types of toilets available: one-piece toilets and two-piece toilets. The one-piece toilet is created as one piece, with the toilet water and bowl combined as one piece. These toilets were built for easy cleaning and space saving.
Second, the two-piece toilet has a toilet bowl and a detachable water tank; these toilets are more traditional than the one-piece toilet, but they were preferred for the comfort height and style to suit perfectly in any bathroom.
Modern one-piece and two-piece toilets are designed with fantastic product features that not only increase the user experience when using the toilet, but also include water saving capabilities, a quiet close toilet lid, and a forceful flush that make using the toilet an excellent experience.
Because both of these toilets offer these crucial product aspects, choosing the ideal toilet may be extremely significant. Some of the key attributes are cleanliness and pricing, and here is where one piece toilet has truly nailed it.
One-piece toilets were designed with cleanliness in mind; they are very easy to clean and keep clean all the time due to their design, they take up less space in the bathroom, and they are inexpensive.